The woman was scared, convinced someone was breaking into her Maryland Heights apartment. She locked herself inside her bathroom. She knew they were prowling through the rest of the rooms. She called police.
Maryland Heights officers had been there before. They checked the apartment for her — nobody was there. Instead of calming her down and leaving, as they had done many times before, they called their community mental health liaison, Danielle Conrey, who arrived within 15 minutes.
Conrey sat down with the woman and put her in touch with different organizations that could help her. Conrey followed up with her care, and police haven't heard from her since.
Conrey, a licensed professional counselor, is one of 30 liaisons statewide working with a new program created by the Missouri Department of Mental Health. The goal is to better connect police and courts to mental health services and resources, so that people who struggle with mental health issues get better long-term help.
"They're very, very compassionate. They take an interest," Sgt. Terry Kenniston of the Maryland Heights police says of the liaisons. "I think the uniform itself can be a little intimidating for some people, so seeing a layperson in street clothing can be of some comfort."
"They're one of the most valuable outside services that I've been involved with in 20 years," said Capt. Chad Rackers with the St. John police department. "They do what they say they're going to do, they follow up. I can sit here all day long and repeat this. It's a great program. We're huge fans."
The program addresses a big gap in encounters between police and the mentally ill: If someone police encountered was a danger to themselves or others, police would take them to a hospital. If the person was not a danger, like the woman who suspected prowlers were inside her home, there wasn't much police could do. Lots of mental health agencies had daytime business hours, and there wasn't anyone to help the person or family follow through with their progress. Police would likely encounter that person again.
Now, police will call a community mental health liaison, who will put the person in touch with mental health resources, talk with the person or the person's family, and follow up about their care.
"We do a lot of education with the families, to kind of validate their feelings and let them know of the resources out there," Conrey said. "A lot of times the family members are like — we just don't know what to do anymore. Like it's an adult child who has to live with them, they're refusing to take their medicine ... it's kind of nice for us to be the support person."
The program started in the fall, and police in the eastern part of the state had referred 388 people for the program through May. The liaisons are employed by community mental health centers throughout the state, and eight liaisons work in the St. Louis region.
It's part of the state's mental health initiative, proposed by Gov. Jay Nixon partly as a response to the school massacre in 2012 in Newtown, Conn., in which a disturbed man killed 20 children, six school staff members, his mother and himself.
In Illinois, many services are available through mental health clinics and hospitals, and some have relationships with police and might send staffers with officers to a home or hospital at a police department's request. Chestnut Health Systems, which provides crisis outreach services for Madison and St. Clair counties, will send an intervention specialist to a hospital, jail or home if needed, said southern region manager Orville Mercer.
In Missouri, the local team of liaisons have provided training to police officers and visited them at police roll calls to introduce themselves to officers. They've provided notebooks with their contact information and gone on ride-alongs.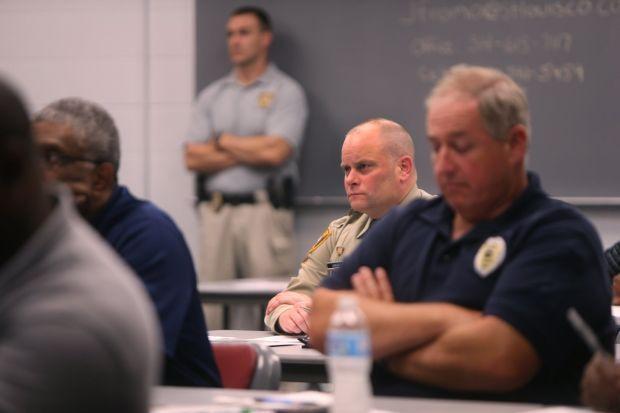 "I say this kind of jokingly — they're not going away," Maryland Heights Sgt. Terry Kenniston said of the program. "We don't want them to, to be honest with you ... they're a great resource for us."
Sgt. Jeremy Romo, the Crisis Intervention Team coordinator with the St. Louis County police, said police often get offers from groups or individuals who say they want to help but don't follow up. "They've very quickly immersed themselves in our culture," said Romo of the liaisons. "They're great. They're getting out, they're rolling up their sleeves and taking care of these folks."
To get services from the Community Mental Health Liaisons, call the Behavioral Health Response crisis line at 1-800-811-4760 or 314-469-6644.