UPDATED with more on police response
Franks, an activist who said he was at the protest to keep the peace between protesters and police, released a statement and the video on social media. He says the video, much of which appears to come from police body cameras, shows him being kicked, beaten and pepper-sprayed while he posed no threat.
Officers named in Franks' lawsuit have denied the accusations against them in court filings. One defense lawyer for officers named in the suit would not comment on the video Monday; another was unavailable.
The video Franks released is about two minutes long and edited. Some clips show his arrest close-up. A part that appears to have been taken from TV footage filmed at a distance has been slowed down and highlighted. Other clips, apparently from police body cameras, show officers talking about "getting a couple good licks in on somebody" and complaining about all the lights on the gas station lot and the protesters filming their actions.
The release of the 2014 Antonio Martin protest footage, is not to fuel tensions but to bridge gaps. This happened to me, but I'm not an anomaly. It took them a while to get us the body cam footage. It's about transparency and accountability. pic.twitter.com/WM2OjlhuUy

— Bruce Franks Jr (@brucefranksjr) November 26, 2018
A Post-Dispatch video and still images from that night show a different angle of Franks' arrest and the chaos of the night, during which protesters threw bricks and small explosives, according to police.
Sgt. Shawn McGuire of the St. Louis County Police Department released a statement Monday in response to questions about the video.
"We can confirm that some of our police officers were involved in the protest shown in the video from 4 years ago in December of 2014," McGuire said. "The protest turned violent, and subjects were taken into custody. Any use of force that occurred was documented and internal investigations were conducted as part of that review. We cannot further comment on the actions taken by officers that night due to pending litigation."
It's not clear how many cameras the video comes from, nor which department or departments the video was obtained from. The Post-Dispatch has requested unedited versions of the body camera video from St. Louis County and Berkeley police. County Police Lt. Francis Gomez refused to release video, saying it was a "closed record" relating to personnel records. Berkeley City Clerk Deanna L. Jones said Berkeley police did not have body cameras at that time. Arch City Defenders, the agency representing Franks, declined to release the full videos.
Claims and denials
Franks filed a federal lawsuit in December 2016 alleging officers used excessive force in arresting him at the protest on charges that were later dropped.
The suit says that despite being calm and compliant, Franks was beaten and pepper-sprayed by officers as he lay facedown with his hands cuffed behind him. However, the officers say in court documents that there was no beating. Franks was "actively wrestling" with police and any use of force was justified, they said.
Franks suffered physical and psychological injuries in the incident, his suit says. The suit alleges officers made false statements to shift the blame to Franks and lied to cover up the attack.
Franks was not available for comment.
According to the lawsuit, Franks was at the protest as a member of the Peacekeepers, a group of four local volunteers "trained in techniques to de-escalate and defuse volatile situations between police and protesters."
Franks says he arrived around midnight wearing a black hooded sweatshirt that had "PEACEKEEPER" emblazoned across the front in large white lettering.
Franks and the group positioned themselves to create a buffer between police and protesters. An officer grabbed one of the other Peacekeepers, and Franks tried to pull him back. A brief struggle ensued and all three lost their balance and fell. That's when officers started to place Franks under arrest, the suit says.
The suit accuses Anderer of kicking Franks in the face and pepper-spraying him in the face, and Von Der Heydt of using a metal baton to hit Franks' legs.
Franks cites several injuries from the incident, including cuts and bruising on his face and head, a torn rotator cuff in his right shoulder and a concussion.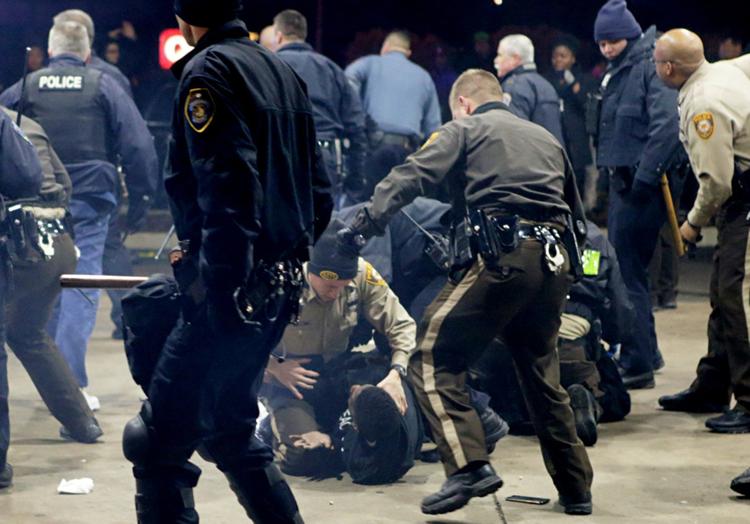 The officers deny that Franks was being compliant. The officers, in court documents, also pointed out that Franks for more than a year had been accusing another officer of assaulting him. That officer was sued in the original complaint in 2016 but has since been dropped from the suit. The county counselor's office, in court papers, said that "now Mr. Franks has changed his story."
The St. Louis County counselor, Peter Krane, is representing the county and officers Owens and Anderer. Krane was unavailable Monday.
Anderer is the officer who allegedly said the gas station was a "terrible place to fight" because of all the lights, according to captions on the video provided by Franks. Krane's office says that bringing up such comments made by an officer "confuses the issues in this case" and that the real issue is whether Franks was resisting arrest.
Franks was actively resisting, Krane said, and "whatever force that was used was reasonable and necessary at the time of this escalating volatile situation."
Charges against Franks of assault on a law enforcement officer and resisting or interfering with an arrest were later dropped. The suit claims police issued the charges to cover up misconduct and that the officers made false reports to shift blame for the attack to Franks.
The suit seeks unspecified damages.
Kim Bell of the Post-Dispatch staff contributed to this report.