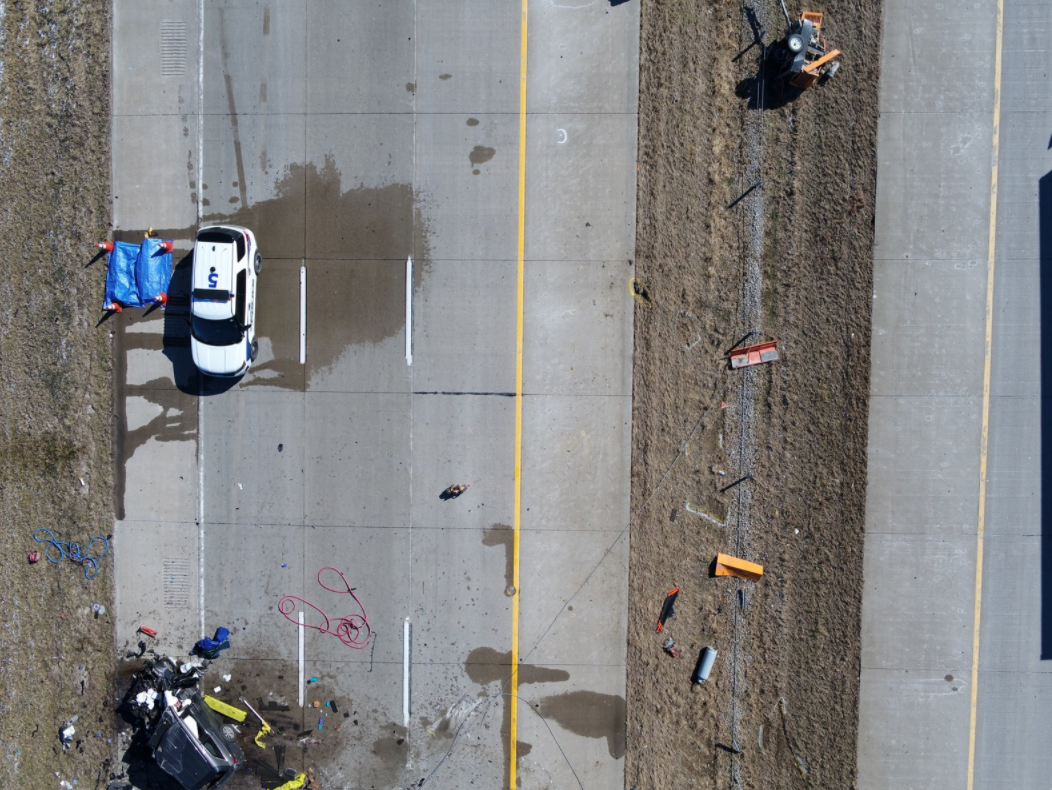 Despite the coronavirus pandemic that has reduced the number of motorists on the road, the Missouri Highway Patrol said fatal crashes are up about 11% so far this year compared with the same period last year.
There were 402 people who've died this year on state roadways as of Wednesday. By this time last year, there were 359 deaths.
The traffic deaths include any fatality on a Missouri road, not just the highways and roads patrolled by the Missouri Highway Patrol. Yearly totals for traffic deaths have gone down for the past three years. This year threatens that trend.
Fatal crashes since 2002 on Missouri highways
| YEAR | PERSONS KILLED IN CRASHES |
| --- | --- |
| 2002 | 1,208 |
| 2003 | 1,232 |
| 2004 | 1,130 |
| 2005 | 1,257 |
| 2006 | 1,096 |
| 2007 | 992 |
| 2008 | 960 |
| 2009 | 878 |
| 2010 | 821 |
| 2011 | 786 |
| 2012 | 826 |
| 2013 | 757 |
| 2014 | 766 |
| 2015 | 869 |
| 2016 | 947 |
| 2017 | 923 |
| 2018 | 921 |
| 2019 | 881 |
| 2020 | 987 |
| Source: Missouri Highway Patrol | |
In mid April, Missouri's fatal traffic crashes were on pace with last year's totals, with 192 people dead compared with 195 in the same period last year, said Capt. John Hotz, a spokesman in the patrol's headquarters in Jefferson City. That came despite stay-at-home orders brought on by the pandemic. For weeks there were fewer motorists on the streets.
The patrol has said that the wide-open roads unleashed speeders and reckless driving. Troopers at least once a day were clocking a motorist somewhere in Missouri traveling more than 100 mph. Missouri's statewide stay-at-home order spanned several weeks, while orders in areas such as St. Louis and St. Louis County lasted longer.
Traffic experts nationwide saw the same dangerous behavior on roadways. The roads were emptier but riskier, said Maureen Vogel, a spokeswoman for the National Safety Council, based in suburban Chicago.
The council issued preliminary findings this week of April data from all 50 states indicating that, for the second straight month, "Americans did not reap any safety benefit from having less roadway traffic."
"In fact, the roads became even more lethal as miles driven plummeted," the council said. "Preliminary estimates from the National Safety Council show a year-over-year 36.6% jump in fatality rates per miles driven in April."
One of the single deadliest incidents this year in Missouri was the Valentine's Day crash in Lake Saint Louis. Two women and their daughters were killed by a motorist who lost control and careened across the median of Highway 40 (Interstate 64) and hit their minivan.
The deadliest crash this year was May 9 in Jennings. Five people, including an infant and toddler, were killed when a driver lost control on Lucas and Hunt Road and collided with an oncoming car.
The death rate in motor vehicle crashes is determined by the number of deaths per 100 million miles traveled annually. In 1978, for example, the rate in Missouri was 3.5. It's been dropping about every year and was 1.2 in 2015, the most recent year reported on the patrol's website.
Nationally, fatal traffic wrecks have been going down steadily over the decades. Experts give a variety of reasons, including more people using seat belts and more safety devices on vehicles. But drunken driving deaths have plateaued since the mid 1990s, Vogel said. "We're consistently seeing about 10,000 deaths every year from drunk driving" across the country, she said.
In Missouri, patrol Capt. Hotz agrees that DWI deaths have leveled off. "Unfortunately speed continues to play a factor," he said. "And inattention. And this is road-construction time."
Hotz worries the number of dead motorists will climb even higher during the upcoming three-day weekend for the Fourth of July holiday. He said last year's death count over that holiday weekend was a grim tally: 15 people killed and 457 people injured.
Kim Bell covers breaking news for STLtoday.com and the St. Louis Post-Dispatch. Follow her on Twitter here.