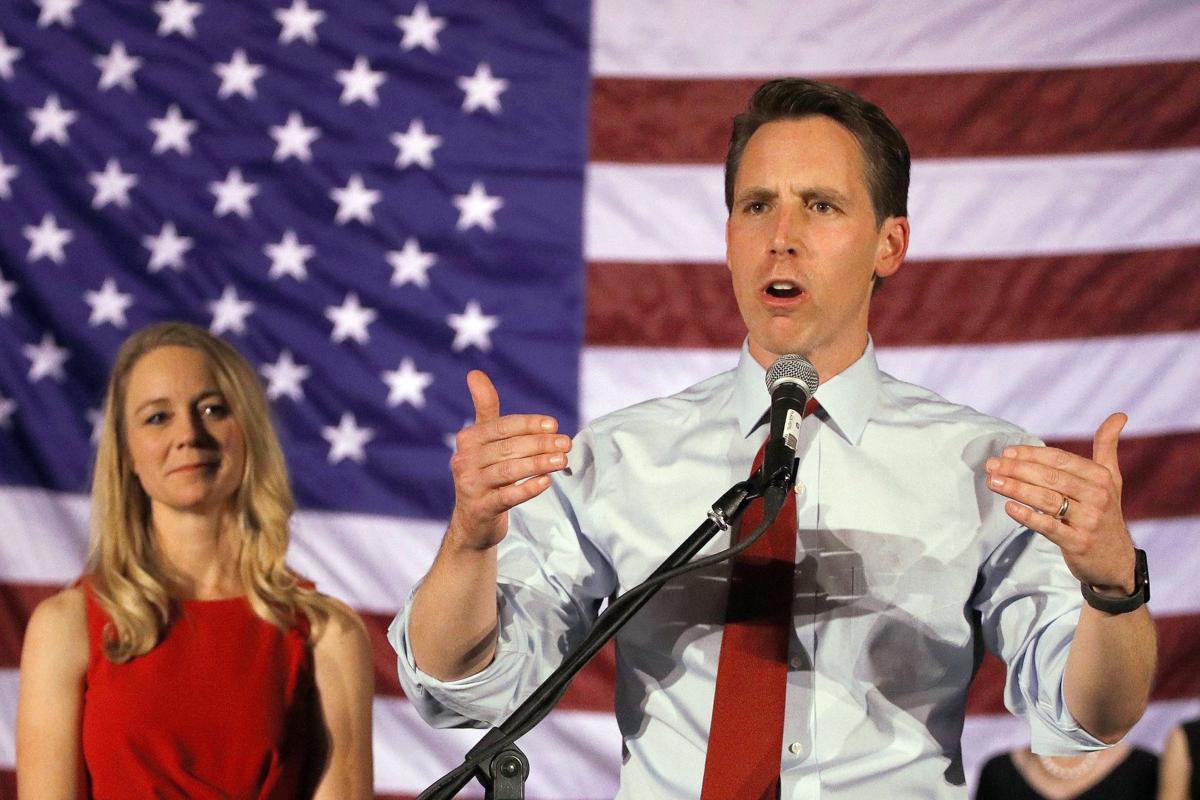 JEFFERSON CITY • Secretary of State Jay Ashcroft has launched an investigation into the way Attorney General Josh Hawley ran the attorney general's office, Ashcroft's deputy general counsel wrote to a Democratic-allied group Thursday.
The American Democracy Legal Fund wrote to Ashcroft on Nov. 2, days before the midterm elections, alleging that Hawley may have "used public funds as Attorney General to support his candidacy for U.S. Senate."
The complaint came after the Kansas City Star reported on Oct. 31 that political advisers who would run Hawley's U.S. Senate campaign also directed taxpayer-funded staff, confusing the attorney general office's chain of command.
The advisers also worked to raise Hawley's national profile after Hawley took office as attorney general, the Star reported.
"This office will commence an investigation into the alleged offense," Khristine A. Heisinger wrote to Brad Woodhouse, president of the legal fund. Heisinger asks Woodhouse to forward the secretary of state's office any information he may have.
Like Hawley, Ashcroft is a Republican.
Mary Compton, spokeswoman for the attorney general's office, said by email that the office was "delighted to cooperate" with the probe "and put these ridiculous allegations to bed once and for all.
"These allegations are totally meritless and nothing more than a partisan attempt to slander the work of the Attorney General's Office. As we have said before, no taxpayer resources were ever expended for campaign purposes. And no government employees ever participated in campaign or political activities."
Woodhouse cheered the news.
"Josh Hawley's flagrant abuse of his taxpayer funded office for his own political gain deserves immediate investigation," he said in a statement. "We're heartened to see Secretary of State Ashcroft give this racket further scrutiny."
U.S. Sen. Claire McCaskill, D-Mo., who lost to Hawley in November's election, argued in the campaign's closing days that he may have committed a crime by inviting political advisers to manage aspects of his office.
"It is against the law to use state resources for political gain," McCaskill, a former prosecutor in Kansas City, said. "You cannot use taxpayer-paid staff to assist in any political purpose. The last (Republican) attorney general went to prison for utilizing his office and his state staff to promote him politically. Those are the facts."
In 1993, Missouri Attorney General William L. Webster was sentenced to two years in prison for conspiracy and embezzlement of state resources after an investigation revealed Webster was using state resources for political purposes.
"That was a big red flag to me," one attorney who still works in the office, and who spoke on the condition of anonymity for fear of retaliati…
The agenda at various meetings with consultants Timmy Teepell and Gail Gitcho and office employees included official business such as the budget, staffing decisions and how to roll out major policy initiatives against sex trafficking and opioid abuse, the Star reported.
Hawley, at a campaign stop after the report, denied any wrongdoing.
"From Day One, we've made combating human trafficking, taking on the opioid industry, protecting Missouri consumers a top priority. And I came into office wanting to do that and you can see that reflected in everything, from our notes, our meetings, our calendars, all of that from the very first," Hawley said.
Teepell was among the entourage traveling with Hawley as he made stops in Mexico, Hannibal and La Plata in the closing days of the campaign.