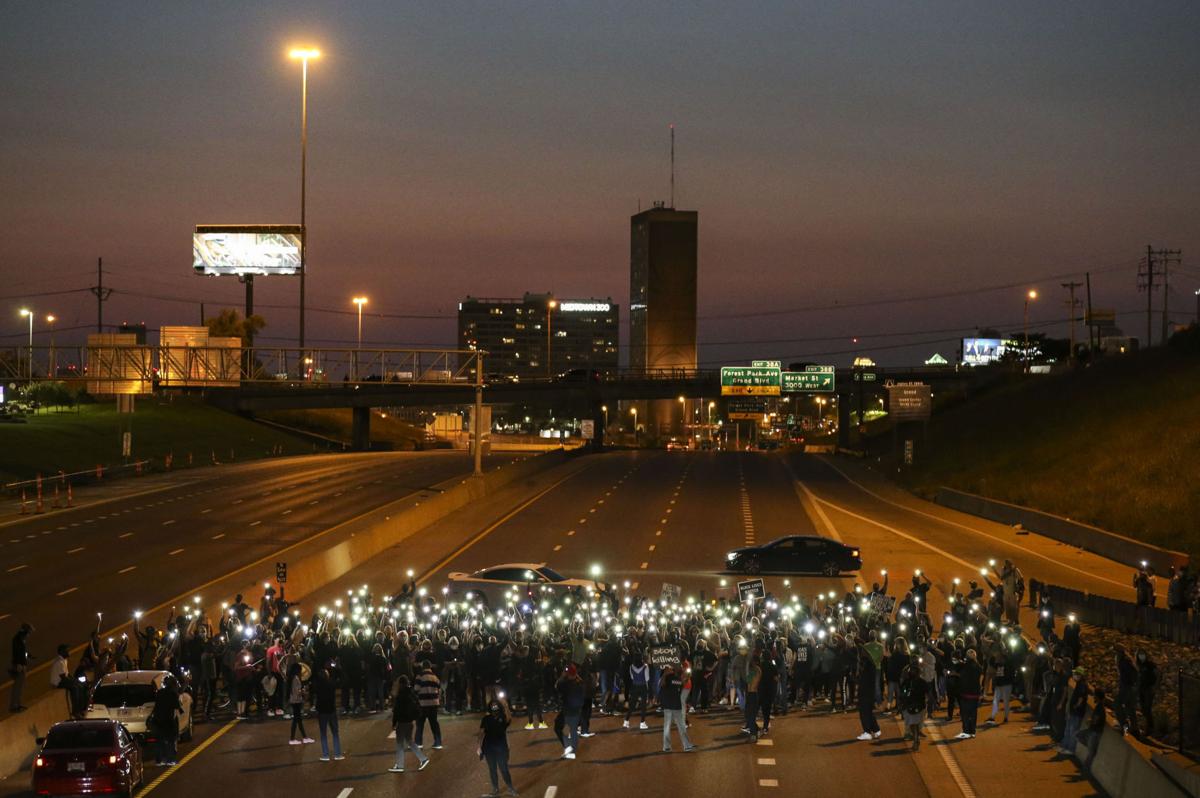 JEFFERSON CITY — After hours of debate and negotiation, the Missouri Senate on Tuesday gave preliminary approval to legislation that creates protections for police and increases penalties for protesters who break the law.
Eigel described five provisions in the bill:
• A "law enforcement bill of rights" for officers under investigation.
• Increased penalties for protesters who block traffic.
• Increased penalties for protesters who vandalize monuments.
• The right for taxpayers to obtain court orders against municipalities that cut police budgets much more steeply than those of other departments.
• A prohibition on granting probation or conditional release to people who have committed dangerous felonies against on-duty law enforcement officers or first responders.
Eigel fielded questions on the traffic and "bill of rights" provisions, in some cases reaching compromises that were more acceptable to his critics. After several hours of behind-the-scenes negotiation, the Senate gave preliminary approval to a substitute version of the bill during the early hours of Tuesday.
Early in the debate, Sen. Karla May, D-St. Louis, said she supported the "law enforcement bill of rights" but wished it could be separated from other parts of the bill, which she portrayed as unnecessarily punitive.
Eigel stressed the danger of protests on roads and highways and said that creating an offense for blocking traffic is an attempt to walk the "fine line between freedom of speech and safety."
May said widespread protests are rare and come in response to "horrific injustice." She argued that voices for change are valuable and that the Legislature should be looking to create better paths for safe protest instead of penalizing people for actions they might not know are against the law.
May said existing channels don't allow for quick action and give control to entities that might want to stifle protest.
"You're putting the power in the hands of people who are going to deny them," she said.
Protests should not be violent, but "sometimes making change and drawing attention is inconvenient for someone," she said.
Eigel said he was open to milder penalties for first offenders to encourage them to go through legal channels for future protests.
Sen. Barbara Washington, D-Kansas City, successfully introduced an amendment that would make a first offense an infraction, the second a Class A or B misdemeanor, and the third a felony. The original bill made first offenses a Class A misdemeanor or Class D or E felony depending on the location and circumstances.
May introduced an amendment to create a fund for law enforcement officers to voluntarily seek therapy or counseling, as well as to require mental health check-ins every three to five years. The amendment was stripped down to the basic creation of the fund before it was approved, but Eigel made a commitment to hear the other provisions in his committee.
Sen. Steve Roberts, D-St. Louis, said he appreciated the spirit of the "bill of rights" and was in favor of due process for officers. He argued, however, that some parts of the bill went too far and exceeded standard due process protections.
"We don't in a sense want to put on kid gloves for officers that do need to be removed," he said.
Specifically, Roberts argued that requiring a sworn affidavit to open an investigation instead of simply probable cause could create a "chilling effect" early in the case that could prevent accusers from coming forward.
Eigel said the idea of the sworn affidavit was to make sure people take the process seriously, but agreed that he would be open to protecting the identity of the person making the complaint.
Roberts also argued that investigations of law enforcement officers should follow the same standards for other police investigations, instead of Eigel's language stating they should happen while the officer is on duty.
An amendment from Roberts making changes to the "bill of rights" section was adopted.
The proposal also says courts should grant taxpayers "injunctive relief" if a political subdivision reduces its law enforcement by 12%, relative to other departments, over the course of five years.
It defines vandalizing public monuments as "institutional vandalism," a Class A misdemeanor or Class E or D felony depending on the amount of damage caused.
The measure still needs one vote in the Senate, which could happen as early as Thursday, then it moves to the Missouri House for its consideration.