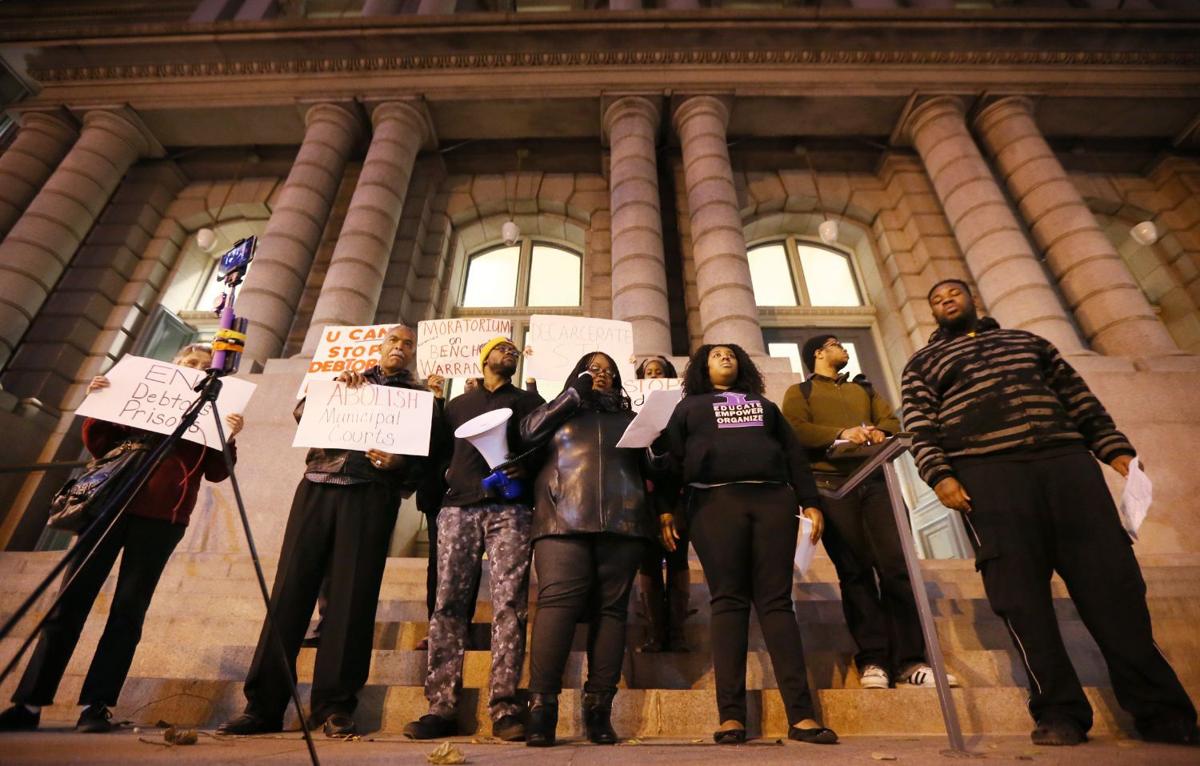 The Missouri Supreme Court issued this week a set of minimum standards for municipal courts, a long-awaited response to charges that municipal courts in the St. Louis area are unconstitutional debtors' prisons that routinely violate the rights of the poor.
The standards, which go into effect July 1, address some of the failures that made the St. Louis area a national example of a profit-driven justice system balancing municipal budgets on the backs of the indigent.
For example, activists have decried the practice of holding in jail defendants who were unable to pay fines or bail, sometimes waiting for days or weeks to see a judge. In response, the high court established a requirement for municipal courts to have a judge on duty at all times to rule on warrants and bail, and to offer alternative sentences for people who are too poor to pay fines.
They set some standards for transparency, too. Under the new rules, courts must have a clerk on duty for at least 30 hours a week. They must at least be pursuing court automation to allow payments online and make available free online access to information about pending cases, outstanding warrants and scheduled dockets.
And courts must meet in a space that's large enough to accommodate the public — no more people queued up shivering outside court on cold winter nights.
"I don't see any problem with these," said Bryan Dunlop, a lawyer who works as a municipal judge in Maplewood and Beverly Hills. "We've been operating with these for a long time."
But the standards stopped far short of what many critics wanted, including forcing some of the county's 80 courts to consolidate.
That was one of the recommendations from the Ferguson Commission appointed by Gov. Jay Nixon to study ways to heal rifts in the community after the fatal shooting of Michael Brown on Aug. 9, 2014.
And the high court's standards lacked any penalties for failure to comply. The municipal courts merely have to certify twice a year to the presiding judge in their circuit that the standards are being met.
"The presiding judge and the Supreme Court don't have the inclination or the time to supervise these courts," said Brendan Roediger, an associate law professor at St. Louis University who has sued several courts in St. Louis County on behalf of poor clients. "What we need are rules that can be enforced in an individual case."
The Supreme Court issued a rule in June ordering a municipal judge to recuse himself when he is related to any defendant, or when he has an interest or has previously served as an attorney in the case, or when the prosecutor regularly serves as a judge in another municipal court in which this judge regularly works as a prosecutor or municipal attorney.
In a speech Thursday to members of the Missouri Bar Association, Chief Justice Patricia Breckenridge said she had showed up unannounced at several municipal courts and found problems.
A recorded greeting for one court said it was open until 4 p.m., but a sign on the door said it was closed at 1. Some courts said children were not welcome "despite the Constitution and a not-so-gentle reminder from the presiding judge that courts are to be open to the public," she said.
At one court, court clerks wore jackets with police logos, "visually illustrating the lack of separation of the executive branch police from the judicial branch court."
At another court, she said, the prosecutor was seated behind the bench with the judge during court proceedings. (Through a spokeswoman, Breckenridge said she would not identify the courts she had visited.)
"I experienced firsthand what citizens in our state must encounter every day," she said. "I felt frustrated and angry."
She said she expected some of the reforms to be unpopular. To help supervise St. Louis County, she said the court would hire two special monitors.
Breckenridge noted in her speech that several courts in St. Louis County were already planning to consolidate. Normandy Mayor Patrick Green confirmed that Normandy's court and several smaller nearby courts were making such plans.
"By reducing costs, sharing operations, as well as clerical and judicial personnel," Breckenridge said, "we hope to reduce the incentive to use municipal divisions as revenue generators rather than to ensure public safety."