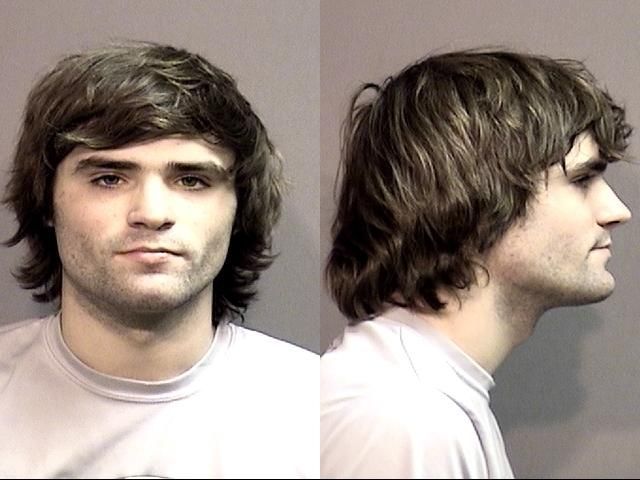 COLUMBIA, Mo. • A student at the Missouri University of Science and Technology in Rolla was charged Wednesday with making a terroristic threat on social media against the Columbia campus, which has been roiled by controversy this week.
The suspect, Hunter M. Park, 19, of Lake Saint Louis, is a computer science student. He was arrested at his dorm by university police about 1:50 a.m. and held in lieu of bail at the Boone County Jail in Columbia.
Various threats have added to the unease at Mizzou, where pressure from black students who alleged racism there led to the resignation of the system president and ouster of the campus president.
Maj. Brian Weimer, of the campus police at Mizzou, said the threat was made Tuesday on Yik Yak, an anonymous location-based online app. Weimer did not specify the threat, and records with details were not available because courts were closed Wednesday for Veterans Day.
A threat posted to Yik Yak by someone had said, "I'm going to stand my ground tomorrow and shoot every black person I see." Another said, "Some of you are alright. Don't go to campus tomorrow."
Officials say they do not know if there is any connection to Wednesday's arrest of a freshman at Northwest Missouri State University, in Maryville, Mo., on an accusation that he used Yik Yak to threaten violence against blacks there. Connor B. Stottlemyre, 19, of Blue Springs, Mo., was held pending consideration of charges. Police said his message read: "I'm gonna shoot any black people tomorrow, so be ready."
Park is a 2014 graduate of Wentzville Holt High School, where he was known as a brilliant student. As a member of the school's robotics team, he won many awards, and advanced to the Intel International Science and Engineering Fair in Los Angeles.
He is a sophomore majoring in computer science at Rolla, said Mary Helen Stoltz, manager of external relations there.
On his LinkedIn page, Park, describes himself as a student studying computer science and physics. He said he helps develop new algorithms for cell segmentation and is looking to attend graduate school in either computer science or mathematics.
No one answered the door at his home Wednesday. But Leslie Monahan, 55, a neighbor who flies a Mizzou banner in her front yard, told a reporter, "I can't say enough great things about Hunter. Extremely bright. Nice young man." She said he is a close friend of her son and she never heard Park make any racist comments.
Another neighbor, a woman in her 50s who would not give her name, called the arrest "a total shock." She explained, "He's a really good kid. If he did say that (a threat), I don't think it would be with malicious intent. I just know of him being a pretty serious, studious kid." She added, "This is totally out of character."
After a night of threats of shootings and rumored Ku Klux Klan presence on campus, Columbia streets normally teeming with students had slowed down to a trickle Wednesday. Several restaurants, bars and coffee shops were shuttered, with handwritten signs proclaiming safety concerns, or simply "Closed."
A school website said the campus was "operating on regular schedule." But things were quiet, in contrast with the shouts and dancing that accompanied the resignation of university system President Timothy M. Wolfe on Monday.
"It's definitely more dead than usual," said John Gillis, 20, a computer engineering major, as he sat on a bench near the landmark Columns. He said none of his classes were cancelled but some had a lot of vacant seats. He said he was being vigilant — avoiding populated areas, like the student center — just in case.
Payton Head, president of the Mizzou student body and one of more vocal protesters, had used Facebook on Tuesday night to urge precautions and warn that, "The KKK has been confirmed to be sighted on campus. I'm working with the MUPD, the state trooper and the National Guard."
But after several public agencies posted on Facebook that police found no evidence of the KKK, Payton posted, in part: "I received and shared information from multiple incorrect sources, which I deeply regret. The last thing needed is to incite more fear in the hearts of our community."
Police on the Columbia campus said they traced online threats to Park, and asked officers on the Rolla campus for help in arresting him at the Thomas Jefferson Residence Hall there. Police said they found no weapons.
After Park's arrest, Mizzou tweeted that the suspect "was not located on or near campus at the time of the threat."
Missouri law defines making a terroristic threat as having "the purpose of frightening ten or more people or causing the evacuation, quarantine or closure of any portion of a building, inhabitable structure, place of assembly or facility of transportation."
Authorities said Wednesday that he was charged with a first-degree felony punishable by up to four years in prison and a $5,000 fine. In court documents made public Thursday, prosecutors allege a more serious class of first-degree felony that would be punishable by up to seven years in prison.
Wolfe resigned Monday and, hours later, the Columbia campus chancellor, R. Bowen Loftin, was forced out.
Campus police began urging students Tuesday to report any hateful or hurtful speech, even if it wasn't a crime. The MU police reportedly had increased its presence on campus even before hearing of the threats.
At Missouri S&T, Chancellor Cheryl B. Schrader said in a statement: "Threats of violence of any kind are not tolerated. As a campus, we are grateful that this situation did not escalate. I thank both of the police departments for their swift action in handling this case."
"It's our hope that the range of discussion on MU's campus can help to bring about positive resolution and a better understanding within the community," Buffington wrote. "But there's a point where discussion can go too far — and the threats that were posted on Yik Yak last night were both upsetting and completely unacceptable."
Kim Bell and Mark Schlinkmann of the Post-Dispatch staff contributed to this report.
---
EDITOR'S NOTE: This story has been updated to reflect new information from prosecutors.