WASHINGTON, Mo. • The mother of two boys who were abducted and fatally shot by their father on Saturday described her husband as "a very attentive, loving, over-the-top caring individual for these boys."
"And that's the part I don't understand," Elisa Sartorius-Cadenbach, 40, said in an interview on Sunday.
While police were looking to arrest Christopher Cadenbach on Saturday for domestic abuse against her, he took their two boys, Ethan, 5, and Owen, 4, from his mother's house in Lemay. Then, police said, he killed the boys and fatally shot himself as St. Louis County police officers closed in on him at Cliff Cave Park.
"I don't feel like anyone thought he would be capable of this," Sartorius-Cadenbach said.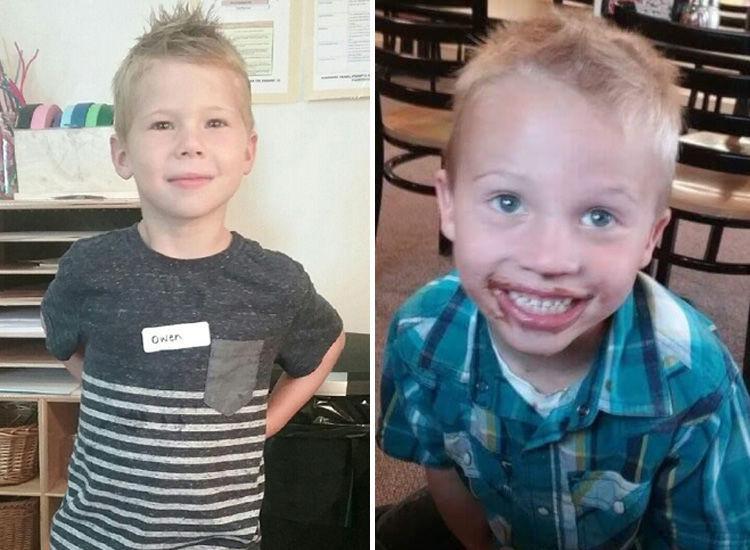 She said she had recently told her husband after nine years of marriage that she wanted a divorce.
"That was one of the things that set him off — knowing that our family dynamic was over and I was seeking a divorce. He kept telling me, 'No — I'm not going to let you leave me.' "
She said he abused her twice in the past nine days. In an Oct. 28 post to the Facebook group Abuse No More, she wrote that she had just driven herself to a hospital with a neck and back injury after he put her in a choke hold.
"Such a scary feeling to not be able to breathe while the man u supposedly love holds his hands over your mouth and nose," she wrote.
Days ago, she sent a friend a photo of bruises on her face. The friend sent them to the police. Detectives went to check on her at noon on Saturday, she said. Cadenbach was being sought on a warrant for domestic abuse issued in Franklin County, St. Louis County police have confirmed.
"I think that he snapped and knew that he was facing a lot of jail time," Sartorius-Cadenbach said. "And he did this to hurt me, and I guess as revenge for me for pressing charges against him. He was trying to get back at me and hurt me the best way he knew how."
"We weren't expecting him to drive to Lemay and get the boys," she said.
Ethan was a kindergarten student at West Elementary in Washington. Owen was attending preschool in the Washington school district. They loved superheroes and action figures. Ethan dressed up as a Lego ninja for Halloween. Owen went as the Flash.
The family lived on a quaint block of two-story frame and brick homes in Washington, with nicely trimmed yards.
The boys' two pumpkin-shaped candy carriers remained on a bench on the front porch Sunday. Two small baseball gloves were nestled with a bigger glove there.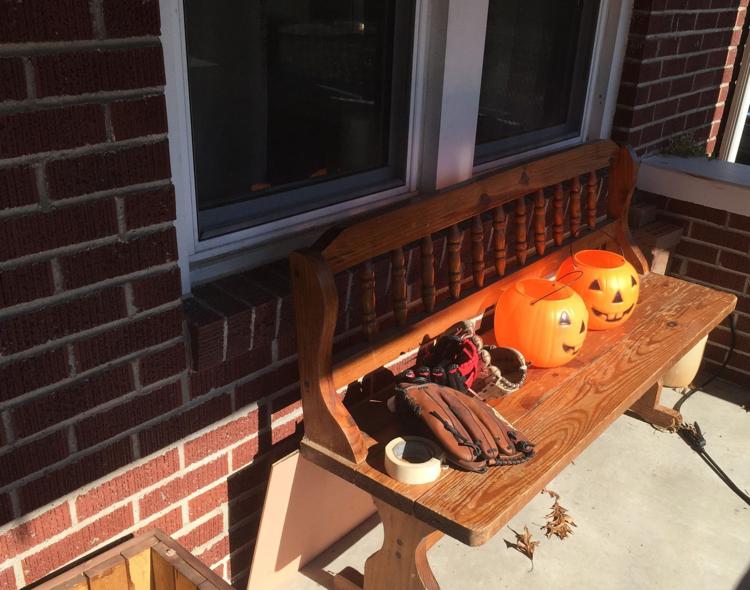 "We spent this past summer going to Six Flags and Hurricane Harbor," Sartorius-Cadenbach said. "They liked to go on float trips, and they liked to hike in the woods. They liked chocolate milk in the morning. They had a puppy named Buddy that we just got a couple months ago, a cocker spaniel.
"They were just really very good, smart little boys."
On Sunday evening, a group of at least 150 people gathered on a soccer field at St. Paul Catholic School in Fenton for a candlelight vigil. They stood in a large circle, quietly holding hands while the Rev. Thomas Robertson of St. George Catholic Church in the Affton area spoke.
Afterward, two paper lanterns were released into the night sky. One had Ethan's name written on it. The other had Owen's.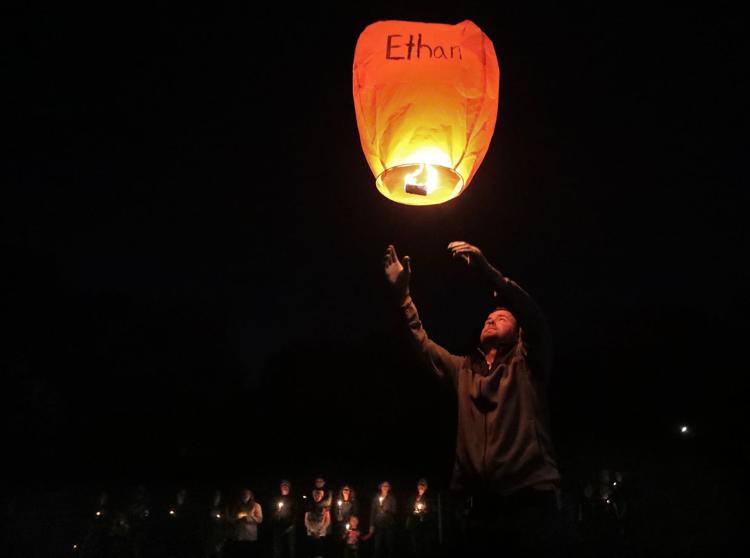 'Everybody's best friend'
Sartorius-Cadenbach said her husband was "your typical narcissist and your typical abuser that looks good on the outside to everybody else. He's everybody's best friend."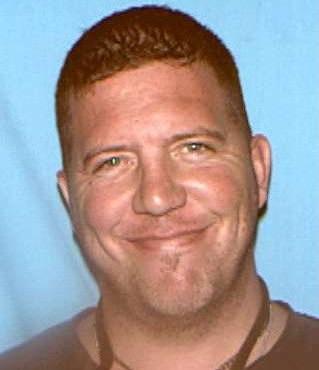 While she was working full-time as a nurse at St. Clare Hospital in Fenton, her husband had a photography hobby and ran a regular trivia night at Marquart's Landing, a pub in Washington. He made about $50 per night but spent most of it at the bar, she said.
"Everybody loved him," she said. "They thought he was the greatest guy on the face of the earth."
Rick Marquart, the pub's owner, said that although the patrons seemed to like Cadenbach, there was an uncomfortable edge to him.
"I could sense anger when someone questioned him on an answer," he said. "I sensed a little sarcasm. But I couldn't imagine that guy doing something like that."
Cadenbach took pictures of his wife and children and posted them to Facebook with obvious pride. In August 2015, he posted a YouTube video of himself disco dancing with the boys in the living room.
But his wife said his happy posts belied agitation at home; the slightest problem could fill him with rage. And he was obsessed with conspiracy theories involving the Illuminati and Freemasons.
"He's been this way for nine years, but I think it's gotten worse," Sartorius-Cadenbach said. "Our stress level was raised after we had Ethan and Owen; our home life was definitely more stressful with two younger children, which I think led to more stress and arguments."
Because she was the breadwinner, it "contributed to him feeling like he needed to control me and bring me down to bring himself up because of his own insecurity. We agreed that once Ethan started kindergarten, that he was going to start looking for more of a full-time job. But any time I brought that up, it turned into an argument."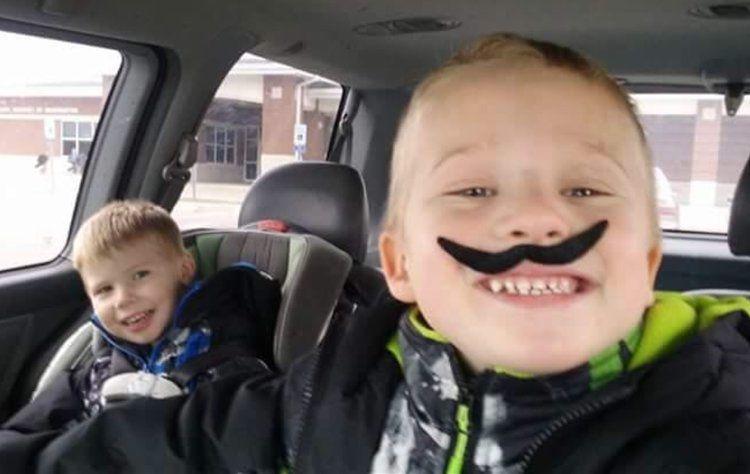 The night of Aug. 20, while Sartorius-Cadenbach was at work, her husband wrote on his Facebook page that he was considering giving Ethan a mohawk-style haircut.
"He is my son too," she wrote on his post. "And I will kick your ass in the morning when I get home from work and find our son with a ... mohawk ..."
But that's exactly what she found.
"He had just started kindergarten a week before, and now our kid is going to school with a mohawk," she said in the interview. "So I had no choice... My way of getting over it was to say, 'OK fine, you gave our son a mohawk, now you're getting a mohawk. Now let's see who's laughing?' I got over it, but it was very upsetting to me that he gave our son a mohawk."
She said that at home she was "constantly walking on eggshells. The mood of the house depends on what his mood is that day. If he's in a good mood, the rest of the household will be in a good mood. But if he's pissed off it reflects on the kids and the family."
She said that while detectives were visiting her on Saturday, she asked them to call Cadenbach's ex-wife, Stephanie, with whom he had two older boys. Sartorius-Cadenbach also has two older children, who were not harmed.
Cadenbach's son, Nick Cadenbach, who said he graduated from Rockwood Summit High School this spring, wrote on Facebook after midnight on Sunday that he thought his father would be coming for him and his brother, so they fled.
"I just recently received the news that both of my little brothers were found shot dead ... two innocent children dead, at the hands of my own dad, who nobody thought was capable," he wrote.
In a message to a reporter, he wrote: "I just want everyone to know that my dad wasn't the type to do something like this, he wasn't a bad person. He just finally snapped from the stress and pressure of facing jail and the evil side to him we only rarely ever saw took over."
Neighbors said although they didn't know much about the family, they would see the father with the two boys playing ball or swinging on a rope swing.
John Rothermel, 40, a neighbor, said he had seen police visit the house "here and there" recently, but he didn't know why.
"He would be out there with his boys all the time," Rothermel said. "He used to teach them how to do woodwork projects. It looks like he was good to his kids, from a distance."
Sartorius-Cadenbach said her boys "had a really good last week. They went trick or treating, and to the park. I went to Fenton Park with them two days ago. They liked to ride bikes, they liked to be outdoors, they liked to be on the walking trail. They were very active little boys.
"And it's really sad, because they loved their dad."
Beth O'Malley and Christian Gooden of the Post-Dispatch contributed to this report.