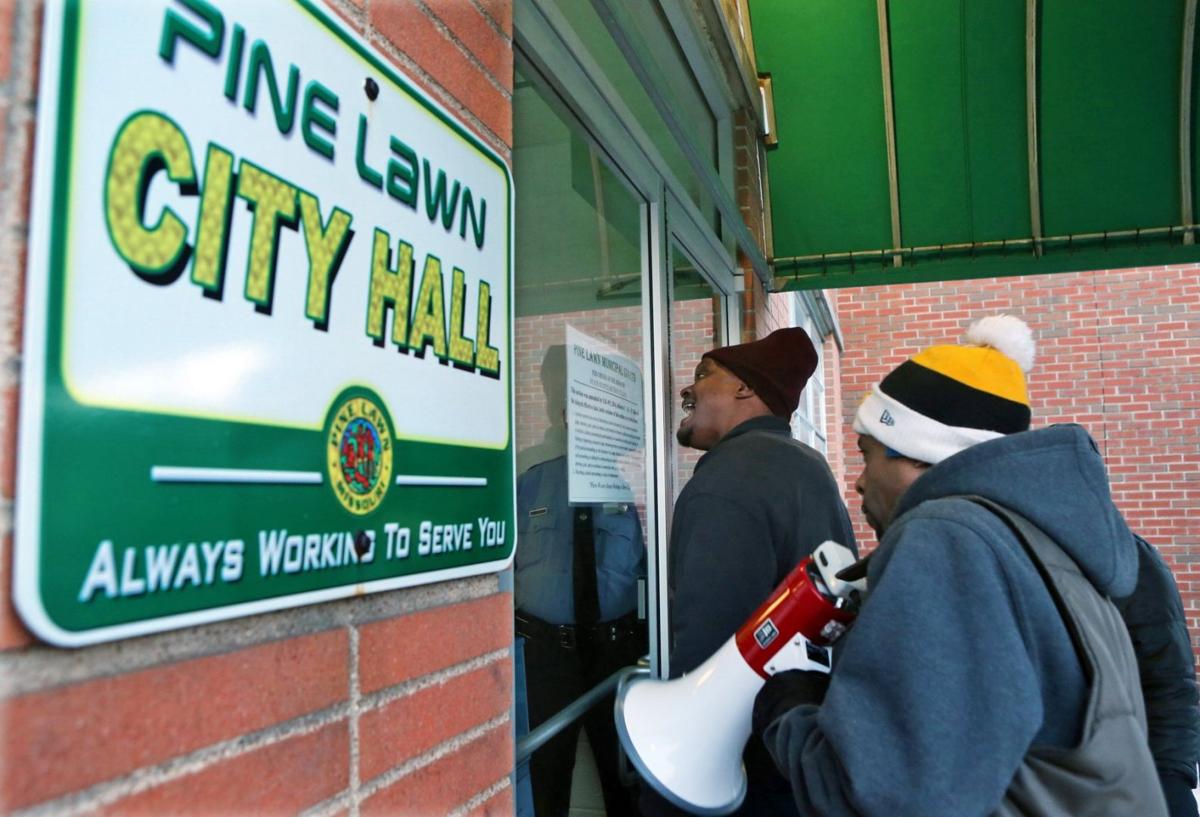 ST. LOUIS • Some of the best deals that are made in the region's municipal courts never see the light of day.
When prosecutors dismiss a citation it is often done at a whisper, in a side room, or out of court altogether.
Then the record is sealed under a state law that is ostensibly to protect the falsely accused but in reality often hides favors.
It's just one example of how the region's municipal courts operate in secret, keeping uneven treatment private and using laws and court rules to justify it.
A Post-Dispatch investigation into the courts found a pervasive lack of transparency. Court hearings are conducted in assembly-line fashion and in hushed tones, without any way for the public to learn what is happening with each case. Public records are sparse — viewing a single case file can often take days of waiting and require permission from a city attorney. Then there are the side deals, which are hidden but prolific.
Even in court sessions that are theoretically open, judges often speak in whispers at the bench, making it impossible to hear exchanges with defendants who don't have attorneys. It's here where they quietly discuss what a person can pay and when.
The prosecutor often sits in a side room, ready to make deals. Attorneys file in and out, if they show in court at all. Many attorneys will both enter on a case and seek a recommendation from the prosecutor all at once by way of a fax machine, mail or an online service. These are the agreements that result in points staying off someone's driving record.
Plea bargains are frequent in any court system, and are usually done out of earshot of both the judge and the public. But if there is a plea deal involving a felony in state court, there will ultimately be a plea hearing before a judge, and it will be transcribed for appeal purposes.
Traffic cases are different — in part, because of the sheer numbers. With no hearing or public discussion, agreements get tucked away into individual case files, apparent only to those who know to look for them. The courts don't keep a list of amended charges and aren't required to report these deals to the state.
The sweetest deals, those that wipe out a case altogether, are completely hidden from the public. These are the phone calls and emails that often only happen if you know someone who knows someone. While the courts do report these numbers to the state, that's all it is — just numbers, with no way of identifying the types of cases or individuals who benefit.
Some municipal courts dismiss up to one-third of their traffic cases, a Post-Dispatch analysis of data from the Office of State Courts Administrator shows. And while court officials say there are plenty of legitimate reasons for dropping a case, the public has to take their word for it, because all related records are closed.
Court officials say the sealing of dismissed traffic cases is required under a provision of the state's Sunshine Law. It applies to all state courts, but its impact is more pronounced in the municipal courts, where a person's experience can hinge on whether they are poor or connected.
Though municipal court officials say sealing is required under the statue, the statute itself refers only to cases where there has been an arrest. A 1981 decision by the Missouri Court of Appeals in Springfield says an arrest requires physical detention, and a traffic ticket, or summons, is not an arrest.
Because court officials will not release information about cases that have been dismissed, all of the ticket-fixing that was cited in a recent Department of Justice report — involving Ferguson's mayor, judge, court clerk, police chief, collector of revenue and more, both in that city's court and others — would not have been known if civil rights investigators hadn't been able to pore through the trove of emails in which the deals were made.
Nor would Ferguson Prosecutor Stephanie Karr's practice of dismissing all red-light camera tickets for cases with attorneys (unless "the attorney goes off on all of the constitutional stuff," in which case she would make them come to court, argue and pay a fine, according to an August 2012 email cited in the report).
In an attempt to learn which attorneys were getting the most favorable deals — and for whom — the Post-Dispatch requested a series of documents from the area's municipal courts, starting with the most basic: the court docket.
The docket is a list of cases scheduled for any given court session. It's something courts everywhere have and make public. Not so in many of St. Louis County's municipal courts.
Two courts contacted by the newspaper said they didn't keep a list of scheduled cases. Ferguson's court would provide it only if a formal request was made under the state's Sunshine Law. No courts could provide it immediately, several took longer than a month, and some never responded. Several courts charged upward of $100 to produce the docket.
A group of courts represented by the Clayton law firm Curtis, Heinz, Garrett & O'Keefe — whose attorneys serve as judge, prosecutor or city attorney in more than 20 St. Louis County municipalities — sent the request to Regional Justice Information Service, which coordinates a regional database of criminal information, including the electronic records for about 50 area municipal courts.
REJIS is led by a seven-member board that includes the St. Louis and St. Louis County police chiefs. It is a quasi-public entity subject to the Sunshine Law.
The newspaper was charged $85 for each REJIS report.
Steven Garrett, a principal with the law firm, said REJIS was enlisted for the sake of expediency and because it would be able to remove cases that had since been dismissed by the court.
It took nearly a month to receive the dockets. Among them: a blank page from Bellerive Acres, and a list of three cases each from Greendale and Pasadena Park — the latter which the newspaper didn't request.
The newspaper also tried to obtain two reports that would show citations that had been amended or dismissed (the Sunshine Law says the final disposition of a dismissed case is public). While individual courts do not keep a record of amended charges, REJIS said it could provide a list for each municipality, but only with their permission. Both reports would list the defendant's name and citation, and the REJIS report could also provide the name of the defense attorney.
After the requests were sent out, Sam Alton — prosecutor in Olivette, city attorney in Pagedale and judge in Edmundson — sent an email to 64 court officials and attorneys calling the requests "repetitive" and "creating an undue burden" on the courts, and telling them why he would recommend they withhold the information.
The next day, in a wave of emails that mostly used the same language, the courts said they were bound by Supreme Court rules, not the Sunshine Law.
The Supreme Court rules say court records are presumed open and should be provided at a reasonable cost.
But 28 courts denied the REJIS request citing two other provisions of the court rules: one that says the courts are not required to compile information from existing records, and another that says case information that identifies a person will be provided only by individual case or by a public index. The courts maintained they do not keep a public index of amended or dismissed cases.
While the state and federal courts have electronic databases where the public can view case listings, most of the municipal courts here keep their databases private.
Of the dozen courts contacted for dismissed cases, five responded, again in unison. Their denials cited Supreme Court rules that prohibit the release of "bulk records" for commercial purposes or without permission of a state judicial records committee. The court rules define bulk distribution of records as "the distribution of all, or a significant subset, of the information in court records, as is and without modification or compilation."
In an interview, Alton said he wrote the email because he was concerned about the potential release of private information. He noted the newspaper could appeal the decision to the state judicial records committee, which meets quarterly to consider denied requests.
"I think everybody agrees that the records should be open to the public to the extent that we have the power to do so. We aren't trying to hide anything," he said. "But we are erring on the side of caution with respect to privacy without an opinion from the Supreme Court."
When asked what he thought of the dearth of public records available in the municipal courts, Alton responded: "I certainly believe that our records should be open to the extent that they are in St. Louis County or anywhere else — provided that we don't sacrifice privacy concerns and provided we are capable of doing it."
Only a small group of courts, including St. Louis city, consented to having REJIS provide the report on amended cases. But then REJIS refused to run it. David Pudlowski, director of client services for REJIS, said "clearly most of the municipalities don't want this information released," and without more buy-in, "I don't even think it's worth our effort …. it just doesn't make it a high priority for us."
He said if REJIS were to run the report, it would cost the newspaper a minimum of $800.
REJIS does provide a daily list of traffic citations to a private company called Direct Marketing that uses the information for commercial purposes, sending out mailers to people who have received tickets from traffic attorneys seeking clients. REJIS creates the report, which lists names and addresses, from court records daily. Pudlowski said REJIS found that worth its time because enough courts — about 50 of them — agreed to release the information. In January, Direct Marketing paid REJIS $2,442 for the records.
"We don't want to be the obstruction in this process," Pudlowski said, "but on the other hand, we try to run this like a business and make the best use of our staff time."