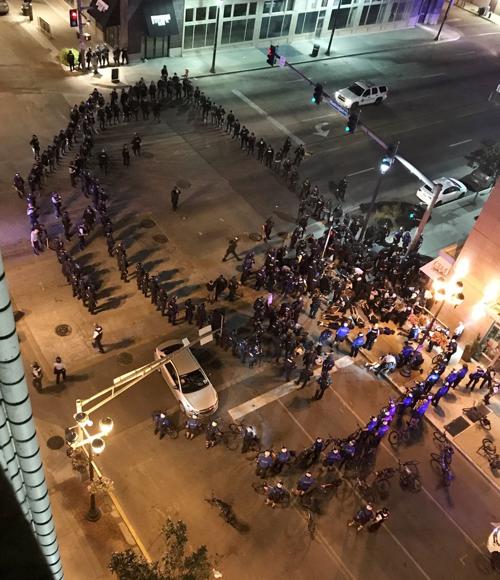 ST. LOUIS • Civil rights advocates asked the new U.S. attorney in St. Louis on Friday to investigate allegations of police misconduct at recent protests sparked by the acquittal of a white officer charged in the death of a black suspect.
Sherrilyn Ifill, president of the NAACP Legal Defense and Education Fund, said in a letter to U.S. Attorney Jeffrey Jensen that a host of "troubling incidents" occurred at the demonstrations, including police assaults and aggressive use of pepper spray and tear gas.
Jensen said Friday that he will look into the allegations outlined in Ifill's letter.
"I will review it, review any specific allegations of alleged police misconduct and conduct any investigation appropriate," Jensen said.
Jensen, appointed by President Donald Trump, was confirmed by the Senate this month. Mayor Lyda Krewson and Interim Police Chief Lawrence O'Toole also requested an independent investigation by the U.S. attorney's office before Jensen took over . That request, made in September, was forwarded by the acting U.S. attorney to the U.S. Justice Department's Civil Rights Division.
Protests erupted in mid-September when former St. Louis police officer Jason Stockley was acquitted of first-degree murder in the 2011 shooting death of a drug suspect, Anthony Lamar Smith.
Around 300 people have been arrested during protests over the past six weeks, including about 120 people during a downtown demonstration the night of Sept. 17.
Several of those arrested, including journalists, have alleged mistreatment by police including pepper spray to the face and being knocked to the ground or having their faces shoved into the pavement.
In a statement, Ifill said the police response to recent unrest in St. Louis "has failed to capture the country's attention" like it did during the protests in nearby Ferguson after the fatal police shooting of Michael Brown in 2014. But she said officers' actions during recent demonstrations "are no less alarming."
"The right to peaceful protest cannot be curtailed by police force," Ifill said.
The statement urges Jensen to investigate whether O'Toole and police supervisors directed or encouraged aggressive tactics against protesters. A message seeking comment from police was not immediately returned.