ST. LOUIS • The leafy iron vines that adorn the front door to the Johnsons' home serve as glorified burglar bars. And no matter how sunny it is outside, only dim, artificial light illuminates the rooms inside their home of more than 40 years.
It wasn't always this way, said Myrtle Johnson, 76, as she spoke barely above a whisper and checked to see if anyone had seen her let a reporter inside her home last week.
She recalled a time when the three children she and her husband, Austin Johnson, 77, raised there talked openly with neighbors. Children played outside. And nearby Walnut Park was a safe place for celebrations.
Now, her neighborhood is one of the city's highest-crime areas. And killers in nearby swaths of the city go largely unpunished, according to a recent Washington Post analysis that looked at arrest rates for homicides nationwide.
These days, Myrtle Johnson calls her husband anytime she ventures out so he can make sure she gets inside safely. Her curtains remain drawn. Her door, closed.
And she doesn't want anyone who sees a reporter or a police officer at her home to take it the wrong way.
"I'm scared to come home. I'm scared to leave home. We feel like prisoners, but I'm hoping for the best," Myrtle Johnson said. "And it's because of retaliation. They may be after you or your family or whatever."
The Washington Post analyzed arrest data from 52,000 homicides over the past decade in 50 of the nation's largest cities. It found that the overall homicide arrest rate in the 50 cities is 49 percent. But in some pockets of impunity, such as the one near Johnson's home, police make arrests less than 33 percent of the time.
Despite a nationwide drop in violence to historic lows, 34 of the 50 cities, including St. Louis, have a lower homicide arrest rate now than a decade ago. The reasons are complex, police, experts, politicians and residents say.
Some cities, such as Baltimore and Chicago, solve so few homicides that vast areas stretching for miles have experienced hundreds of homicides with virtually no arrests, according to the Washington Post data. Three-fourths of murders in Chicago saw no arrest.
In other places, such as Atlanta, police manage to make arrests in a majority of homicides — even those that take place in the city's most violent areas. In Richmond, Va., 74 percent of the city's 429 homicides resulted in arrests, according to the newspaper's analysis.
In the city of St. Louis, only 45 percent of the 1,677 homicides from 2007 to 2017 resulted in an arrest. The analysis identified seven zones in the city with a high concentration of homicides and low arrest rates. Six of those zones are north of Delmar Boulevard.
Gunned down with impunity
The name of the Johnsons' grandson appears on the Washington Post homicide map.
Name: Johnson, Dominic. Age: 29. Race: Black. Status: No arrest.
He was gunned down outside Starz Sports Bar and Grill on the northwest edge of St. Louis six years ago. Myrtle Johnson said he was shot eight times. He had just gotten a home of his own at the time of his murder, but he frequently came to his grandparents' home to sleep. He was working for FedEx, she said.
"He was a respectable young man, never talked back," she recalled. "I got called at 4 a.m. that day to come identify his body. I haven't heard another word (from the police) since.
"You can't tell me it would be like that if this happened in Ladue or the Central West End. I just don't think the police take their job as seriously because it's not their families."
Myrtle Johnson said she worked as a nanny for most of her life, watching over children for families who lived in the more well-to-do parts of the St. Louis area. There, she said, people are more likely to talk to the police. And, she believes, as a result, the police haven't given up on them.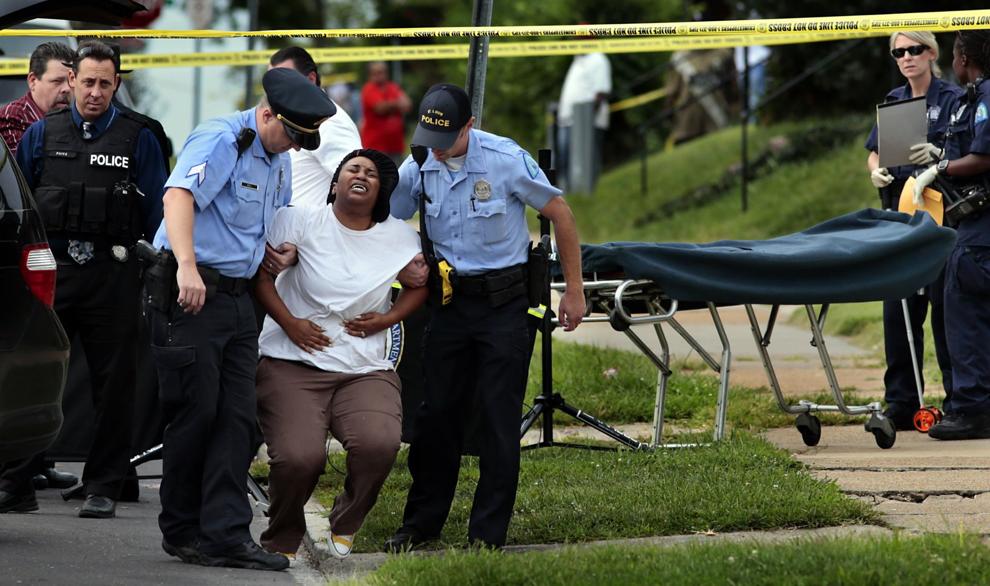 Alderman Jeffrey Boyd of the city's 22nd Ward, which runs from about Page Boulevard north to Interstate 70 on the western edge of St. Louis, said lack of cooperation with police was one problem hampering many neighborhoods, especially black ones.
"We have to figure out a way to solve that and make it so people are willing to be witnesses," he said. "Because (killers will) come out and kill again because nobody wants to testify. Then people start moving out of the neighborhood, and then you have what we have in north St. Louis."
Building trust, overcoming fear
One of the ways new St. Louis Police Chief John Hayden is hoping to diminish residents' fears is by going to them. Last week, Hayden took his mobile office — a retrofitted truck — to the Johnsons' neighborhood.
Officers walked the blocks, and handed out free ice cream and hockey cards to children. They encountered residents such as the Johnsons.
"This is historic," Austin Johnson said. "I've never seen the police out here like this, ever."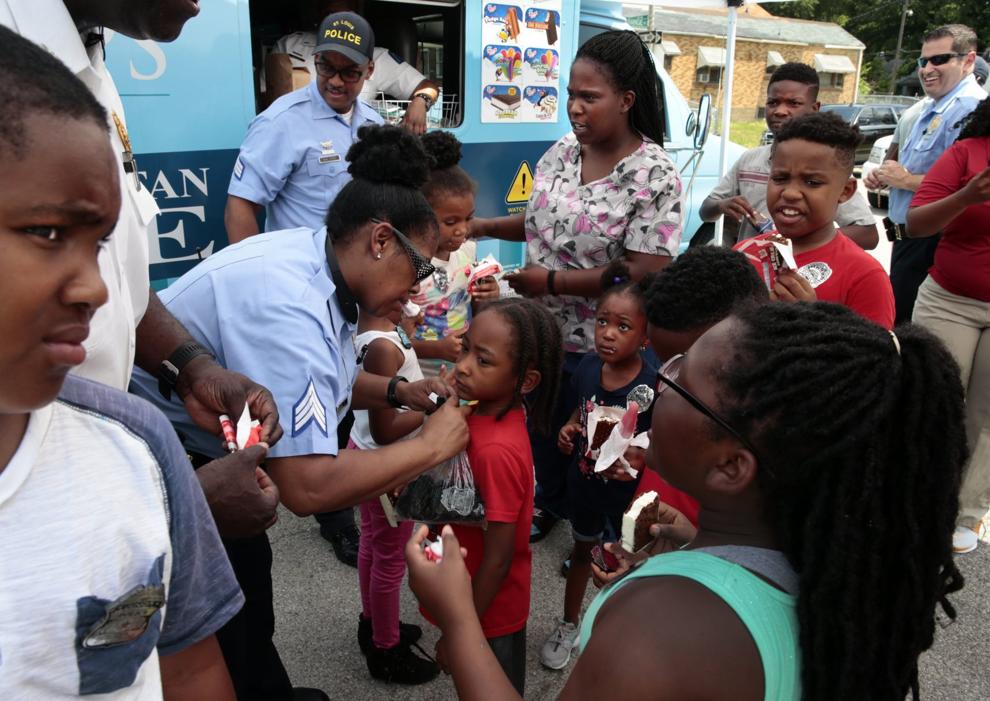 Still, the Johnsons believe that because their grandson was black, his case has less of a chance of being solved. In almost all of the cities analyzed by the Washington Post, murders of whites were more likely to result in an arrest than murders of blacks. Across the cities examined by the paper, an arrest was made in 63 percent of the killings of white victims, compared with 48 percent of killings of Latino victims and 46 percent of the killings of black victims.
Almost all of the low-arrest zones identified by the Washington Post are home primarily to low-income black residents.
University of Missouri-St. Louis criminologist Rick Rosenfeld has partnered with St. Louis police to study crime trends for years. He said homicides involving white victims and female victims tended to result in arrests more often than others. That's partly because they tend to take place in areas where crime is unexpected and therefore garner a lot of attention.
"We've also looked at clearance rates for shootings that don't result in a death, and the greatest obstacle in making arrests is victim cooperation," he said. "And the reason is fear of retaliation."
But, he adds, there is variance across departments.
"Imagine if a police officer could be present outside these people's homes at all times," Rosenfeld said. "No jurisdiction can do that, but there are jurisdictions who are better able to protect witnesses and victims than jurisdictions that are under-resourced."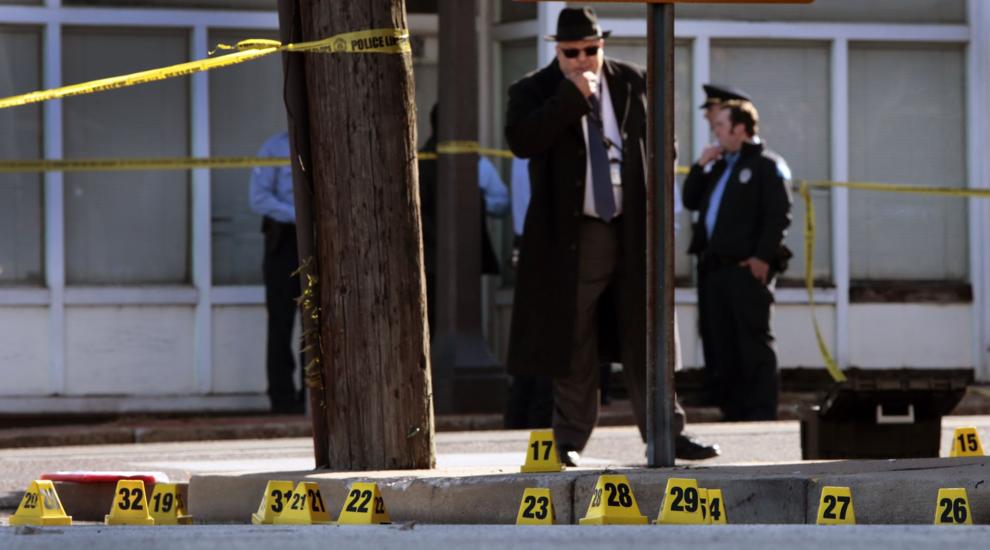 In sprawling Los Angeles, the Washington Post reported, police are proud of their homicide statistics over the past decade. The number of killings has dropped annually, and more than half of the 2,200 homicides since 2010 have led to an arrest, which is slightly better than average for cities surveyed.
In Omaha, Neb., police made an arrest in nearly 60 percent of homicides across the city. But in one pocket, police made arrests in just 15 percent of its homicides.
"It's one of the best indicators of how well a police department and a community work together," Omaha Police Chief Todd Schmaderer said. "If a police department can't solve the greatest crime, the most egregious crime affecting society, what faith would you have in that police department?"
'Police are overloaded'
Hayden said one of his goals for his appearances in areas such as the Johnsons' is to educate residents about programs that the police department, the prosecutor's office and groups such as Better Family Life can offer to witnesses and victims of crime who are fearful that they could be targeted for cooperating with authorities.
Hayden said he believed fear of retaliation was the biggest obstacle in solving crimes, and that's why the department has CrimeStoppers — a tip line that allows callers to remain anonymous and get cash rewards if their information leads to an arrest.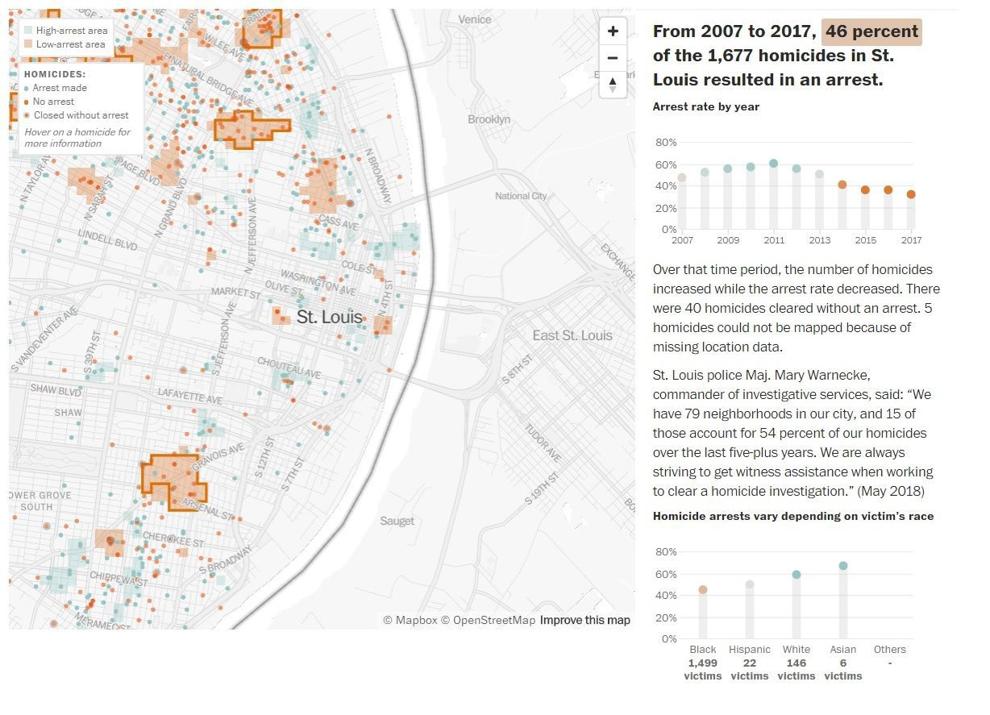 Despite that promise of anonymity, Hayden noted, police still struggle to get leads.
Controversial police shootings of black men by white officers also can contribute to a "trust gap" between police and residents of high-crime black neighborhoods, whether or not the shootings turn out to be justified, Hayden said.
But he's convinced those incidents don't prevent people from talking to police as much as fear of criminals in their neighborhoods, Hayden said. When there is a perception that the predominantly white police departments don't care about those communities, Hayden said, some may think: "Why take the risk and cooperate?"
"The fear of retaliation is an explanation in most instances, but it doesn't absolve us from our responsibilities," he said.
Myrtle Johnson said she recently thanked an officer who stopped her and gave her a warning for rolling through a stop sign.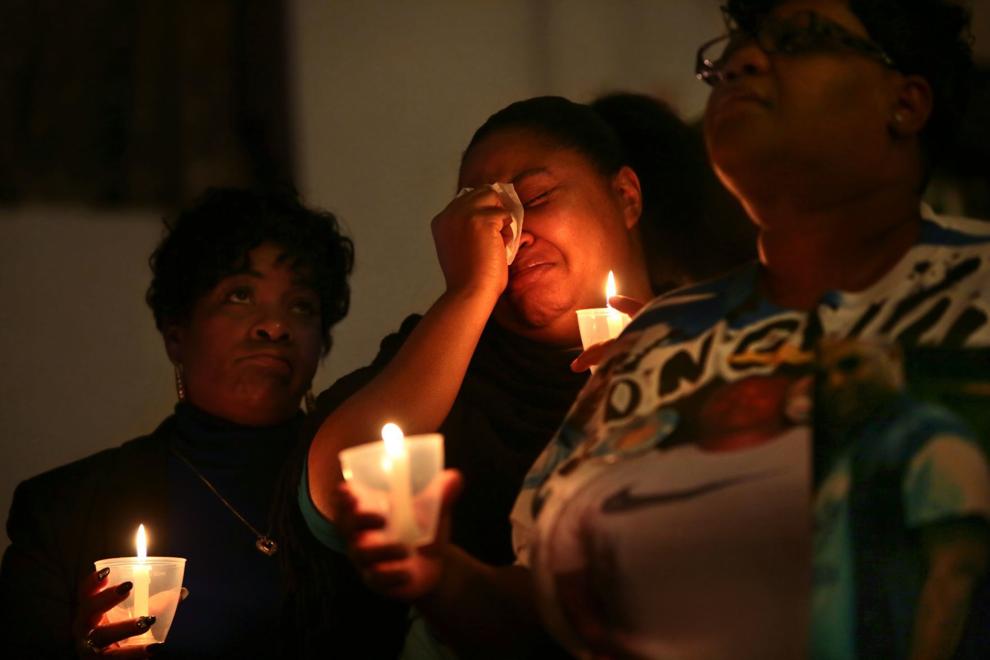 "I was glad to see him out here, and I wanted to let him know that," she said. "The police here are overloaded. They just can't be over here all the time."
And she was not about to let the officers walking the streets in her neighborhood last week go by unnoticed.
She pushed the door with the leafy iron vines open as a cluster of four officers passed her house. In a burst of courage, she elevated her whisper of a voice to shout hello at them.
She watched until their silhouettes disappeared from her line of sight.