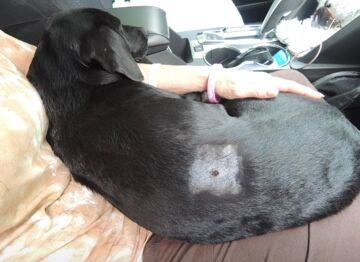 JEFFERSON COUNTY • A puppy suffering from a gunshot wound to the spine was being monitored Thursday after undergoing surgery a day earlier. His condition was described as stable.
The puppy,  a 3-month-old black Labrador retriever mix with a stub tail, was found dragging himself along Highway 30 in the Cedar Hill area on Wednesday. Rescue workers named him Dodger.
Also Thursday, Nature's Variety, a St. Louis-based pet food manufacturer, came forward to cover the dog's surgical expenses, which had been estimated Wednesday be about $4,000.
"Our team at Nature's Variety was deeply moved by Dodger's story," Reed Howlett, the company's chief executive, said in a prepared statement. "We felt compelled to act and bring about something positive from a terrible situation." 
Dodger will need water therapy to walk again, as well as other care and treatment, according to the Open Door Animal Sanctuary.
A woman spotted the puppy Wednesday and brought him to the Open Door, a no-kill shelter in House Springs, about noon, said Diane Kennedy, the kennel manager.
"He was basically pulling himself because he couldn't use his rear legs," she said.
An area veterinarian X-rayed the dog and found that he had been shot and needed to see a specialist right away. It appeared the dog had been shot Wednesday morning or the day before.
The dog was taken to Veterinary Specialty Services in Ballwin, where he underwent surgery. Doctors believe that based on the position of the bullet, the person who shot him stood over him as the shot was fired, Kennedy said.
Kennedy said a report had been filed with the Jefferson County Sheriff's Office.
Open Door is still accepting donations for Dodger's follow-up care. Anyone wishing to donate can send a check to Open Door Animal Sanctuary, P.O. Box 870, House Springs MO, 63051.
Kennedy said it was too early to know when Dodger would be ready to be adopted.
"He's the sweetest little thing," she said of the puppy.