ST. LOUIS • A crime-fighting app credited with helping to reduce crime in New Orleans will likely make its debut by the summer in the Central West End.
The app is nicknamed by some as "Uber for cops" in a nod to its similarity to the popular ride-hailing service. It allows users to quickly report problems, snap and send a photograph of suspicious activity, and lets police know senders' exact location. It's putting more eyes — ones that also happen to look at smartphones — to work for police.
"Little problems, if they get reported, and there's some action taken by the police department, they don't blossom into big problems," said Jim Whyte, head of the Central West End Neighborhood Security Initiative, a property tax-backed group that provides extra security in the neighborhood.
The app is called the French Quarter Task Force app in New Orleans, but the name will be changed to reflect its use here. It will be free for anyone to download.
The app was developed in part by Sidney Torres, a real estate developer from New Orleans who started a waste removal company after Hurricane Katrina devastated the city.
After burglars robbed his French Quarter home, he became frustrated with the level of crime in the city, and lambasted Mayor Mitch Landrieu in a television ad. Landrieu had known Torres for years, and challenged Torres to do something about the crime problem.
Torres threw $500,000 into the venture and teamed up with retired aerospace engineer Bob Simms to create the app, which debuted in spring 2015.
"It allows for the community to have really big input and participate in fighting crime," said Torres.
The app was part of a more comprehensive effort to improve public safety in the French Quarter.
New Orleans police reported a nearly 15 percent reduction in overall crime with a nearly 36 percent reduction in violent crime in the first six months of 2015 compared to the same period the previous year. They emphasize that the app itself is meant to give people a way to report nonviolent crimes, like suspicious people, and that people should still call 911 for emergencies.
From New Orleans to St. Louis
Whyte heard about the app through a news story and talked to Torres by phone. Torres offered to come to St. Louis to give a presentation on the app, and Whyte was sold. He and others from the Central West End Neighborhood Security Initiative hope to visit New Orleans next month to see how the app works and ask questions about administrative setup.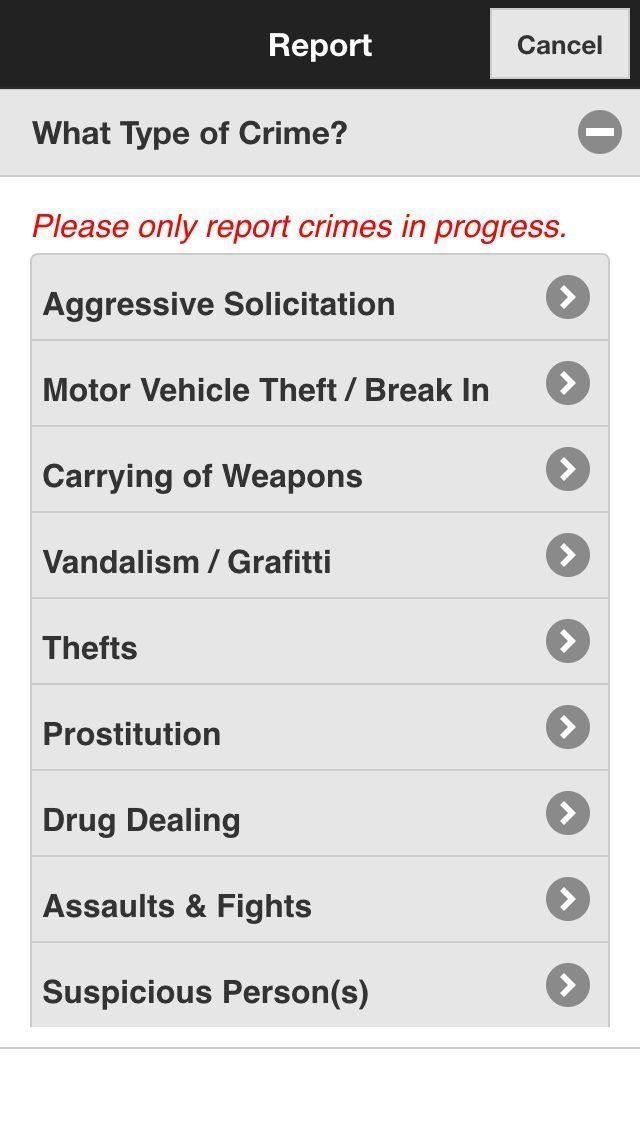 The app will be available on a trial basis before the Neighborhood Security Initiative decides whether to buy a subscription, which costs $1,200 a year for the device for an administrator to use. With setup expenses, Whyte thinks it will cost less than $25,000. He hopes to make it available to the St. Louis police officers who patrol the neighborhood through a private security company. The officers usually patrol on bicycles or ATVs.
A police spokeswoman said the department is aware of the app but isn't involved in its planned test run in the Central West End.
Whyte thinks the app and the neighborhood would be a good match
"We have a lot of transitional population with our students, visitors, foreign-exchange students, the medical campus," he said, referring to the Washington University Medical School and visitors to Barnes-Jewish Hospital.
He said some people don't like to call police for what they perceive as quality-of-life issues. He cited one time when a young woman called police to report a homeless person in the lobby of her building. The dispatcher wanted to know if the homeless person was doing anything wrong, making the woman doubt herself about having called 911.
He says the app will help with other circumstances, such as if someone sees a suspect dealing drugs and the suspect is gone by the time police get there. If the person using the app is able to take and send a photo, that can help police.
He said the goal is to give people a more user-friendly option to report crime.
"If we have a persistent problem with a particular person or a particular location, if we're getting 10 people calling instead of one, that problem will get more attention," he said. "And over time, I think that problem will be eliminated."