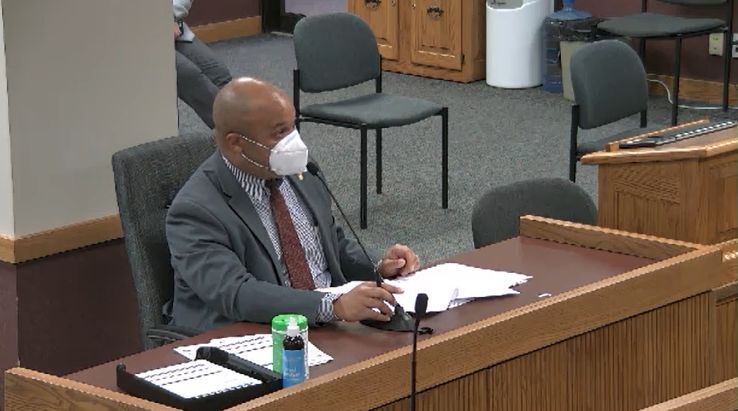 JEFFERSON CITY — House lawmakers on Wednesday began considering legislation limiting police chokeholds and boosting requirements for out-of-state officers seeking jobs in Missouri.
The House Crime Prevention Committee on Wednesday heard legislation by Rep. Shamed Dogan, R-Ballwin, that includes several changes to state law, including:
• Limiting police chokeholds to situations where deadly force is warranted.
• Outlawing on-duty sex by police.
• Implementing screening requirements and standards for out-of-state officers seeking police jobs in Missouri.
Dogan said the death of George Floyd in May, who died when a Minneapolis police officer pressed his knee on Floyd's neck for about eight minutes, prompted discussions that resulted in his proposal.
"Being able to hold those officers accountable is very key to us increasing public safety in our state … and avoiding having the perception that this is a place that doesn't protect peoples' rights," Dogan said.
Multiple Republicans pushed back against the chokehold limits.
But Rep. Brian Seitz, R-Branson, questioned the chokeholds proposal. "I'm just concerned about taking a tool out of the box," he said. Rep. Richard West, R-Wentzville, said "there's so much wrong with this."
At the time, the Missouri Sheriffs' Association said Missouri law shouldn't explicitly limit chokeholds to deadly force situations.
Dogan said discussions with Republicans and Democrats, law enforcement groups and police reform activists, resulted in the product he presented to the committee Wednesday.
Mentioned last November, but missing from Dogan's legislation on Wednesday, was limiting no-knock raids by police.
"We were not able to reach a consensus" about no-knock warrants, Dogan said.
The measure presented requires prospective officers from out-of-state to undergo a preliminary application process in Missouri.
A department would be required to reject someone's application if the applicant had pleaded guilty to or had been convicted of a felony, if the person's law enforcement certification had been rejected in another state, if the person had been discharged for "serious misconduct," or if the officer had left their employment amid a forthcoming disciplinary action.
It also fines a department $1,000 per day for each day it "knowingly commissions" a police officer who isn't eligible to serve.
Dogan's legislation would require use of chokeholds to be reported to the Missouri attorney general's office as a use of deadly force. If a police officer kills a person while using a chokehold, and the use of force was not justified, the police officer would be guilty of first-degree aggravated strangulation, a class A felony.
In Dogan's measure, he delineated between chokeholds and carotid restraints, which aren't designed to restrict a person's air flow.
A chokehold is defined as using one's body "to attempt to control or disable" someone by applying pressure to their neck with the purpose, intent, or effect of controlling or restricting the person's breathing."
A carotid hold is designed to restrict blood flow in the carotid arteries of one's neck in order to control a person's movement.
"The use of a carotid restraint shall not prevent or hinder breathing," the legislation says.
A number of organizations and individuals submitted testimony in favor of the measure, including the ACLU of Missouri, Empower Missouri and the Jewish Community Relations Council.
The measure must clear House committees before advancing to the full House for debate. It would then move to the Senate for consideration.