Included are store surveillance video of the attempt by Officers Jason Stockley and Brian Bianchi to arrest drug suspect Anthony Lamar Smith on Dec. 20, 2011, and a police recording of a pursuit that ends with a crash and Stockley shooting Smith.
Stockley, now 35, who left the force in 2013, was charged this year with first-degree murder based on what Circuit Attorney Jennifer Joyce's office said was new evidence that she did not disclose. Bianchi was not accused of wrongdoing and remains on the force.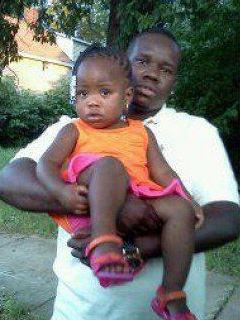 The Post-Dispatch obtained copies of videos and reports from someone not otherwise involved in the legal proceedings, who said he had received them anonymously. A Post-Dispatch reporter who viewed the police video years earlier, but was not then allowed to have a copy, said the one recently received appeared to be the same one.
Also included were some reports and memos from the investigation, crime scene and evidence photos, and a recording of an OnStar vehicle assistance system operator who tried to get a response from Smith after the crash.
Some information, including Social Security numbers, addresses and other personal information, was already redacted from the documents.
Court documents claim that Stockley spoke during the pursuit of killing Smith.
The documents also say tests revealed Stockley's DNA — but not Smith's — on the .38-caliber Taurus revolver police said was found in Smith's car.
Activists and Smith's relatives claim that Stockley planted the weapon.
The videos
It takes about six minutes from the time Stockley and Bianchi try to arrest Smith after a suspected drug deal outside a Church's Chicken restaurant, near Thekla Avenue and Riverview Boulevard, to the shooting of Smith after a high-speed chase.
The dashboard camera and two cameras at the restaurant show the officers pull behind Smith's rented silver Buick. As they get out, Smith backs into the police SUV and maneuvers his way out of the parking lot, speeding past Stockley and nearly knocking an AK-47 rifle out of the officer's hands. Officials said Stockley was not authorized to carry the rifle, which he owned personally.
Stockley fires several shots from his department-issued handgun before Bianchi picks him up and gives chase with the in-car cameras rolling: one pointed through the windshield and one on the ceiling looking down on the back seat.
Stockley yells directions over the police radio, reporting that shots have been fired. At one point, he says something inaudible to his partner. He also can be heard saying something about shooting Smith, which court documents have characterized as, "Going to kill this (expletive), don't you know it."
Data on the police video show the chase reached speeds up to 87 mph. The SUV crashes into a tree at one point and returns to the chase.
At West Florissant and Acme avenues, Stockley is heard telling Bianchi to ram the back of Smith's car, and he does, setting off the Buick's side curtain air bags and blocking part of the view from the dashboard camera. Both officers approach, and Bianchi is seen reaching in to lift an airbag, with his gun still in its holster.
Stockley is seen with the AK-47 again, and only the top of Stockley's head can be seen bobbing up and down as if he is lifting the curtain as well. It is not clear whether he has his handgun drawn when he approaches. There is no audio of the officers' voices outside their SUV.
Stockley fires five shots from his department-issued handgun into the car.
An assisting officer then arrives with his weapon drawn, and Stockley is seen returning the rifle, again unused, to his SUV's back seat. Later, he returns to the back seat and appears to search through a duffel bag, but his body blocks the view. He does not appear to have anything in his hands when he leaves.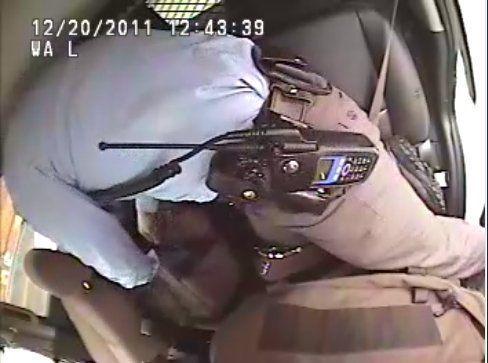 Apparently alerted by the airbag deployment, an OnStar operator asks Smith if he is OK, but there is no clear reply.
Eventually, the police SUV cameras are shut off. But video of the scene continues from someone's cellphone camera on the second floor of a nearby building. The Post-Dispatch published that video on STLtoday in June.
That video also recorded Stockley's visits to the SUV, and then shows him climbing into the driver's seat of the Buick immediately after Smith is pulled out.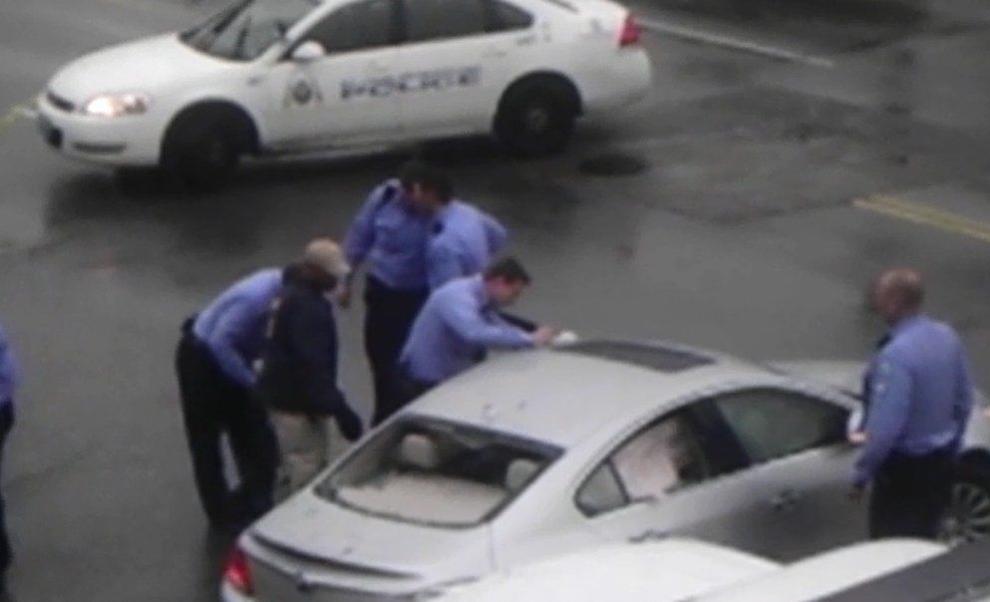 Stockley told Internal Affairs investigators and his sergeant, Colin Rumpsa, that he believed Smith was reaching for the revolver after being ordered to show him his hands, according to the reports.
Robert Patrick of the Post-Dispatch contributed to this report.
EDITOR'S NOTE: An earlier version of this story mischaracterized Circuit Attorney Jennifer Joyce's effort to prevent release of the videos. It also included the incorrect number of shots fired by Stockley after the crash. 
This article is from 2016; since it was published, a judge found Stockley not guilty of the first-degree murder charge. View a timeline of the case.