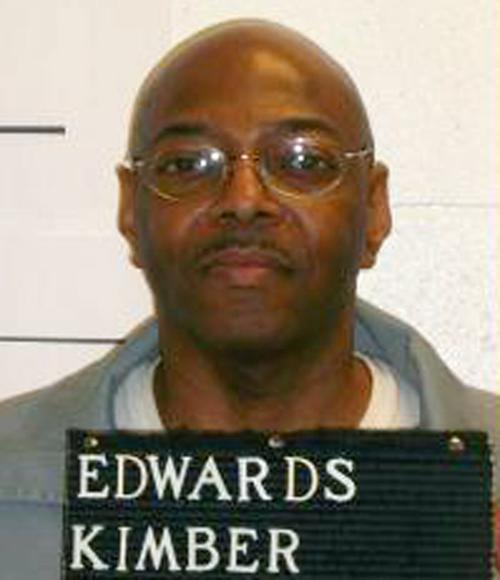 Missouri Gov. Jay Nixon commuted on Friday the death sentence for Kimber Edwards, who was convicted in the 2000 murder-for-hire of his ex-wife, to a life sentence without parole.
Nixon did not explain his surprise decision, other than to say it came after a "thorough review of the facts" and was "not taken lightly." He said the evidence supported the jury's decision to convict Edwards of first-degree murder.
"After a thorough review of the facts surrounding the murder of Kimberly Cantrell, I am convinced the evidence supports the jury's decision to convict Kimber Edwards of first-degree murder. At the same time, however, I am using my authority under the Missouri Constitution to commute Edwards' sentence to life without the possibility of parole. This is a step not taken lightly, and only after significant consideration of the totality of the circumstances. With this decision, Kimber Edwards will remain in prison for the remainder of his life for this murder."
Reached later Friday, a spokesman for Nixon said he would not elaborate.
Kimberly Cantrell, 35, was shot twice in the head in her apartment in the 1100 block of Midland Avenue in University City on Aug. 22, 2000. Authorities said Edwards had hired Orthell Wilson to kill Cantrell, Edwards' ex-wife, to prevent her from testifying in a child-support hearing.
One of Cantrell's siblings, Chuck Cantrell of San Jose, Calif., said that his family was informed of the decision less than five minutes before it was made public. Cantrell spoke to a legal adviser for the governor but wanted to speak to Nixon himself.
"I would think that the governor would certainly understand that his action of this magnitude certainly has impact on the survivors of the victim," he said. "I just can't imagine that his office could be so callous. I would hate to think this would be some sort of political maneuver. It doesn't make a whole lot of sense."
He said family members had had no plans to witness the execution, but that didn't mean they didn't care about the case. He said he and his family had no doubt about Edwards' guilt and that they knew how Edwards could manipulate a situation to his advantage.
Edwards' attorneys had recently tried to cast doubt on his guilt. They focused on two statements that were central to his case. One was a statement by Wilson, who said Edwards had hired him to kill Cantrell in 2000. The other was a confession from Edwards.
Wilson, who is serving a life sentence without parole, has recanted his statement, telling a Post-Dispatch reporter in April that he had acted alone and had lied about being hired by Edwards. He then signed an affidavit saying so.
Edwards claimed at his trial — and ever since — that he was innocent. In new appeals, his attorneys pointed to the possibility that police had coerced his confession. They claimed Edwards has a form of autism that could have made him vulnerable to aggressive interrogation techniques, leading him to make a false confession.
Edwards' attorney, Kent Gipson of Kansas City, petitioned the state Supreme Court to throw out the conviction for murder and armed criminal action, and the death sentence, and appoint a special master to review Edwards' innocence claim. The court denied in July a similar request to study Edwards' claim of innocence.
The court has not yet ruled on Gipson's petition. But he said he made the same case to lawyers from Nixon's office this week.
"We're all very happy because (days leading up to an execution are) always a very stressful and difficult time for everyone, the clients, the lawyers and the family," Gipson said. "It's a load off everyone's shoulders, particularly the client, because he's going to live."
A representative for St. Louis County Prosecuting Attorney Robert McCulloch could not be reached for comment on Friday.
Gipson said the commutation of the death sentence would give him and Edwards more time to potentially seek a new trial.
In recent days, Gipson had been pressing a claim with Nixon's office that during the penalty phase after Edwards' conviction, the prosecutor in the case had inquired whether Edwards would be willing to waive appeals in the case in exchange for life in prison. But his supervisors refused.
According to notes in the attorney's file from 13 years ago, Judge Mark D. Seigel expressed in chambers that he was unhappy about the lack of a deal to spare Edwards.
Reached Friday, Seigel said that he did not remember the conversation and that it "does not sound like something I would have said in chambers or anywhere else."
Cantrell called his sister an "enormously giving" person, who had donated a kidney to one of her sisters and who was in the process of taking in a foster child when she died. He wanted people to reflect on her, not Edwards.
"I don't see my sister's name associated with this horrible criminal. It's about him and somehow he's been given a reprieve."
Valerie Schremp Hahn of the Post-Dispatch contributed to this report.