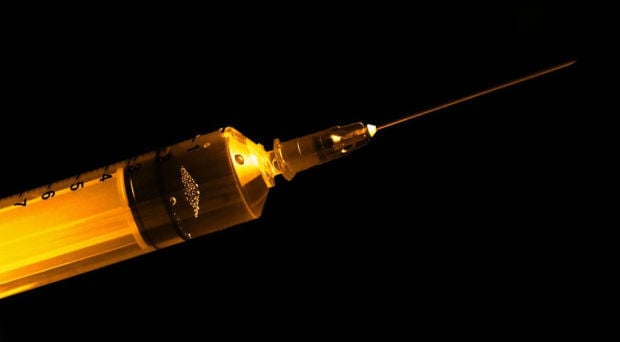 Missouri Gov. Jay Nixon postponed on Friday the execution of murderer Allen Nicklasson, which had been scheduled for Oct. 23, because of concerns about the state's plan to use a lethal dose of propofol, a common surgical anesthetic.
The European Union, which is against the death penalty, had threatened to cut off supplies of the drug to the U.S. if the execution went forward, which could have had a widespread impact on hospitals. That seemed to weigh on Nixon, who said his job was "making sure justice is served and public health is protected." Earlier this week, the governor had said that Europe would not block the executions.
Nixon said he had directed the department to change the execution protocol to use a different form of lethal drug, and said Attorney General Chris Koster would request a new execution date for Nicklasson.
The governor's announcement comes two days after the Department of Corrections said it would return to a supplier some of the propofol it had planned to use for executions. The supplier of the drug, Morris & Dickson, of Shreveport, La., had pleaded with the state nearly a year ago to return 20 vials it had shipped to Missouri in violation of its agreement with the manufacturer, Fresenius Kabi, of Germany, not to provide the drug for capital punishment.
The department had said it still had some propofol in stock from another supplier. But that manufacturer, Hospira, said it, too, wanted the propofol back because it had not authorized the sale to the distributor, Mercer Medical of suburban Seattle.
"We have written the Missouri Department of Corrections and are notifying the governor's office requesting that the state not use this product for lethal injection and return it to us," Hospira spokesman Dan Rosenberg wrote in a statement. Mercer Medical did not return a call seeking comment.
A Fresenius Kabi executive cheered Nixon's decision.
"This is a decision that will be welcomed by the medical community and patients nationwide who were deeply concerned about the potential of a drug shortage," John Ducker, chief executive officer of Fresenius Kabi USA, wrote in a statement.
Death by drug injection in Missouri has been stalled by constitutional challenges. The state turned to propofol because drug manufacturers were no longer selling to prison systems the three drugs previously used in the state's execution protocol. Missouri would have been the first state to use propofol in an execution.
It was not immediately clear where Missouri would turn next for an execution method. Thirteen states use pentobarbital, a drug commonly used to euthanize animals. The drug was used in a death chambers as recently as Wednesday in Texas. But the Danish manufacturer of the drug is not allowing distribution of the drug for executions, and many states are looking for other options.
Every death-penalty state uses injection, a medical procedure, as its primary execution method — which itself has proven problematic. Ending life is anathema to health care professionals, and drug makers are chafing at having their products used. Earlier this year, Koster indicated he would consider using poison gas, which is still a legal mode of execution in Missouri even though the gas chamber has been closed since 1965.
"I don't think they will go back to older, more barbaric methods of execution," said Richard Dieter, executive director of the Washington-based Death Penalty Information Center, a nonprofit clearinghouse of information about capital punishment. "I'm not sure what else they may do. At least Missouri is taking the time to look more deeply" without experimenting by using a drug that has never been used in an execution.
The American Civil Liberties Union of Missouri had sued the department earlier this week, alleging that failure to release the records about the state's propofol supplies was a violation of the state's open records laws. The suit is pending in circuit court in Cole County. The department released records after the lawsuit which the ACLU said raised questions about whether the department had acted ethically to obtain the drugs.
"Gov. Nixon's action to halt the Oct. 23 execution shows that he recognizes the many challenges involved with the current execution protocol to use propofol," Tony Rothert, legal director of the ACLU of Missouri, wrote in a statement on Friday. "It is our hope that any new protocol will be open and transparent. Missourians need to have confidence that the government is behaving legally and ethically when meting life and death punishment on their behalf."
An attorney for Nicklasson filed a motion in the state Supreme Court on Wednesday to halt the execution. The attorney, Jennifer Herndon, of St. Louis, argued that the use of propofol was untested and that Nicklasson's legal team needed more time to mount a legal challenge to its use.