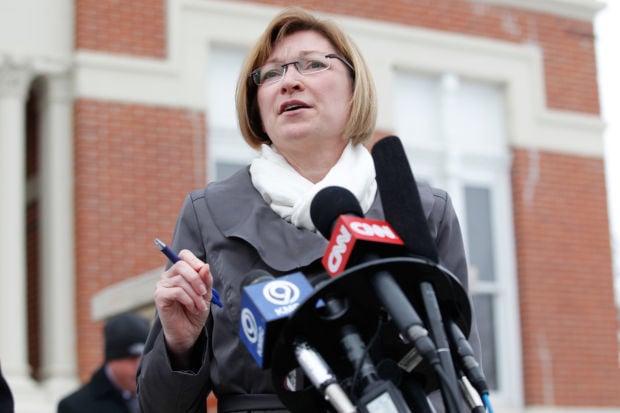 JEFFERSON CITY • A special prosecutor will not file charges against former Gov. Eric Greitens.
In a sometimes emotional news conference Friday, Jackson County Prosecutor Jean Peters Baker said her office did not have sufficient evidence to consider filing new charges against the former governor, who left office under a cloud of scandal last week.
Baker said her team exhausted potential leads in examining evidence. She also employed the Missouri Highway Patrol to investigate issues in the case. And she suggested that Greitens' defense team may have erased a key piece of evidence from a phone that they examined.
As of Friday, with a statute of limitations set to expire this weekend, Baker said corroborating evidence for an invasion of privacy case stemming from an extramarital affair with his hairdresser was still missing.
"We have exhausted every potential lead we could follow," Baker said.
The Republican governor resigned effective June 1. He was indicted by a St. Louis grand jury for allegedly taking an unauthorized photo of the partially nude woman in the basement of his former home in St. Louis. Prosecutors dropped the charge last month and Baker was appointed to consider whether it should be refiled.
In comments to reporters, Baker left no doubt she believes the woman at the heart of the case but said without further evidence, the entire case would rest on the woman's testimony.
"She would get beat up again," Baker said. "She did not wish to go it alone. She alone would carry the burden of these charges.
"I find this victim extremely credible. I believe her statements about there being photographs are true," Baker said.
Baker acknowledged that the woman should have to undergo tough questioning but said she was angry about the treatment of the woman by Greitens' high-powered defense team.
"She has undergone repeated attempts to discredit her," Baker said. "She never wanted this. She never willingly came forward. But she did tell the truth. She held her own."
Scott Simpson, the St. Charles attorney who represents the woman, issued a statement calling the experience of having to testify multiple times about the intimate details of her experience with Greitens traumatic.
The statement also slammed Greitens for spending "millions of dollars to spread lies about her in an effort to save his political career."
"My client did not ask for any of this treatment nor was she paid or otherwise compensated," Simpson said.
After Baker was appointed to the Greitens case, Gardner and her office were "prohibited from any further involvement in this matter except to serve as witnesses in the case," Burlison's order says.
That meant Baker was unable to talk with Gardner about the legal strategy she was pursuing in connection with the case. "We viewed her immediately as a potential witness in this case," Baker said.
She also said the team did not get an opportunity to question Greitens, who "exercised his right to silence."
One of Greitens' attorneys, Scott Rosenblum, said Baker's decision was not surprising.
"There was never sufficient evidence. From the time Ms. Gardner opened her investigation, nothing's changed," Rosenblum said.
He called references to what the woman was put through by the ex-governor's defense team was "completely misguided."
"Everything that was done was done to expose the incredulity of what the complaining witness had alleged. It was the circuit attorney that suggested this relationship was nonconsensual," Rosenblum said.
"So she can cry foul all she wants. If she's a veteran prosecutor, she should know better," Rosenblum said. "At the end of the day, most of these cases stand and fall on the credibility of the accuser, and she had none."
Gardner dismissed the invasion of privacy case on the third day of jury selection rather than subject herself to testifying under oath about defense claims of misconduct by the case's former lead investigator, but Gardner said in the dismissal that she would seek a special prosecutor and a spokeswoman said the case would be refiled.
The privacy case centers around Greitens' 2015 affair with his former hairdresser. She told a House committee investigating Greitens that he blackmailed her with the photo, threatening to release it if she revealed the existence of the affair. She also said he was violent during several of their encounters.
Greitens denied the blackmail and violence but avoided questions about whether he took a picture. His lawyers say prosecutors found no evidence of a picture or evidence that one was deleted.
On Friday, Baker said that 31,000 files went missing from one of Greitens' telephones between the time Greitens' attorneys got it in April and the time she received it in May.
Another Greitens attorney, Jim Martin, refuted that assertion.
"As to the evidence regarding the phone, the Kansas City prosecutor obtained the May extraction from the telephone and then asked us for the April extraction, which we provided her. She then asked us for the telephone itself, which we also provided," he said. "We do not know what files are claimed to be missing, but we know the expert said that the May extraction did not have less photos than the April extraction."
Gardner commended Baker for reviewing the case "despite all of the mischaracterizations and attacks of those involved. I stand by my original decision to charge this case, and I respect Ms. Baker's decision today."
Greitens, whose whereabouts since leaving his $133,000-per-year job a week ago is not known, faces separate legal action in connection with his administration's use of a special text-deleting phone app.
A special House committee that had been investigating his possible impeachment hasn't announced what it intends to do with testimony and evidence it had collected before Greitens' abrupt departure.
Meanwhile, St. Louis police have requested the appointment of a special prosecutor in a probe of perjury allegations against William Don Tisaby, the private investigator hired by Gardner. A hearing before Circuit Judge Michael Mullen to address the request is set for June 20.
Robert Patrick and Joel Currier of the Post-Dispatch contributed to this report.
Shake off your afternoon slump with the oft-shared and offbeat news of the day, hand-brewed by our online news editor, Mandy St. Amand.