ST. LOUIS — A local nonprofit group has been awarded more than $400,000 to expand its efforts intervening in conflicts to prevent gun violence.
The latest donation to Better Family Life was announced Monday at a news conference in downtown St. Louis attended by law enforcement officials, elected representatives and business leaders from across the region who praised the organization's range of community programs.
Better Family Life operates programs that assist in clearing vacant properties, offer treatment to drug addicts, connect residents to jobs, and make trauma counseling available to victims of violence and their families.
Better Family Life's efforts to de-escalate conflicts that have a high likelihood of turning into shootings began in 2016. A handful of staff members have de-escalated 83 conflicts since January, said James Clark, Better Family Life's vice president of community outreach.
"Together we will have a huge impact and you will see St. Louis is a safer city a year from now," said Ed Dowd, president of the St. Louis Regional Crime Commission.
The regional crime commission and Project Safe Neighborhoods, a federal program, each contributed to the $416,000 donation. Most of the money will go toward hiring outreach workers — trained employees with credibility in the neighborhoods they will work in — who will mediate conflicts in the communities most affected by gun violence, Clark said. The donation will bring the number of outreach workers from four to eight, but Clark said the organization needs 50.
The money is on top of $200,000 that the group has received from the St. Louis Regional Business Council.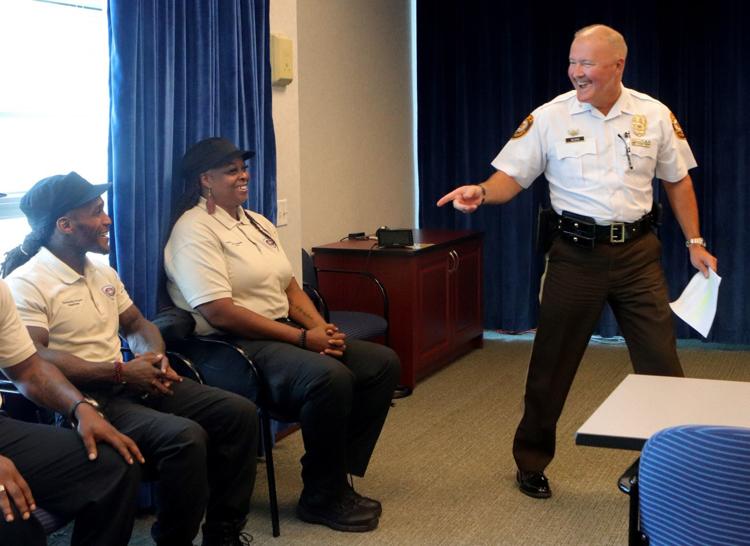 "We are at a major tipping point in the St. Louis metropolitan area right now," Clark said. "If we don't get ahold of this crisis we won't know what St. Louis will look like in the next six, seven years. I believe we have 18 months until we hit a major skid, a skid that St. Louis has never seen before."
St. Louis County Police Chief Jon Belmar referred to the fatal shooting of five people in a St. Louis County apartment over the weekend, saying the costs to the community are too great. To Clark's prediction that action needs to be taken within the next 18 months, Belmar said, "Sir, I believe you."
"What James is doing here is critically important," Belmar said. "That's 83 individuals that didn't lose their life, at the least. That's 83 individuals who won't spend the rest of their life in prison."
Local, state and federal officials said they are working together on an approach to crime that prevents it before it happens, and not just by putting outreach workers in the affected communities. Dowd said the commission is likely to invest in efforts to demolish vacant buildings.
"The violence in our region is most often connected to drugs, personal disputes and our easy, easy access to guns," Mayor Lyda Krewson said. "This is significant that everyone is standing here together, saying that we have to do things differently and that has to include a broader, more expansive and more sustained intervention effort."
The investment in Better Family Life's outreach efforts is separate from another crime prevention investment by the city of St. Louis, which recently allotted $500,000 in the city budget for a program, such as Cure Violence or CeaseFire, models used in other U.S. cities to stop conflict and retaliatory shootings before they happen.
Over the weekend, 25 people were shot in St. Louis city and county.
So far in 2019 there have been 95 homicides in the city of St. Louis, which is on pace with the number of homicides in the city this time last year.
The number of homicides per robbery or assault has risen by more than 50 percent over the past eight years, from 23 homicides per 1,000 incide…