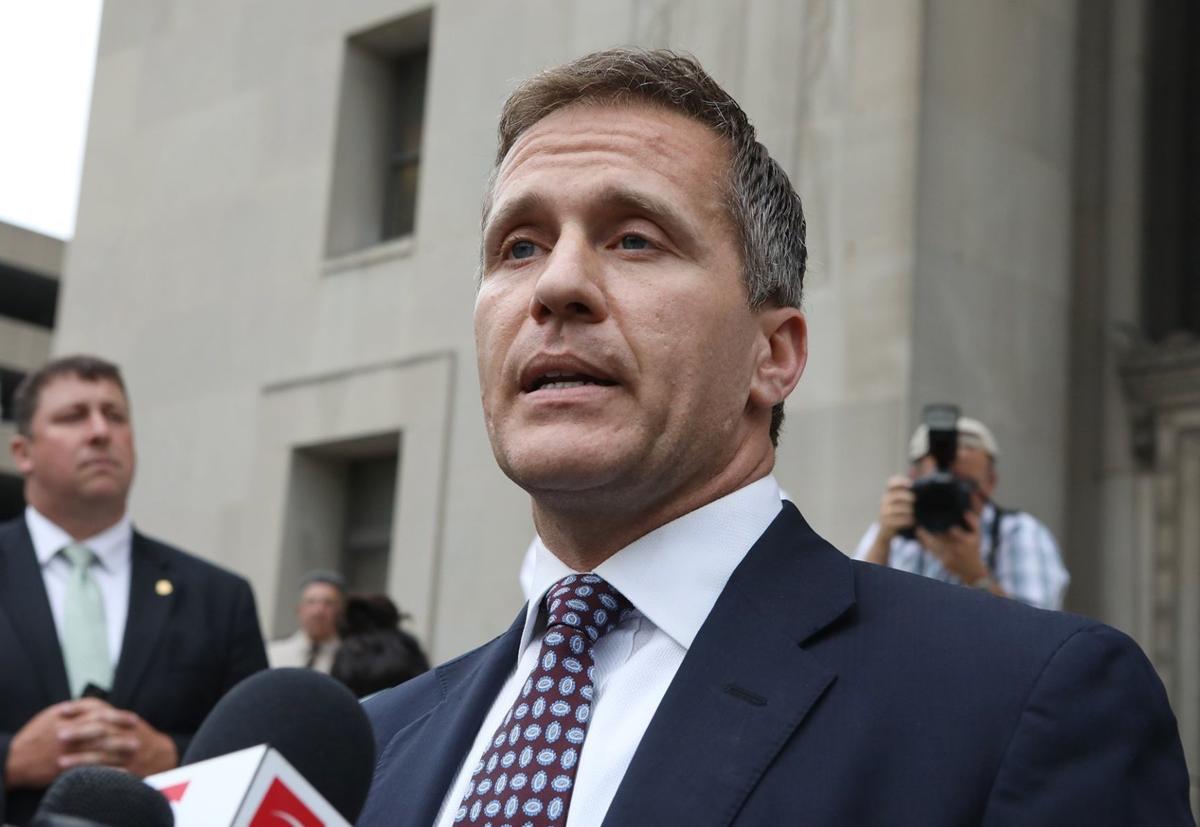 JEFFERSON CITY • Attorneys for the dark-money group A New Missouri on Thursday sought to thwart an attempt by a St. Louis lawyer to force the nonprofit to reveal its financial information.
In a hearing in Cole County Circuit Court, Catherine Hanaway, attorney for the group, argued that lawyer Elad Gross had no standing to sue the nonprofit, which is allied with former Gov. Eric Greitens. Greitens, a Republican, resigned on June 1 after months of scandal, both personal and professional.
Hanaway, who also represents Greitens' campaign, said she is not in regular contact with the ex-governor. Greitens has remained out of sight since leaving office.
"The last time I talked to him he said he was barbecuing," she said. "He did not disclose where he was doing that."
But Hanaway, speaking to reporters after the hearing, said the statute "pertains to anyone who has skin in the game with the respect to a not-for-profit corporation."
Hanaway said to force a nonprofit to reveal its financial records, a person must be a member, a donor, a beneficiary of services or a resident living at a facility operated by the nonprofit.
"For example, if someone was the resident of a homeless shelter and receiving benefits from that not-for-profit, we believe they have the right to go and inspect those records," Hanaway said. "But here, Mr. Gross is just a member of the general public and has no particularized claim."
Gross said because A New Missouri described itself as a "public benefit corporation" under state law, "they have to be held to that same standard when they're in court. ... If you're an organization that is trying to influence the public — and saying that you're doing it on behalf of the public — then you should be accountable to the public."
"If their (A New Missouri's) interpretation is upheld, I have a very big worry that we'll see a lot of changes to the nonprofit sector, especially with respect to dark money flowing through the state of Missouri," Gross added. "I think that people really want to put an end to that."
Gross said that if his lawsuit is successful, any member of the public could sue any 501(c)(4) group in Missouri to obtain financial records.
"This statute was made for this type of an organization, because A New Missouri has chosen multiple times not to release records to the public," Gross said. "This organization time and time again has avoided releasing any records."
Circuit Judge Jon Beetem did not indicate Thursday when he would rule on A New Missouri's motion to dismiss.
Gross has said that he thinks state Attorney General Josh Hawley, a Republican, should intervene in the case. Hawley is running for U.S. Senate and has rebuffed calls to investigate A New Missouri, saying that the Missouri Ethics Commission is investigating the organization.
"The law is set up so that the attorney general's office is the one (that is) supposed to be investigating this, not for a citizen of the state to be doing his (Hawley's) job for him," Gross said, adding that "I'm not paid" to conduct the investigation, like state attorneys are.
Hawley told reporters at an Aug. 8 campaign event that Greitens' nonprofit, A New Missouri, was essentially a campaign committee, over which the Missouri Ethics Commission has jurisdiction. Rep. Jay Barnes, R-Jefferson City, wrote in a complaint to the ethics watchdog this summer that the group was set up to skirt campaign contribution limits and conceal donor identities, both in violation of state law.
"As I understand it, the allegations relating to that particular organization had to do with its political activity — that it was an organization set up to skirt our campaign finance laws," Hawley said. "The Missouri Ethics Commission, under our law, is the entity with jurisdiction to look into that."
When pressed on his ability to take action, Hawley acknowledged the attorney general's office had jurisdiction over non-profits, but he said it did not have jurisdiction over political entities.
"What we do not have jurisdiction over (are) political activities," Hawley said. "The Missouri attorney general's office doesn't have that under the law. We've never exercised that. But the MEC does have it. This doesn't fall in the cracks."
"Because they (A New Missouri) claimed to be a charity, I think they put themselves under the attorney general's jurisdiction to some extent," Barnes said in an interview. "But it's a fake charity. And the brunt of the illegality associated with it revolves around campaign finance. And the MEC was created specifically to deal with campaign finance violations.
"The allegations made by Rep. Barnes relate to the willful evasion of Missouri campaign finance laws, a matter squarely within the jurisdiction of the MEC," said Mary Compton, Hawley's spokeswoman.
"I'm hoping he does change his decision," Gross said of Hawley, adding that he could take on the organization for "deceptive practices" under the state's merchandising practices law.
Gross also said he was considering a run for attorney general as a Democrat.