Some North County communities are in talks to merge their municipal courts out of the fear that if they don't initiate reforms, reforms will be forced on them.
"We are trying to be proactive here because we sense the writing is on the wall," said Chris Krehmeyer, president and CEO of Beyond Housing, the nonprofit group that is helping facilitate some of the talks.
The officials are part of the 24:1 Initiative, made up of the 24 municipalities in the footprint of Normandy schools.
Krehmeyer said initial talks indicate that a majority of the municipalities would work toward creating one centralized court, along with other reforms that would make the administration of justice more equitable from town to town. But, Krehmeyer said, he doesn't know how they would share revenue or expenses.
"The devil is in the details," he said. He expects to have a preliminary plan in about 30 days.
The 24:1 Initiative was formed by Beyond Housing in 2010 with a $2.5 million grant from an anonymous donor. The name was borrowed from the Three Musketeers' motto: 24 municipalities for one vision, one vision for 24 municipalities.
Town officials have been meeting monthly for about four years to find ways to pool their resources so that their cities can attract business and run more efficiently. The cities say these efforts have resulted in taxpayer savings on bulk purchases of road salt and other goods and services.
Recently eight of the municipalities won a Missouri Department of Conservation grant to inventory the area's trees. The initiative also worked to attract the first bank to Pagedale and the first new grocery store in that city in 40 years.
Krehmeyer and a handful of mayors say that consolidating or overhauling the courts has come up for discussion from time to time, but has not been a top priority.
The county's patchwork of courts has never been under more scrutiny.
The fatal shooting of Michael Brown, an unarmed, black 18-year-old by Ferguson police Officer Darren Wilson, who is white, in August sparked months of protests and some rioting and looting.
Almost immediately, some attorneys and politicians connected that anger to what they described as an oppressive municipal court system that uses citizens as ATMs and creates modern-day debtors prisons.
Just five days after the shooting, on Aug. 14, ArchCity Defenders, a group of attorneys who represent indigent clients, issued a report skewering the area's courts for mistreating poor people and blocking outsiders from seeing what goes on.
It was followed up by a scathing and lengthy blog post in the Washington Post titled: "How municipalities in St. Louis County, Mo., profit from poverty."
That attention seems to bring a fresh lawsuit every few weeks, along with audits, or proposals to dramatically change the system — some of which could eliminate altogether a large number of St. Louis County's municipalities.
One threat to the cities' futures comes from Missouri Sen. Eric Schmitt, R-Glendale, who has sponsored a bill that would bar cities from funding more than 10 percent of their budgets with revenue from traffic tickets.
The current so-called Macks Creek Law caps revenue from traffic fines at 30 percent of a municipality's budget. Anything more must be sent to the state to be used for education.
Former St. Louis County Police Chief Tim Fitch predicted that if Schmitt's measure passes, the number of communities that make up the 24:1 Initiative could drop to five within a couple of years because many cities would be unable to raise enough money to survive and would be forced to merge.
The legislation, along with other proposals, could disproportionately affect North County communities, many of which are led by African-Americans. The fact that the court reforms proposed in response to Brown's death could eliminate black municipal governments is an irony that is not lost on some officials.
Some of those communities were once subdivisions but were incorporated to institute zoning in the 1930s and 1940s.
Over the past half-century, the area's demographics have shifted as more black families have moved in and many whites have moved west.
As property taxes and sales taxes have declined, many of these cities have looked toward their courts to fill the void. An October report from Better Together, a civic and business group studying the potential merger of St. Louis and St. Louis County, showed that at least eight North County cities received more than 30 percent of their revenue from court fines and fees. One city, Calverton Park, received 66 percent, according to the report.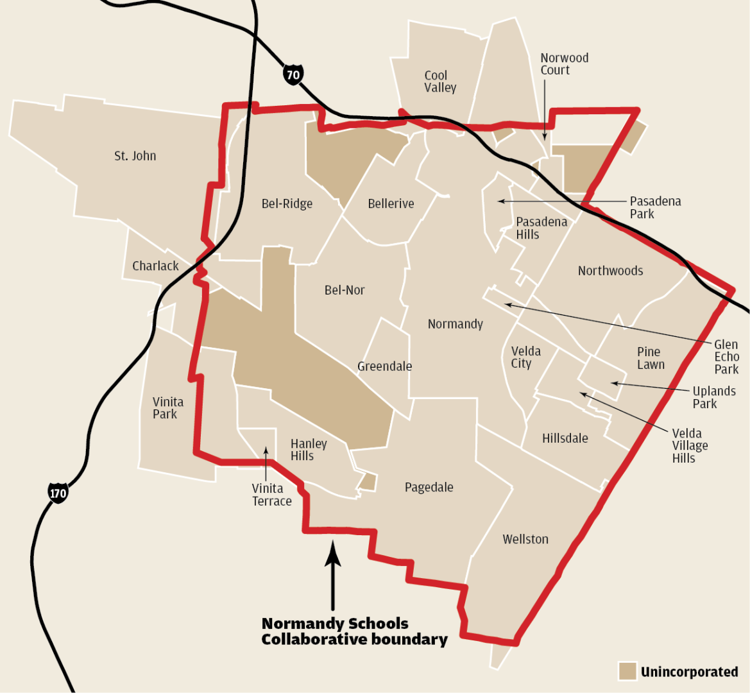 "This is an incredible distraction to me, and it was orchestrated," said Greendale Mayor Monica Huddleston of the push to reform municipal courts. "This serves the purpose of those who want to eliminate municipalities from the map."
The Ferguson Commission, a 16-member panel created by Missouri Gov. Jay Nixon to address the economic and social conditions highlighted by the protests, has made court reform a priority. Last month, commission co-chairs Rich McClure and Starsky Wilson stood behind Missouri Attorney General Chris Koster as he announced a lawsuit against 13 municipalities for violating the Macks Creek Law.
Pagedale Mayor Mary Carter, whose city was named in Koster's lawsuit, said that neither the attorney general nor the leaders of the commission had reached out to her to get Pagedale's side of the story.
"I think everybody is trying to jump on the bandwagon, and they are doing it in a haphazard way," she said.
In Krehmeyer's view, the reason court reform has become the cause célèbre among local and state politicians is that it is more palatable than having a hard discussion about race relations in St. Louis County.
"The biggest issue and the hardest issue is race, and we would rather not talk about that," Krehmeyer said.
Earlier this week, Schmitt, the state senator whose proposed legislation limits revenue from traffic fines to 10 percent, met with Huddleston and two other 24:1 mayors to discuss his proposal. Both sides described the meeting as productive.
But Schmitt said the response he has received from residents upset over traffic fines has been overwhelming. Even some police officers have called him to express frustration about how many tickets they are forced to write, he said.
As for unfairly targeting minority-led communities, Schmitt said that his bill would apply to cities throughout the state. His focus, he said, has been more on individuals ensnared in the system, not on the leaders of the cities that victimize them.
"They (the individuals) are disproportionately African-American," he said, "and they are disproportionately poor."