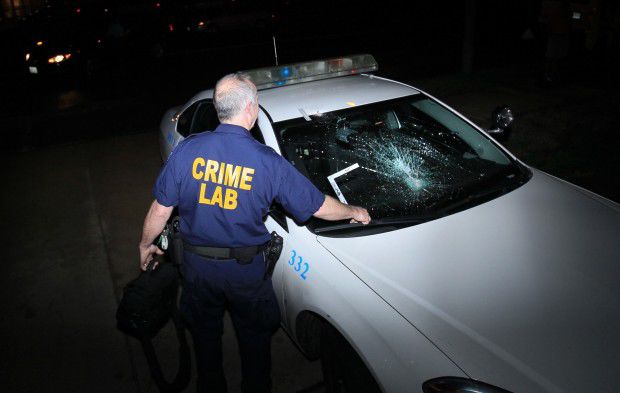 ST. LOUIS • An Occupy St. Louis protester, Scott O'Rourke, was acquitted Wednesday of assaulting a police officer after raising claims that it was in fact the officer who had beat him.
O'Rourke, 24, on trial this week, was at a protest over police brutality regarding the two other claims when he became ensnared with law enforcement.
Police said that during the protest on May 24, 2012, O'Rourke was caught spray-painting the windows of a bank on Olive Street, and that he punched the owner of a business. Police also alleged that after being arrested, O'Rourke punched one of the officers after his handcuffs were removed at the central patrol station.
He was charged with two felony counts of assault on a law enforcement officer and misdemeanor counts of assault, property damage and resisting arrest. Jurors acquitted him of all.
Joseph Welch, the defense attorney on O'Rourke's case and the case from 2012, said the separate verdicts bolstered the notion that there was "a pattern of police brutality and police misconduct at the Occupy events" that officials knew.
"Why are they even prosecuting these cases?" he asked.
A police spokesperson said the department was unaware of any complaints relative to the incident, but would encourage anyone with complaints to come forward and they would be investigated.
Lauren Trager, spokeswoman for Circuit Attorney Jennifer Joyce's office, said in a statement, "We hold the highest regard and respect for the process by which juries make difficult decisions. However, we stand by our decision to prosecute Mr. Scott O'Rourke."
Welch pointed out in trial that O'Rourke was accused of delivering punches with just his right hand, even though he is left handed. The attorney also put his client on the witness stand and said he believed the jury's confidence in his credibility was a key to winning the case.
Welch showed the jurors hospital records and a booking photo of the broken nose that O'Rourke sustained — he says from an officer's punching him. The officer never denied delivering the blow but insisted it had been justified. Welch had to fight in court to get the booking photo of his client from prosecutors.
In court motions, Welch said that what prosecutors finally produced was a drivers license photo, and that it was only on the eve of the trial (when the case was first set back in February) that they turned over the actual booking photo showing the injuries. Welch unsuccessfully fought to have a judge dismiss the case as a result.
Seal and Macias had alleged that they received concussions and other injuries after their encounter with police on March 15, 2012. Police had alleged that one of the men spit at an officer and then resisted arrest, and that the other man jumped on the arresting officer's back.
Jurors, after acquitting the two men of resisting arrest and assaulting police, said discrepancies between the police accounts gave them doubt, as well as a video that did not make it clear who had spit at the officers.