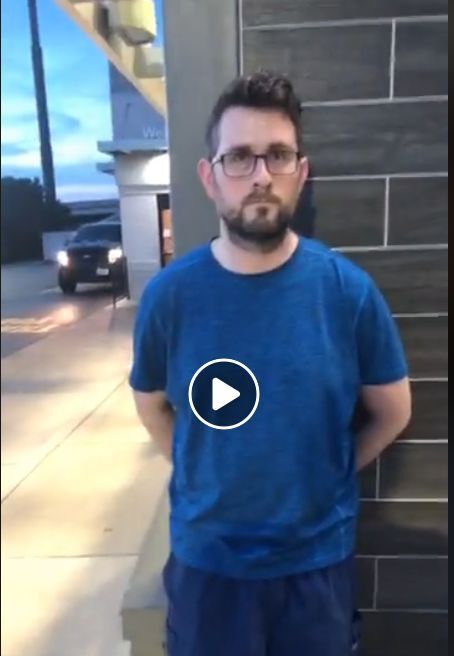 ST. LOUIS COUNTY — An O'Fallon, Illinois, man who was caught first in a police underage sex sting, and then by a vigilante group six months later, was sentenced Friday to five years and 11 months in federal prison.
Kyle V. Green, 38, pleaded guilty in U.S. District Court in St. Louis via Zoom and admitted going to a Brentwood motel on Dec. 12, 2018, to have sex with a 14-year-old girl. Green had been chatting online with an undercover police officer who was pretending to be the mother of the fictitious girl, Assistant U.S. Attorney Colleen Lang said.
He was not immediately charged while investigators searched the contents of his cellphone and waited for access to cloud storage accounts linked to his phone, Lang said at a hearing last year. Investigators did not believe that he would try again to have sex with a child, she said.
But on June 22, 2019, a vigilante group targeting child predators, KTS Predator Hunters, caught Green on video at a Caseyville McDonald's where he thought he would be meeting two 14-year-old teens to "snuggle, cuddle and watch Netflix," Lang said in a court filing. KTS posted the video on Facebook and turned it over to police.
Green was indicted July 25, 2019. He pleaded guilty Friday to charges of attempted receipt of child pornography and traveling with the intent to engage in illicit sexual contact. He was then immediately sentenced.
He apologized, saying, "There are no excuses for my crimes."
Defense lawyer Justin Gelfand asked for the minimum sentence of five years in prison, citing Green's commitment to family, friends and his religion, and his struggle with depression and bipolar disorder.
Lang asked for seven years in prison, citing the seriousness of Green's crimes and the KTS incident. She said she would be asking for more time if there were real children involved.
"He is a pedophile in the making. He is a child predator," she told U.S. District Judge Stephen Clark.
Clark said Green "took substantial steps to actually engage in sex with a 14-year-old" and said lawyers hadn't mentioned the "quite disturbing" child pornography with which he was caught.
Green will also have to pay a $5,000 into a fund that aids victims of human trafficking.
UPDATED Dec. 7 with information about he $5,000 special assessment.