SMITHTON — When James M. "Mitch" Ellis left the Marines after four years of active duty, he got a job and earned a master's degree.
But after the 9/11 terror attacks in 2001, he felt the call to serve again and joined the Marine Reserves, winding up deployed in Iraq.
St. Louis County police Chief Jon Belmar said that Ellis still felt the call to serve so he joined the department in 2011. On Thursday night, he finished his shift in the 8th Precinct in Jennings and headed home to Hecker.
But another driver on Highway 159 tried to pass a truck and struck Ellis' vehicle head-on about 11 p.m near Smithton, said Trooper Josh Korando of the Illinois State Police. The collision killed a passenger in the other vehicle and left Ellis, 49, critically injured. He died a few hours later at Barnes-Jewish Hospital.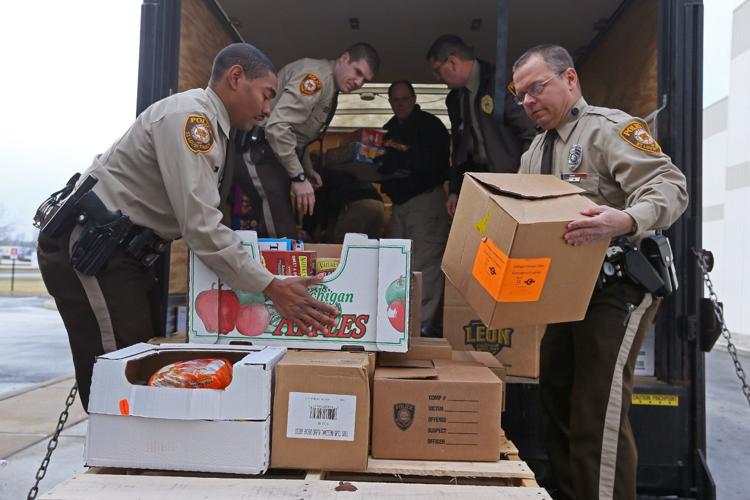 Ellis is survived by his wife, five children, his parents and a brother.
Belmar said he got a phone call just after 2 a.m. telling him that Ellis was fighting for his life after the crash. A second call came a short time later, Belmar said, with news Ellis had not survived his injuries.
Officers from several agencies converged on Barnes-Jewish Hospital overnight, consoling one another. The police chief announced Ellis' death to members of the department at 5 a.m.; Belmar wrote that Ellis "was a remarkable person, a fine officer and a true hero in the example he set."
Ellis had worked in the 2nd, 3rd and 8th precincts during his years with the police department.
The woman killed in the crash, Ariah Claybrone, 24, of Memphis, Tennessee, was pronounced dead at the scene. The car she was in was driven by Dale L. Claybrone Jr., 23, of Chicago. He was taken to a hospital in serious condition.
Police said Dale Claybrone was driving north in a Hyundai Sonata, following a semitrailer on Highway 159 near Brick School Road. He passed the semitrailer and hit Ellis' southbound vehicle head-on. Ellis was driving a Dodge Caravan.
After hitting the Caravan, the Sonata spun back into the northbound lane and was hit by the semitrailer, police said. The truck driver declined medical treatment.
Highway 159 is a straight two-lane undivided highway at the crash site. The crash was in the 6100 block of Highway 159, about 600 feet south of Brick School Road and between the Illinois towns of Hecker and Smithton. The area is south of the Wildwood neighborhood on the south end of Smithton.
St. Louis County police spokeswoman Tracy Panus said Illinois State Police are handling the investigation.
Christine Byers of the Post-Dispatch contributed to this report.