UPDATED at 8:12 p.m. Thursday with remarks from officer's attorney.
ST. LOUIS •  A shot to the head killed an 18-year-old teenager shot to death Wednesday during an encounter with an off-duty police officer, the medical examiner said Thursday.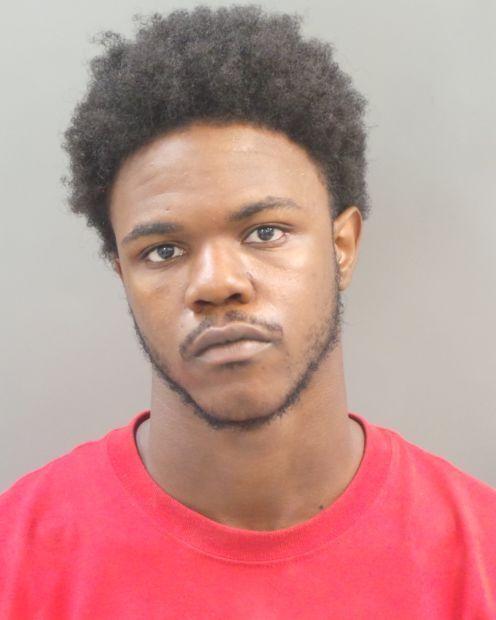 Preliminary autopsy results showed that VonDerrit Myers Jr. was shot from six to seven times in the lower extremities, said Dr. Michael Graham. The fatal shot entered the right cheek and was recovered in the body, Graham said.
Sen. Jamilah Nasheed had suggested at a press conference earlier Thursday that the teen had been shot in the back of the head, but the autopsy did not find any gunshots to the back of Myers' head.
St. Louis Police Chief Sam Dotson said the officer was off-duty, working a secondary job for a private security company patrolling the Shaw neighborhood, when he chased and fatally shot an 18-year-old male Wednesday night who came at him aggressively in a gangway.
The teen had a gun and fired at least three shots at the officer, who returned fire, the chief said. The teenager attempted to fire more but his gun jammed, Dotson said.
The officer was unhurt. The officer fired 17 times, Dotson said. 
The death of another black teen at the hands of a white police officer drew comparisons to the shooting of Michael Brown by a Ferguson police officer on Aug. 9.
The shooting unfolded in south St. Louis, not far from the Missouri Botanical Garden, led to hours of protests overnight Wednesday and into Thursday morning as an angry crowd gathered quickly when news spread across social media.
Relatives and police identified the dead man as VonDerrit Myers Jr., 18. Myers was wearing an ankle bracelet at the time he died — a court-ordered monitoring system as a condition of bail in a gun case, according to his lawyer and police.
Relatives of Myers disputed the police version of events, saying Myers didn't have a weapon. 
"He was unarmed," said Teyonna Myers, 23, of Florissant. She said she was a cousin. "He had a sandwich in his hand, and they thought it was a gun. It's like Michael Brown all over again."
The crowd that converged on the scene through the night numbered about 300 at its peak. Dotson estimated that about 100 police officers were there. Random gunshots fired by someone near Shaw caused many to scatter. At least two rounds of gunshots were heard near the scene. Three police cars were damaged by protesters kicking in the vehicles' windows or tail lights.
Protesters along with Sen. Jamilah Nasheed also showed up outside the Police Department's headquarters on Thursday morning, demanding the shooting be investigated by the U.S. Justice Department and a blue-ribbon panel appointed by Gov. Jay Nixon.
Dotson, who came to the shooting scene and gave an update to reporters after midnight, said the uniformed officer had been in a car when he saw three males near Shaw Boulevard and Klemm Street at about 7:30 p.m. Wednesday. One of the males started to run away but stopped. The officer did a U-turn and then all three ran, in the 4100 block of Shaw Boulevard. The officer drove through streets following them, and then he got out and chased them on foot.
The officer followed one of the young men, identified as Myers, into a gangway. He was running and holding his waistband in a way that caused the officer to suspect he had a gun, according to police.
Myers turned and approached the officer in "an aggressive manner," police said, and the officer told Myers to surrender. Myers continued to come at the officer and the two struggled. A sweatshirt the man was wearing came off during the struggle, police said.
Myers then ran from the officer, up an incline in the 4100 block of Shaw, and the officer saw what he believed to be a gun. He did not immediately fire because he wanted to be sure it was a firearm, police said. Myers turned and pointed a gun toward the officer and fired at least three shots, police said.
As Myers fired, the officer returned fire, police said. Myers continued to pull the trigger, but his gun apparently jammed.
It's unclear how many times Myers was hit. He was pronounced dead at the scene.
Authorities found the gun, which appeared to have jammed after firing at least three rounds, at the scene, police said. Three bullets that had been fired toward the officer were also recovered. One bullet was found in a vehicle behind the officer. Trajectories showed they had been fired downhill at the officer, police said.
Police initially identified the gun as a 9 mm Ruger. But a police source told the Post-Dispatch that the gun Myers fired at the officer was a 9 mm Smith & Wesson, which was bought at Cabela's in Hazelwood on May 5. It was then reported stolen Sept. 26 by a man from The Ville neighborhood. The owner told police that one of his sons stole the gun. When questioned, the son claimed the gun was stolen from him during a robbery that he did not report to police. It's unclear how Myers acquired the weapon, police said.
Dotson said he is unaware of any video that captured Wednesday night's shooting. He said the department's Force Investigative Unit is investigating.
Police did not identify the officer but said he is 32 and a six-year veteran of the police department.
Dotson said the teen who died "was no stranger to law enforcement" but didn't elaborate.
Court records show that Myers was scheduled to stand trial in November for unlawful use of a weapon and resisting arrest. This summer, Myers was a passenger in a car involved in a high-speed car chase in St. Louis, officials say. The car crashed just after midnight on June 27 in the 1100 block of South Grand Boulevard. Myers got out of the car, and a police officer yelled at him to stop. Instead, Myers ran off and tossed a gun into a sewage drain. Police caught him nearby and recovered the gun, a loaded .380-caliber pistol.
Myers was jailed for a few days. Then, in early July, Myers was released on bail after posting $1,000 cash bond. His bail originally was set at $30,000 by Judge Rex Burlison but was dropped to $10,000 after Judge Theresa Counts Burke agreed with a defense motion that it was excessive. Burke allowed Myers to post 10 percent of that in cash. A second judge upheld that bond amount later.
On July 8, as a condition of bail, Myers was activated on electronic monitoring for house arrest, court records say. He could leave his home in the 4200 block of Castleman Avenue for work, school, court appearances, meetings with attorneys and meetings with the private monitoring firm.
That firm, Eastern Missouri Alternative Sentencing Services, Inc., was supposed to monitor Myers' movements and contact the court if he violated the rules. Nothing in the court file indicates any violations. Susan Ryan, a spokeswoman for the St. Louis circuit attorney's office, said prosecutors weren't told of any violations.
Myers' attorney, Peter Cohen, said going out to get a sandwich would have been OK under the conditions of the electronic monitoring. He said the ankle monitor is standard in most cases for anyone facing a gun charge in the city who is allowed out on bail.
Myers' trial was set for Nov. 17.
If Myers had any juvenile record, it was not serious. Officials said that Myers had not been adjudicated delinquent in juvenile court of anything that would be equivalent to a felony in adult court.
LAWYER SAYS OFFICER HESITATED BEFORE FIRING
The attorney for the police officer who shot Myers Jr. told the Post-Dispatch that his client is lucky to be alive because he hesitated too long before firing at the teen.
"He's fortunate the guy missed him," said Brian Millikan, adding that his client, though highly trained, may have been influenced by the current atmosphere surrounding the use of force by police.
Millikan said that the officer served with the U.S. Marines in Iraq and is "shaken up." Millikan said he and his client welcomes outside investigators.
"We welcome any fact finder...Who is looking at it through a factual lens, not a political lens," he said.
He called claims that Myers was carrying a sandwich, not a gun, "ridiculous."
"This policeman did everything by the book with the possible exception of waiting too long," he said. "We're just fortunate it didn't cost him his life."
Word of the officer-involved shooting quickly spread across social media, and crowds of angry people began showing up and flooded the streets.
Police closed Grand between Russell and Interstate 44 before midnight. A tactical team showed up to order people out of the street. Some protesters were sitting in the road. Others marched north on Grand. They shouted, "Black lives matter."
The crowd included several who said they were Myers' relatives. Some shouted at police, and some were in tears.
At one point, the crowd surrounded a police SUV and someone kicked and broke a tail light. Someone in the angry crowd broke out a rear window of a police SUV as it drove away. 
In the end, one police SUV had fender and hood damage and damaged tail lights; another SUV had broken rear and side glass; and a police car had broken glass, driver's side mirror and a damaged door.
One man was arrested after the unrest, police said, but it's unclear whether it was linked to the incident. Police saw two men, 32 and 35, putting on ski masks inside a vehicle near Grand and Russell boulevards about 1 a.m. Thursday. Officer stopped the car and found one of the men, a convicted felon, had a handgun. He was taken into custody.
By about 4 a.m., Grand was reopened to traffic in both directions and most of the protesters had left. About 40 people stood on the corner at Shaw as thunder rumbled in the distance.
Jackie Williams, 47, said Myers was his nephew and lived with him in the 4200 block of Castleman Avenue, near the shooting scene. He said he had talked to several people who had been with his nephew or saw the shooting.
"My nephew was coming out of a store from purchasing a sandwich. Security was supposedly searching for someone else. They Tased him," Williams said. "I don't know how this happened, but they went off and shot him 16 times. That's outright murder."
A police spokeswoman said the officer did not have a Taser.
Beyene, the manager of Shaw Market, said he made Myers a turkey hoagie with pepper jack cheese and red onions about 10 minutes before hearing gunfire outside his store. He described Myers' demeanor as "relaxed, regular, no worries or nothing."
"He probably didn't even finish it," he said.
Beyene says he has known Myers for about a decade and that the teen would come into his store daily, sometimes more than once a day, for snacks and turkey sandwiches.
He said Myers paid for the sandwich and a Sprite before walking out with a friend and a cousin.
"I told him to go home and be safe because it's getting dark," Beyene said.
Beyene said Myers did not seem like a violent person and disputes the police department's account of the shooting
"That's not the way he was," he said. "There wasn't enough time for him to go home and get a gun."
Williams said Myers worked at a warehouse and attended high school.
According to school records, Myers spent most of his time in school in the Confluence charter schools, enrolling at the Old North campus in 2005. He attended Confluence Preparatory Academy in downtown and transferred out in the 2011-12 school year. He left as a freshman.
Myers enrolled in the virtual education program in St. Louis Public Schools last year, according to district spokeswoman Meredith Pierce. The Virtual Academy allows students to get or recover credits from home or from several campuses. Myers did his coursework from Gateway STEM Academy.
Myers completed summer school through the Virtual Academy, but was dropped from the program on Sept. 9 after missing some days, Pierce said.
Lavell Boyd, 47, lives in the neighborhood and said he happened upon the scene as he was going to a store on Shaw to pick up a sandwich. Boyd said he heard 14 or 15 shots as he was in his car.
"When I pulled up I saw the cop standing over him (Myers) then he pointed the gun at everyone else telling everyone to get back while he was searching for another clip," Boyd said.
Boyd said he heard others nearby telling the officer "you killed my friend."
Several neighbors also gathered at the scene. Some said they were surprised by the shooting.
"This is not normal," said Dorenda Townsend, 42, who lives in the Shaw neighborhood. "I've lived here over 20 years."
Some also expressed concern that the shooting involved police.
"I pray this is not another Mike Brown situation," said Sharon Norman, 50, referring to the August shooting in Ferguson in which a police officer fatally shot a teenager. That shooting prompted many protests.
Ronnie Sparks, 45, who lives in the Shaw neighborhood, said his son, Cameron Ming, 21, was with Myers on Wednesday night. After the shooting, Sparks said Ming was talking with police.
"They have been harassing him all day like they do all the time, pulling him over, stopping him," Sparks said of his son. "That's how it is. They harass the kids in the neighborhood. Our kids walk around in their own neighborhood and get harassed for it."
About two dozen protesters outside Police Headquarters on Thursday morning called for a Department of Justice investigation of Wednesday night's shooting.
Identifying themselves as part of the Michael Brown Leadership Coalition, they also suggested that the governor appoint a blue-ribbon commission to look at this case.
Members of the group said the focus should be on why the officer singled out Myers in the first place.
"This was a case of racial profiling turned deadly," Nasheed alleged.
Nasheed stood with Dotson and Mayor Francis Slay at a press conference recently calling for stiffer penalties against those carrying illegal guns. 
Minister Akbar Muhammad, international representative for the Nation Of Islam, said, "There is a culture of cover-up on the police department." He suggested that Dotson was supporting the officer Wednesday night before he talked to Myers' family and could possibly have had all the facts.
"It makes it look like he was just defending himself? Give me a break," Muhammad said.
An attorney, Jerryl Christmas, suggested, "There is no epidemic of black officers shooting white kids, but there is an epidemic of white officers shooting black kids." He said police are too quick to resort to deadly force.
Dotson said he tried to talk to Myers' father at the scene Thursday, but "he walked away from me."
Dotson said he agreed with some of the group's concerns, especially the need for more African-American recruits, but disagrees with the need for him to delay giving statements to the public.
"Does the public want me to be open and transparent or not?" he asked.
Dotson said he has welcomed and sought federal investigations into police shootings in the past, "When there are significant questions about the case."
"In this case, there is strong forensic evidence, but if at some point that evidence leads us in a different direction, I have a history of asking the U.S. Attorney and others to look at the case," Dotson said.
Dotson said trust is going to take time.
"We didn't get to this point overnight," Dotson said. "We can't fix problems that have developed over decades overnight, but you have to look at the steps this department and every agency is taking.
"You have to judge an agency by it's willingness to change, and we have demonstrated that we are willing to change."
Dotson noted the last class of police recruits and the class that began this week are nearly split between black and white cadets.
He added that the newly-formed Force Investigation Unit will handle the case, which includes mandatory review with the Circuit Attorney's Office. He said commanders will soon undergo "implicit bias" training, an idea he said he consulted with St. Louis Juvenile Court Presiding Judge David Mason about earlier this month. He said he's also asked the University of Missouri-St. Louis to study the department's racial profiling statistics.
"The narrative in Ferguson isn't done yet and we have a chance to shape the ending," Dotson said. "It's more important to work together to do it."
Jeff Roorda, a state representative and business manager of the St. Louis Police Officers Association, complained in an interview this morning, "These people have the opportunity to lead and urge calm and peace in the black community, and instead they are using this for their own political purposes."
"They are doing it by wading into the crowd and using their position as somebody in government who is assumed to know facts or information to fan the fire of speculation, anger and grief." 
Roorda would not name names of political leaders whom he said further agitated Wednesday night's crowd, instead naming those who he believed acted "responsibly."
He noted Ald. Christine Ingrassia, Ald. Stephen Conway and Rep. Michael Butler were out in the streets urging people to wait for the facts, and "not jump to conclusions or get sucked into mob hysterics."
Roorda said the real victims in the police shootings are the families of the deceased.
"I'm not saying that these kids are innocent, but they're still someone's child, and for politicians to take advantage of people's grief is despicable," Roorda said. "Those families should be allowed the time to grieve and not be drug into the middle of other people's political fights when they're still in a daze over what happened to their loved one."
Grande H. Lum, the director of the Justice Department's Community Relations Service, which has had from 2-8 conflict resolution mediators working behind the scenes in Ferguson since Aug. 10, would not speculate if the new shooting meant his people would remain in the St. Louis area longer than anticipated.
"We are well aware of that (shooting)," he said in an interview. "We have staff on the ground that are assessing the situation."
Citing secrecy laws embedded in the 1964 Civil Rights act that created his office, Lum would not say if his office sent more mediators to the city after the new shooting. He said CRS mediators would remain in the St. Louis area "as long as it is needed."
At St. Margaret of Scotland school nearby, principal Julie Hesed wrote a note to parents trying to assure them that all was quiet Thursday morning and their children are safe. They began their day with their usual prayer to "make me an instrument of your peace."
If all remains quiet, the school plans its regular dismissal this afternoon. However, the principal told parents that they will use a different dismissal plan if there are demonstrations or news reporters nearby.
Margaret Gillerman, Valerie Schremp Hahn, David Carson, Kim Bell, Chuck Raasch, Joel Currier, Elisa Crouch and Christine Byers of the Post-Dispatch staff contributed to this report.
Editor's note: This story has been edited to correct the spelling of VonDerrit Myers Jr.
Police say Myers fired first in confrontation in Shaw neighborhood.