CLAYTON • A bicyclist ran a stop sign in Sunset Hills before losing control and toppling onto the pavement, the town's mayor told the first police officer to arrive on the scene of a reported accident, according to testimony in court here Wednesday.
Sunset Hills police Cpl. Jeff Senior's testimony foreshadowed the expected big event in the trial: when Mayor Mark Furrer takes the witness stand at 9:30 a.m. Thursday to defend himself against felony charges that he deliberately struck the cyclist in a rolling dispute on Old Gravois Road.
St. Louis County Circuit Judge Thomas J. Prebil recessed the trial at 4 p.m. Wednesday to give adequate time for Furrer's testimony.
The mayor's lawyers said he will be the last witness. Prebil told the jury of three men and nine women they probably will begin deliberating Thursday.
Furrer, 61, is charged with second-degree assault and property damage, both felonies, for allegedly hitting cyclist Randy Murdick of Fenton during a side-by-side argument on July 29, 2014. Furrer was driving his 1991 red Mercedes-Benz convertible westbound on Old Gravois, west of the three-way stop intersection with Kennerly and Weber Hill roads.
If convicted of a felony, Furrer would forfeit the mayor's office, which he won in a write-in campaign three months before the incident.
Murdick and two witnesses testified Tuesday that Furrer pulled up alongside Murdick's bicycle, argued with the cyclist, swerved his car into him and drove off, but quickly returned to the scene. Murdick, 48, said he was knocked onto the back of the mayor's convertible and fell onto the pavement.
Senior testified he was first to the scene of a call for "auto accident, person struck" and spoke to Furrer, Murdick and a witness. The officer read a statement that Furrer wrote for police that day, which says in part: "The bike turned in front of me at a high rate of speed without stopping ... I said, 'Hey, you are supposed to stop.' He said, '(expletive) and other stuff and who are you?' I said, 'The mayor.' ... He grabbed the car. I saw in my mirror it looked like he lost control and fell."
Senior said the car had a smudge behind the passenger door that appeared to have been made by a hand or palm. He said Murdick told him the car hit him.
Under questioning from assistant prosecutor Al Key, Senior said it made him uncomfortable to have the mayor involved. He said his supervisors instructed him to consider the case an accident. But pressed by Key on what he thought it was, Senior replied, "If I were the supervisor on the scene, I would conduct an investigation and complete a report for an assault."
Defense attorney Dan Bruntrager questioned Senior on whether Murdick admitted rolling through the stop sign, an issue the defense has raised repeatedly. Bruntrager noted that Murdick said in an audio statement he had "slowed down." Bruntrager asked, "He didn't tell you he stopped, did he?" Senior said that was correct.
Murdick testified Tuesday that he did stop and that the mayor, whom he did not then know, repeatedly told him to "Get off my (expletive) roads." Murdick said he cursed back and was struck.
The cyclist said he had several injuries, including bruises and a torn Achilles tendon, and that his $12,000 racing bicycle was badly damaged. In September, he filed a civil suit against Furrer.
The prosecution rested Wednesday after testimony by John Greenstreet, owner of a specialty bicycle shop in Shiloh and friend of Murdick. He said damage to the carbon-fiber bike frame has not been fully assessed but could run as high as $7,000.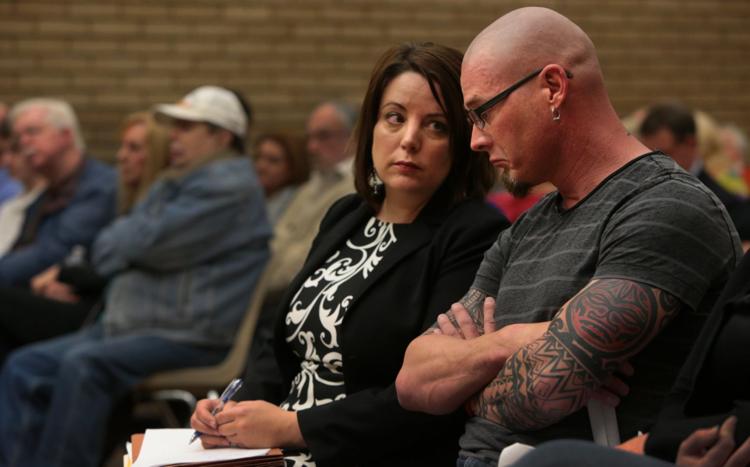 Defense lawyers were skeptical of the damage, consistent with their effort to paint Murdick as untruthful. Their main witness Wednesday was Fred Semke, a mechanical engineer from St. Charles, who was hired by Furrer to examine the case.
Semke testified the bicycle was not damaged significantly, that the witnesses could not have seen Furrer's hands on the steering wheel, that the mayor couldn't have swerved as described without running off the road and that Murdick couldn't have rolled onto the car after impact.
Key attacked Semke's testimony and got him to concede that a witness driving toward Furrer's car could have seen his hands, but he stuck to the rest of his testimony.
Also speaking for the defense was Sunset Hills police Lt. Greg Zveitel, who said he saw the mayor earlier that afternoon at a restaurant pre-opening event and that no alcohol was served. Zveitel said he didn't supervise the scene and went there after the mayor called police. He said he saw the smudges but no scratches or damage to the car.
Murdick has said the car struck his left leg.
On Tuesday, William Freeman of Sunset Hills testified he was driving west behind the red convertible and said the driver "attacked" the cyclist by swerving into him. Another witness, Randy Spaethe of Sunset Hills, said he approached eastbound, saw the car swerve and Murdick fall, but admitted in cross-examination he couldn't see "a point of impact."