ST. LOUIS • About 1,000 protesters surrounded the home of St. Louis Mayor Lyda Krewson in the Central West End late Friday, breaking at least two windows and throwing red paint at the brick house before some 200 police in riot gear moved in to break it up.
There was no indication on the scene that Krewson was in the home at the time.
A total of nine police officers had been reported injured as of 9 p.m., including one officer with a dislocated shoulder and an officer with a possible broken jaw, Acting Police Chief Lawrence O'Toole said shortly after midnight Saturday, appearing with Krewson in a video. A Highway Patrol trooper was also reported injured. 
Two of the city police officers were injured by thrown bricks, police said. They were taken to a hospital, with one officer's injuries described as "serious." A third officer was hurt but declined treatment.
Police spokeswoman Schron Jackson said early Saturday that police arrested 32 people Friday. She did not have more details, but said the names of those arrested and the charges they face "are forthcoming." 
Mostly peaceful protests following the not-guilty verdict in the murder trial of former police Officer Jason Stockley turned into unrest after dark, as police officers responded to several locations throughout the Central West End. 
"Many of the demonstrators were peaceful," O'Toole said. "However, after dark, many agitators began to destroy property and assault police officers."
Several restaurants and a St. Louis Public Library branch were also damaged by the end of Friday night. O'Toole said officers fired pepper pellets and tear gas to dispel crowds.
"Orders to disperse were given numerous times," O'Toole said. "Tear gas was deployed after officers were assaulted with bricks and bottles. Officers did deploy pepper balls as a less-than-lethal option after agitators continued to assault officers with objects and destroy property."
Krewson did not speak about the apparent damage to her home, but thanked officers and those watching the video. 
"Thank you to St. Louis police officers," she said. "Thank you also to the citizens of St. Louis for your patience and your tolerance. We look forward to finishing this evening on a good note, and to tomorrow."  
After the large group of protesters was able to march unimpeded to Krewson's home, gather on the lawn and knock on the door — a process that took some 30 minutes — the first police finally arrived and began pushing them back, firing canisters of tear gas. Journalists witnessed at least one arrest.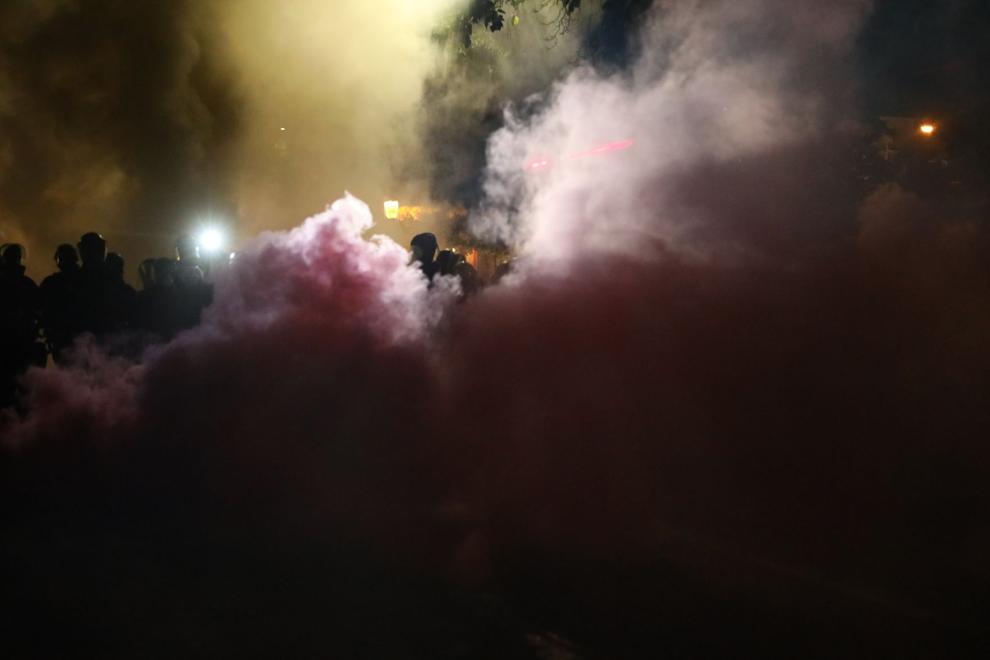 City police tweeted: "Tear gas was deployed because agitators became violent towards officers and destroyed property" in the area. 
Amid that confrontation, some protesters were holed up at the Central Reform Congregation synagogue at Kingshighway and Waterman. It was near there that the officers were hit with bricks.
Multiple Central West End venues had windows shattered, including Culpeppers grill and the St. Louis Public Library Schlafly Branch.
Earlier, police pepper-sprayed demonstrators Friday afternoon as they declared the ongoing protest at Tucker Boulevard and Clark Avenue downtown as "no longer peaceful".
By early evening, protesters had dissipated from downtown and were gathering in the Central West End. They filled the streets there as they marched through the neighborhood, their number growing to what appeared to be more than a thousand. At one point, they tried to enter Forest Park but were stopped by police. By nightfall, protesters were marching south on Kingshighway toward Highway 40 (Interstate 64), some chanting: "If you kill our kids, we kill your economy!"
Southbound Kingshighway was closed from Lindell to the interstate, police said. A large number of police vehicles blocked on- and off-ramps there. The marchers eventually turned back north again after being denied access to the interstate.
Later, protesters in the Central West End were pulling down American flags that lined the streets on Euclid, and burned several of them. At least one of the flag burning incidents, on a knoll near the interstate, led to a heated argument between factions of protesters.
4 officers injured downtown
Stockley, who is white, was charged with murder in the 2011 shooting death of black drug suspect Anthony Lamar Smith. His acquittal in a bench trial early Friday sparked the protests downtown and in the Central West End.
Early in the day, four police officers sustained minor injuries downtown, mainly as a result of protesters throwing things at them, and more than a dozen protesters were arrested, O'Toole said. He said one officer was treated for a hand injury, and three others declined medical treatment.
"It's hardly been completely peaceful," O'Toole said at an early evening news conference. His department later tweeted out photos showing rocks and water bottles that were thrown at police.
A joint statement from the protest groups ArchCity Defenders, St. Louis Action Council and Missourians Organizing for Reform and Empowerment criticized city officials' response to the protests, saying they were demonizing protesters by "preemptively bemoaning violence and civil unrest, calling instead for peace."
"True peace, requires justice, and there was nothing just about today's verdict," the statement said.
"The optics of closed business, walled off city buildings and a highly militarized police force are merely staging for the city's spin that we the protesters are the violent ones," the statement continues. "While our communities grieve, we are demonized. While we stand in bold assertion of our constitutional rights, we are criminalized."
Earlier, hundreds of people chanted peacefully, while other protesters blocked  an on-ramp to Interstate 64, some throwing bottles and trash toward police.
At one point earlier in the afternoon, at least a few protesters were pepper-sprayed by police as protesters tried to block police from traveling in vehicles on Tucker between Clark Avenue and Spruce Street.
Later that afternoon, some people jumped on a police SUV near the corner of Tucker Boulevard and Clark Avenue and smashed the windshield. Police officers, some in black riot gear and holding police shields, approached the crowd as some demonstrators shouted expletives at them and threw water bottles. Police pepper-sprayed several demonstrators who remained on the street after being ordered to disperse.
"We're very angry, we're tired and we're just bringing awareness to let this community know, this is not OK and let this judge know his ruling was not OK," demonstrator Bishop Derrick Robinson said. "We're upset by his ruling and we're out here today to continue to bring awareness and disturbance on the day."
"However long it takes, we're out here," he added.
Multiple protesters were arrested. Police shoved one man with a baton then yanked him to the ground. 
Greg Harvey, 28, a producer with KMOX-AM 1120, said police told him to move out of the street, shoved him then pepper-sprayed him while people were protesting peacefully.
"God, it burns so bad," Harvey said.
More than 100 police, many with batons and riot shields, were there. Dozens of police at one point formed a line across Tucker.
'The power of the people'
"My goal is to resist the power of the state," said the Rev. Renita Lamkin Green, pastor of St. James African Methodist Episcopal Church in Cape Girardeau, after standing in front of the line of police. "The power of the people is greater than the power over the people."
Others, like architect George Nikolajevich, stood off to the side.
"We have to find a way to live together and resolve our problems in a peaceful and constructive way, because, for the future of America, it's important," said Nikolajevich, who works at CannonDesign and is originally from Yugoslavia. "I am very optimistic, but some others are not."
Meanwhile, at 13th Street and Washington Avenue, some protesters threw chairs that had been set up for an event in front of the St. Louis Public Library.
Later in the afternoon, the protests calmed. Many police dispersed and hundreds continued chanting and walking on the streets.
Earlier morning protests witnessed by Post-Dispatch journalists had been nonviolent, when police went out of their way to give marchers space, often blocking off traffic to let them pass. By noon, there were hundreds of protesters downtown.
"We are saddened, we are frustrated and quite frankly we are pissed off," said St. Louis Alderman John Collins-Muhammad. "Until black people in this city get justice, until we get a seat at the table, there will be no peace in this city."
State Rep. Bruce Franks Jr., who was a frequent protester in Ferguson in 2014 before he was elected to office last year, said "we can't be so pro-police to the point where we forget about accountability. If you don't truly understand the challenges and barrier of what we go through, that's an issue."
A group of protesters led by veteran activist Zaki Baruti started at Market Street in the morning, walked south on Tucker, west on Clark, and tried to get up the on-ramp to westbound Highway 40 (Interstate 64). But about 30 police officers with bikes blocked their access.
Many of the protesters started heading for the multi-modal transportation hub nearby, but some in the group instead went toward police headquarters at 1915 Olive Street.
Police did not come outside the locked building to address the group. Protesters called for police resignations and an economic boycott on St. Louis.
A protest leader known as Pastor Doug said through a megaphone, "They won't get no rest until we get some justice," he said. "We are shutting down every big event this weekend."
One man on a bike was arrested at Washington and 14th Street.
Protesters also tried to get into the America's Center. Some banged on windows, but were told to stop by other protesters. They opted for a group hug instead.
"We are all subjected to white supremacy and there's nothing we can do about it," said activist Johnny Roberts, 26. "What can we do about it?"
Immediately after the verdict, activist Anthony Shahid stood outside the courthouse downtown and held up a light-blue cloth bag over his hand with Stockley's picture attached to it.
"This is what you call white privilege. This is what you call unconstitutional," Shahid said. "We don't even have constitutional rights. This is what you call human rights being violated … What they're doing throughout America they're treating us like straight (racial epithet), rats and roaches."
Meanwhile, activists including Franks held a press conference at the scene of the shooting.
Protesters also gathered at West Florissant and Acme avenues where Stockley fatally shot Anthony Lamar Smith in 2011.
Nassim Benchaabane, Jesse Bogan, Mike Faulk, Erin Heffernan, Joe Holleman, Denise Hollinshed, Jeremy Kohler, Ashley Lisenby and Kevin McDermott contributed to this report.
A timeline of events and coverage