UPDATED at 10 a.m. Thursday with names of two injured motorists
TOWN AND COUNTRY • A Jonesburg, Mo., man was killed Tuesday and two people were seriously injured when a van hauling a trailer crashed and caught fire on Interstate 270 between Manchester and Clayton roads, police say.
Crews who rushed to the scene initially had a tough time sorting out how many vehicles were involved in the morning rush-hour crash.
A charred van was on its side. The back of a tractor-trailer was on fire. A sedan, a Bobcat loader and a small, upended trailer were in the wreckage and appeared to be sandwiched against the median.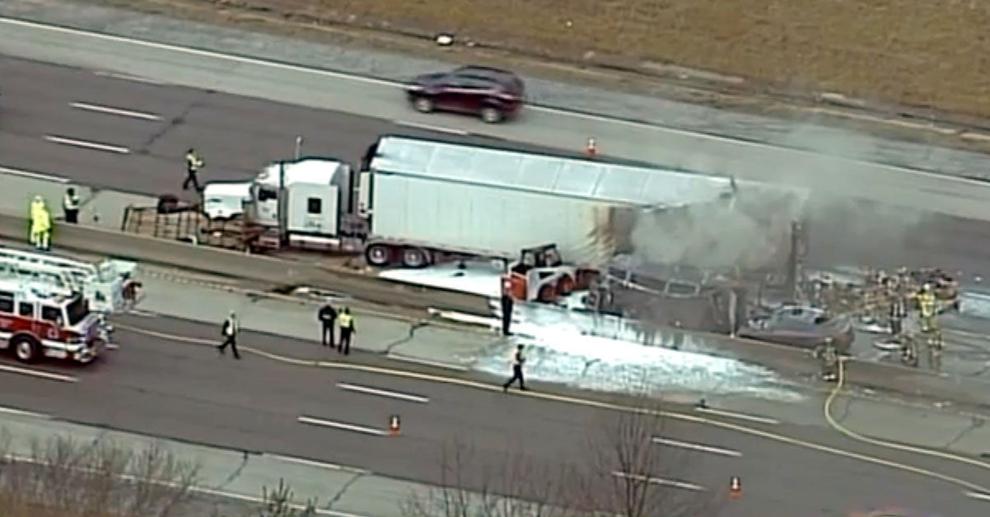 Richard Matteson, 58, of Jonesburg, died in the wreck, the patrol said. Cpl. Juston Wheetley of the Missouri Highway Patrol said Matteson was a passenger in the van.
In all, Wheetley said, six people in four vehicles were involved in the crash, which took place at 8:25 a.m. Tuesday.
The two injured people are identified as: Thomas J. Schirmer, 53, of Jonesburg; and Alan J. Ramsey, 50, of the St. Louis area. Schirmer, who was driving the van, suffered moderate injuries and was being treated at Mercy Hospital St. Louis in Creve Coeur. Ramsey, who was driving the sedan, suffered minor injuries. Ramsey also was treated at Mercy Hospital.
Wheetley and a patrol report gave the following account, based on witnesses and evidence collected early in the police investigation:
A van hauling a trailer was in a middle lane, heading south on I-270. On the trailer was a Bobcat loader.
The driver of the van tried to merge into a left lane. Its trailer clipped a tow truck, then smashed into a passenger car, forcing the passenger car into the median. The van's driver lost control, and the van overturned.
The driver of a tractor-trailer saw the collision and tried to avoid it, but the tractor-trailer ended up hitting the van and its trailer.
The van caught fire, and the flames spread to the back of the tractor-trailer.
The drivers of the van and the passenger car were seriously injured.
"It was just a very unfortunate chain of events," Wheetley said.
The crash site was on the far left side of the southbound lanes, near the median.
Several southbound lanes and a northbound lane were closed, with some of them staying shut for much of the day.
From the debris scattered along the road, it appeared that the tractor-trailer was hauling boxes of peppers and other vegetables in a refrigerated trailer. West County EMS and Fire Protection District spokeswoman Sara Dayley said no hazardous materials were involved.
The crash was within the city limits of Town and Country, but that city's police department said the Highway Patrol was handling the investigation.
Mark Schlinkmann of the Post-Dispatch contributed to this report.