ST. LOUIS — The seven workers were ordered at gunpoint to lie down next to one another in a line, facedown, heads against the wall. Harold Meyer, 29, the manager of the National supermarket, whispered to the cashier beside him. 
"Rose, this isn't good," he said.
"It will be OK, honey," she said. "Don't worry."
"No," he said. "It won't."
Thirty-two years later, the store at 4331 Natural Bridge Avenue has been reduced to a concrete slab, on its way to new life. But the carnage on Sept. 4, 1987, which killed five, forever marred St. Louis. The incident made national news as the worst mass shooting in the city's history. 
Amid a perpetual drumbeat of gunfire — daily, weekly — it still stands out. 
After the site changed hands several times, a crew is clearing it for a $2.5 million public-private investment that's part of an ongoing effort to redevelop Natural Bridge.
"That's why I am proud of this project," said 21st Ward Alderman John Collins-Muhammad, who was born four years after the shooting. "We are replacing that frustration, that sense of hopelessness that has long plagued that area."
The project, across the street from a liquor store and a chop suey joint, will be anchored by a gas station.
"It will brighten up the neighborhood a little bit," said Sandy Strickland, 63, a former bag boy at the supermarket whose Strick & Legit demolition company was hired to rip the old building from the block.
Two of the seven survived being shot during the robbery. Only one, Meyer, is still alive.
For him, razing the building won't clear his mind. He thinks of the shooting daily.
"Everything that happened that night is ingrained in my head," he said. "It's not going anywhere."
Still, he grins. Positive thoughts are his way of not succumbing to the fear and anger, even so long after he crawled away from the execution line.
A tough store
Meyer grew up in the Baden neighborhood until he was 10, then north St. Louis County. He started bagging groceries for National when he was 15. He made checker by 16 and was soon stocking shelves.
He stayed on after graduating from Hazelwood East High School in 1976.
"Back then it was good money, it really was," he said.
In 1987, he became the youngest manager in the St. Louis market. His first store, at 4331 Natural Bridge, had chain link fencing over the windows to keep bricks from crashing through.
"They put the new managers in these stores that are tough, and if you can make it there, you can make it anywhere," said Meyer.
Though the O'Fallon neighborhood had been in decline, the store was profitable. Meyer's only instruction from the division manager was to keep it that way.
"I loved it," he said of the first seven months. "I was getting along great with my employees."
One of them was 16-year-old Michael "Mikey" Marr, a student at Cleveland Junior Naval Academy, who was itching to leave early on the Friday night of Labor Day weekend. 
The store closed at 10 p.m. Then there was an hour of cleanup and bookkeeping to do. Typically, everyone walked out of the store together at 11 p.m. with a security guard, but Marr got to leave a little early.
Meyer said he saw a security guard with a large key ring walk the boy to the door. Meyer watched from his office, essentially an elevated box between the checkout lines and the customer service desk that allowed him to look out over the whole store. 
Meyer was also ready to call it a night. He'd cracked open a can of Busch beer while finishing up a few tasks.
Then somebody started yanking on his office door, which made him mad. People needed to be buzzed in.
Watching it happen
A man forced the door open and stuck a handgun to Meyer's forehead. He told Meyer to unlock the safe.
Meyer didn't move fast enough. The man hit him over the head with the gun. Then the gunman punched the store's stock manager when he couldn't do it, either.
Rose M. Brown, a grandmother who was the office cashier, cracked it. The gunman took out bus passes and some $7,500, the equivalent of $17,000 today, much of it in $1 bills.
Meyer sat on the ground, dizzy from being hit. He told Brown to give the gunman a trash bag to carry the loot. Meyer hoped it would speed the man's departure.
The gunman took the bag and marched Meyer and three other workers to the front of the customer service desk. There, Meyer saw the janitor sitting on the floor with the security guard. His holster was empty.
A second gunman was pointing the guard's .38-caliber revolver at the group.
"Their faces were uncovered, that's what bothered me," Meyer said.
The hostages were told to lie facedown in a line, by Rug Doctor rentals and cans of loose tobacco.
Meyer, crammed in on the end, watched both gunmen open fire. He was shot in the side. 
"Everybody got hit from behind except me," he said. "I wouldn't lay on my stomach. I wasn't going to let them shoot me like that. I wanted to see it coming."
One of them, out of bullets, demanded ammunition from the injured guard. He reloaded, ready to finish off the lingering survivors and then held the stolen gun point-blank on the back of the stock manager's head.
The gun clicked once. Twice. It went off on the third try.
Meyer covered his face and watched through his fingers as the gunman leveled the guard's revolver at the next victim in line.  
Meyer was timing it. When the gun blasted for him, he jerked his head back and flopped onto the woman next to him. One of the men saw him move, but the other said Meyer wouldn't last. 
The bullet had gone through the middle of Meyer's hand, bounced off the floor and grazed his face. He played dead. 
When he sat up a few minutes later, there was blood everywhere. One of his lungs had collapsed from the first gunshot. He was scared the killers were still in the store.
He crawled to a phone, but the 911 operator couldn't hear him speak. 
He called his wife, asked her to try. Tell them police and ambulances are needed for a robbery at 4331 Natural Bridge.
He asked her to kiss their two little girls.
7 shot, 5 killed
Three men stocking shelves managed to escape unharmed, two by running to the roof, another by hiding. Seven people were shot, five fatally: 
• David Spahn, 27, security guard from Glasgow Village.  
• Rose M. Brown, 49, office cashier from Ferguson. 
• Kenneth Bass, 27, janitor from north St. Louis.
• Michael L. Beam, 34, stock manager from Overland. 
• Michael Marr, 16, bag boy from north St. Louis.   
"These are all working people," recalled Joseph Burgoon, 80, a veteran detective who was assigned to the case. "They are making a living. They are married and have children and grandchildren. Executed. They didn't have to do that."
Police, facing public pressure, soon arrested four men, but the case didn't hold up. 
Marvin Jennings, of Overland, who'd previously worked on an overnight cleaning crew at the store, and his friend, Donnie Blankenship, of Hanley Hills, were ultimately held responsible for the crime. Both were in their mid-20s.
Jennings was convicted on five counts of first-degree murder and was sentenced to life without parole. Blankenship was convicted on five counts of second-degree murder and was sentenced to life in prison.
Once Meyer was stabilized, he was surprised to find out that Marr, the bag boy, was among those killed. He'd thought Marr had left in time. He was amazed to learn Richard Fortson, 32, who ran the front of the store, survived. 
Fortson was shot in the back of the head with a weapon Burgoon described as a junk gun — too cheap to be reliable. The bullet "rimmed around his skull," Burgoon said, and came around the other side. "They do that sometimes."
Burgoon said Fortson, a diabetic, only lived a few more years. He was eaten up by the shooting. He felt guilty that he didn't let the young bag boy leave earlier. 
For a short time, Fortson returned to work at a different location. He thought he saw the gunmen. Police rushed to the scene and found nothing. 
'Still tender'
Meyer returned to work after three months of recovery. 
"I was young," he said one day last week at his home in St. Peters. "I didn't want to lose my job."
He, too, struggled to sleep at night. And for years he thought about what he could have done differently. He said he visited with a therapist but quit after one session. His home remedy is focus on the positive — that he lived. Not that he nearly died.
"Everybody complains about birthdays," he said. "I am happy as hell to have a birthday."
Meyer is 61. Stocky, with a goatee and a bit of a belly, he looks on the outside like he's lived a good life. He recently got engaged and retired from Schnucks, which, in 1995, bought National stores in the area. Meyer managed eight more locations in the St. Louis region without being held up again. His last store was at Highway 94 and Harvester Road in St. Charles.  
He's tan from spending time in his backyard swimming pool. On Labor Day weekends, he hosts a survivor party there. Inevitably, a relative asks about being shot. Meyer said he doesn't mind talking about it.   
The scars on his face and hand have healed well. He reached to his side to feel where the other lucky bullet hit him.
"It's right here," he said, touching the entry scar. "Still tender."
He held an old X-ray up to the light. A bullet rests near his heart, with a trail of fragments spread across a lung. Meyer looked at the image and smiled.
When he dies of old age, he'd like the gunman's bullet removed from his chest and passed on to his son, Jason, who wouldn't have been born if the shot had been fatal. 
'Pure anger'
The walls of positive thinking that Meyer built around himself are threatened in two ways.
Jennings will never get out of prison, but Blankenship has parole hearings. Meyer said he feels "pure anger" when he attends them.
"I can't hardly control myself," he said. "I keep thinking one of these times they are going to throw me out of there."
The other is when he's forced to think about what he would have missed had he been killed with the others. 
His three children are grown. He spends a lot of time chasing seven grandchildren. He's watching son Jason, now 30, follow in his footsteps at Schnucks.
"I asked him to get out of the business," Meyer said. "The job takes you away from your family. You work evenings. You work holidays. You work weekends. When these kids were growing up, I missed a lot. But he likes it. He wants to stay with it. He's making decent money now."
After Schnucks bought a bunch of Shop 'n Save stores last year, Jason was promoted. He's one of the youngest managers in the St. Louis market.
Meyer said he told Jason to be happy, regardless of the stores he's assigned. It can't be worse than his first at 4331 Natural Bridge.
---
Former National supermarket site on Natural Bridge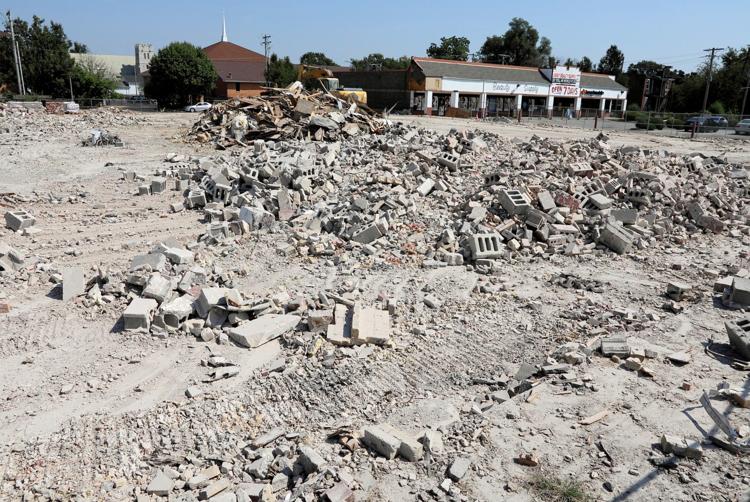 National supermarket shooting, 1987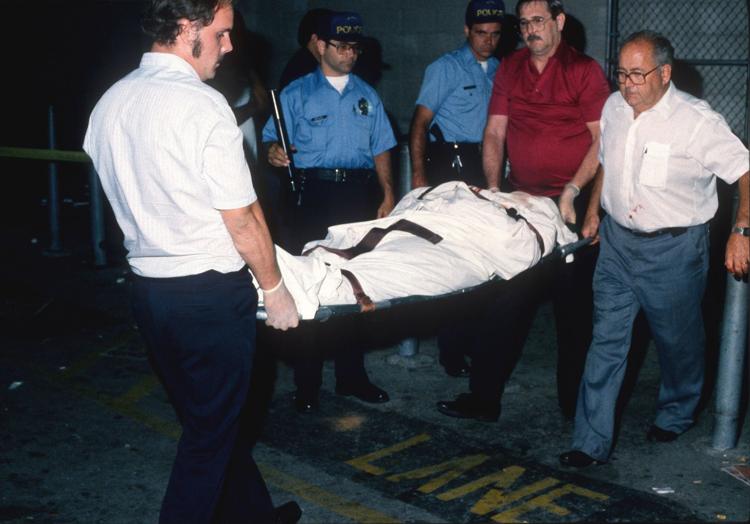 Harold Meyer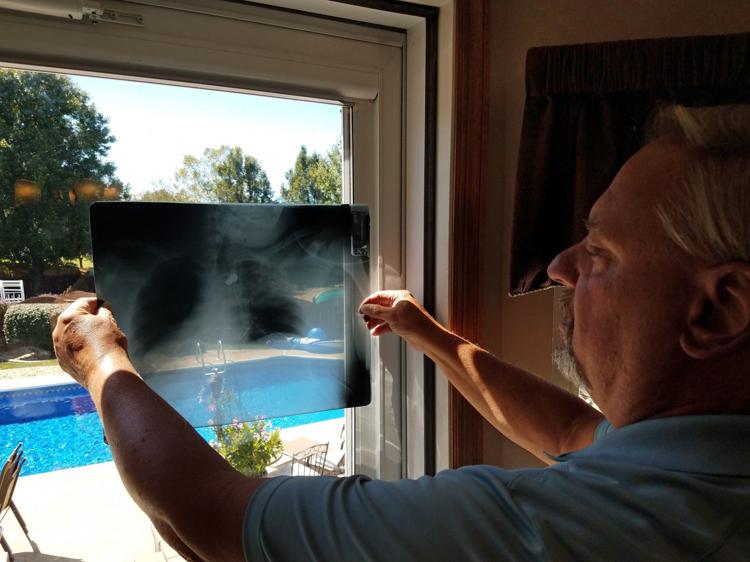 National supermarket shooting, 1987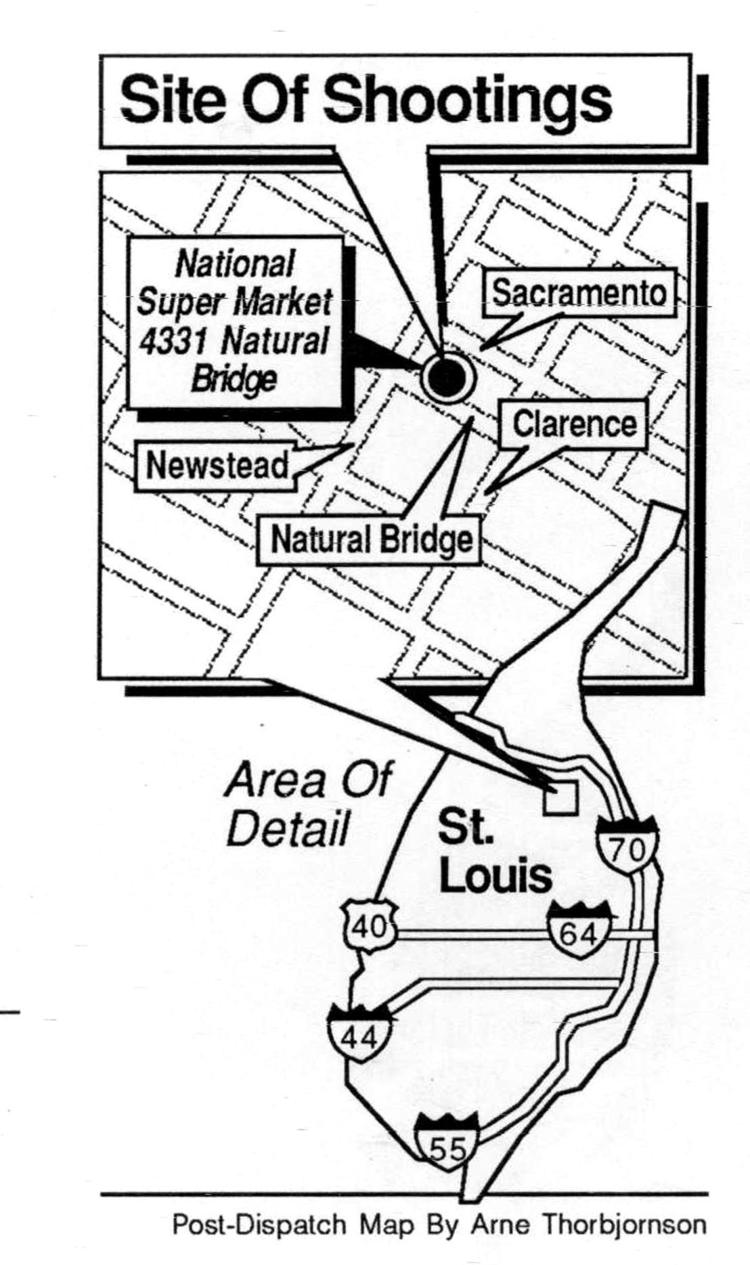 Former National supermarket site on Natural Bridge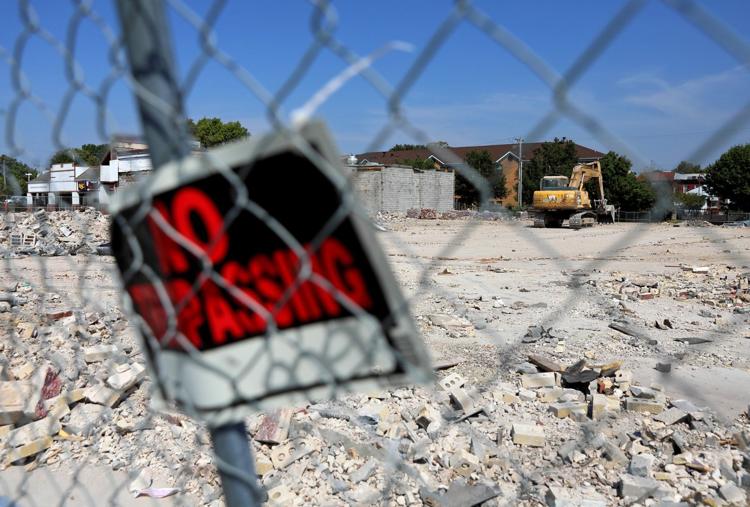 National supermarket shooting, 1987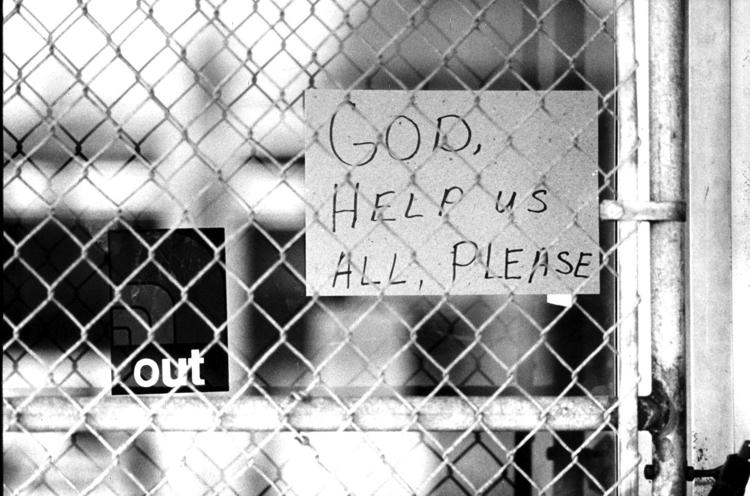 National supermarket shooting, 1987

National supermarket shooting, 1987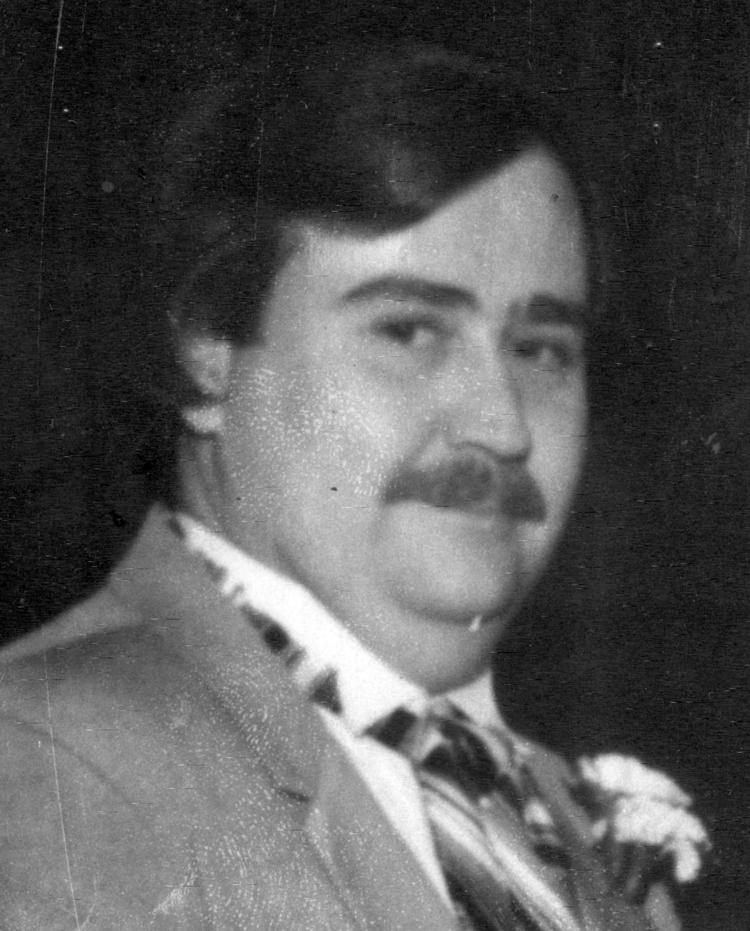 National supermarket shooting, 1987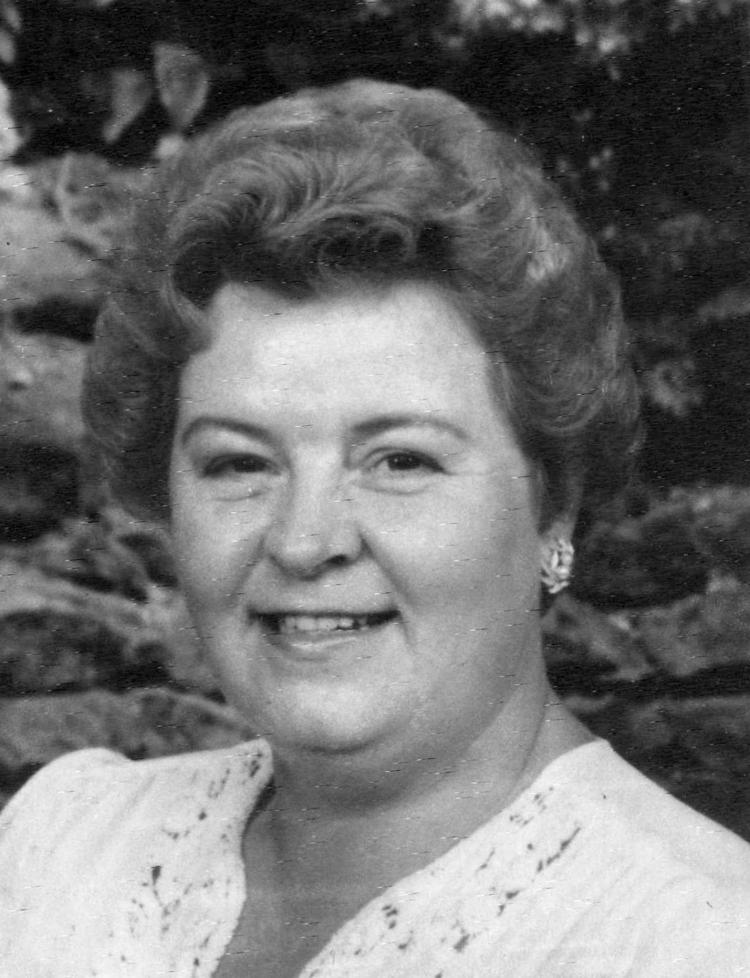 National supermarket shooting, 1987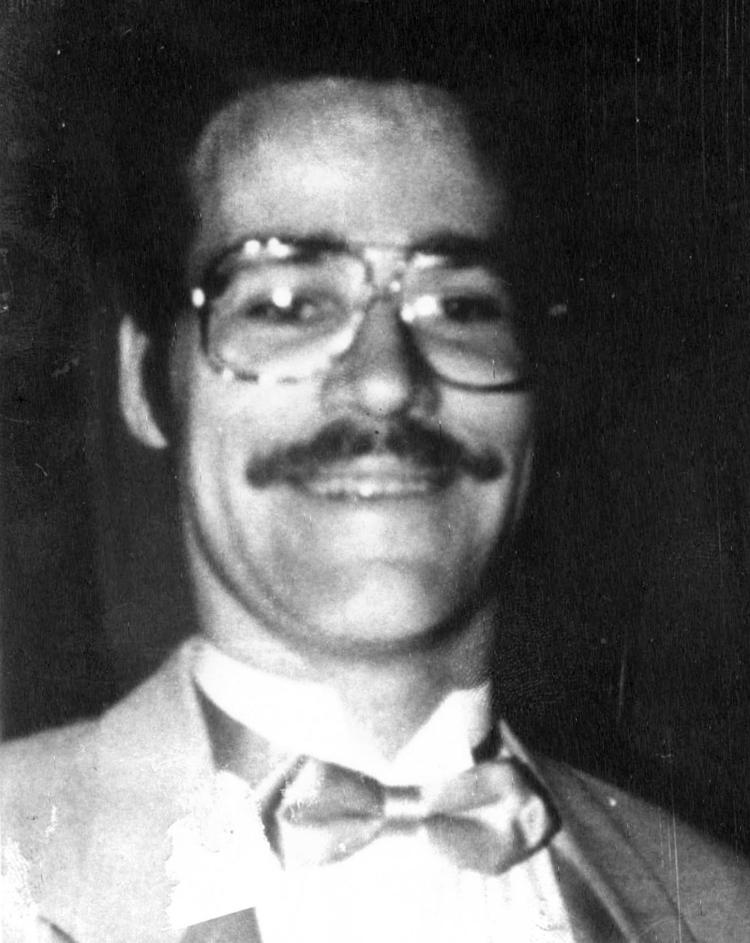 National supermarket shooting, 1987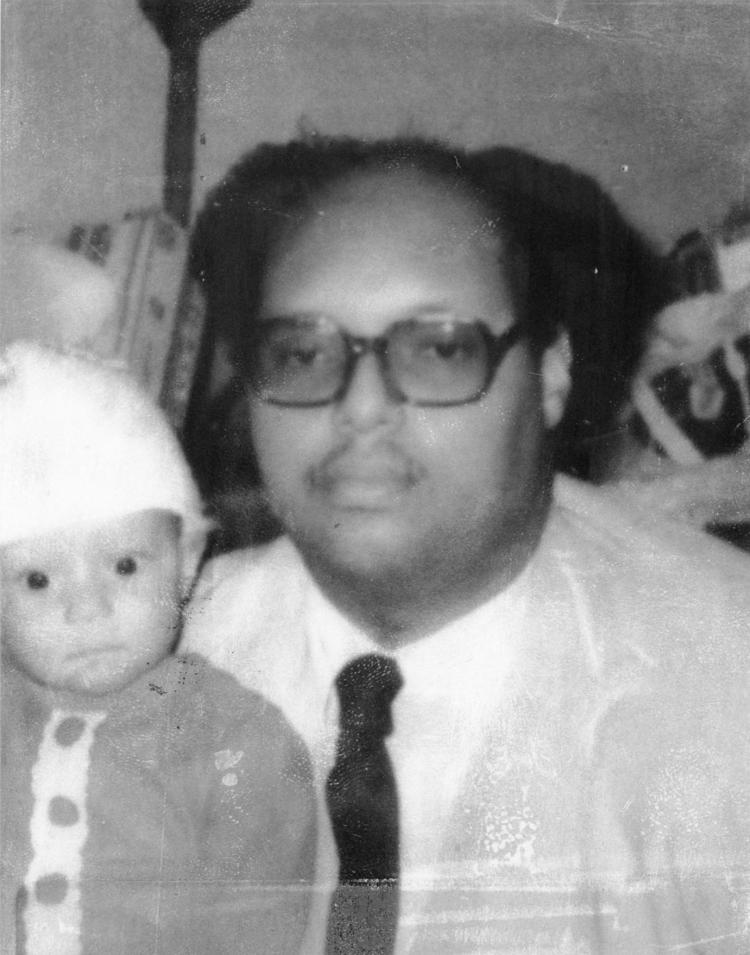 National supermarket shooting, 1987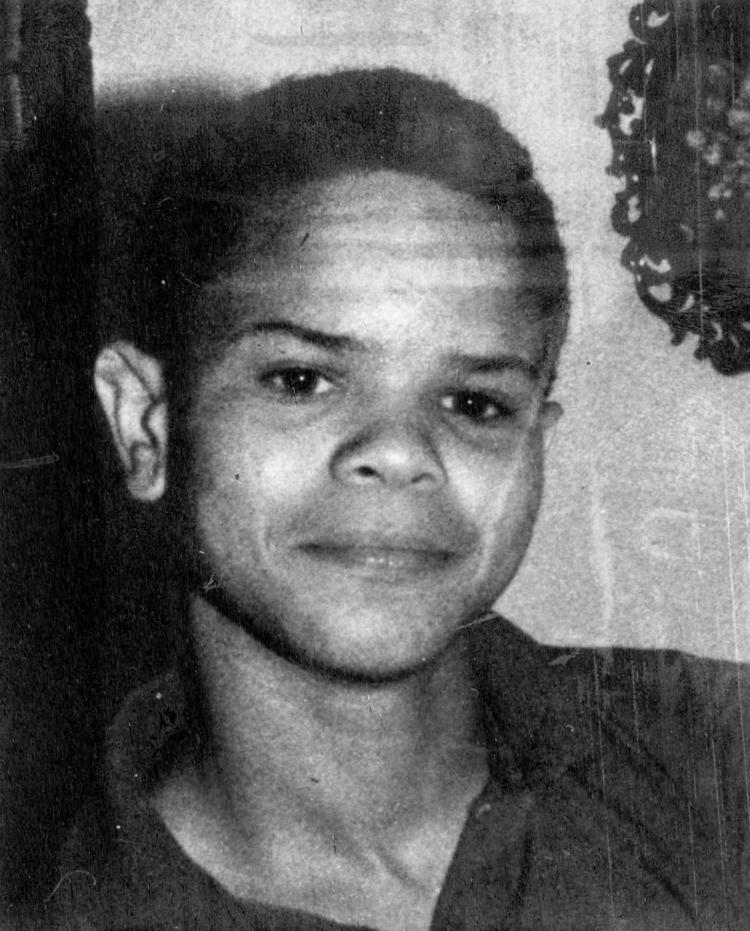 National supermarket shooting, 1987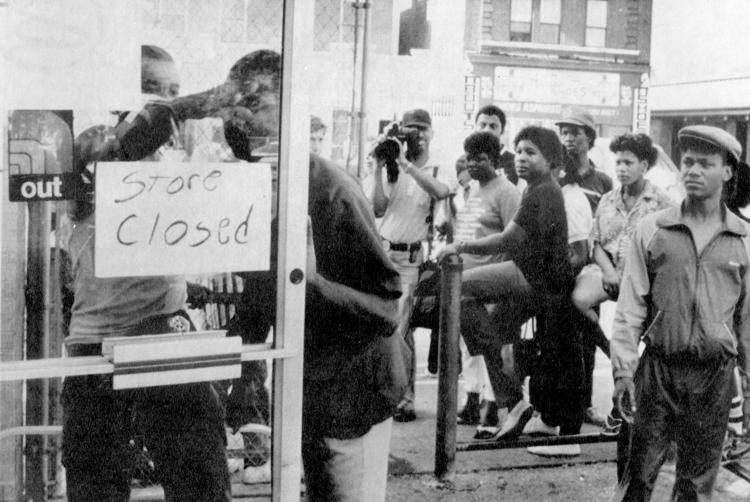 National supermarket shooting, 1987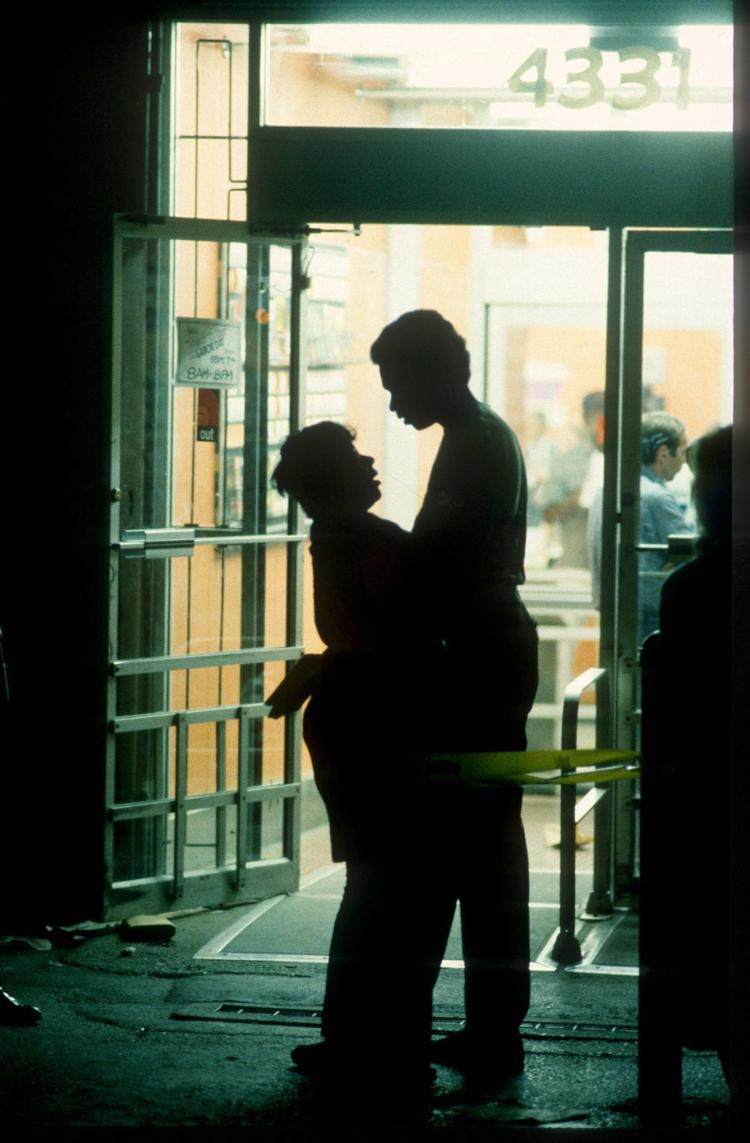 National supermarket shooting, 1987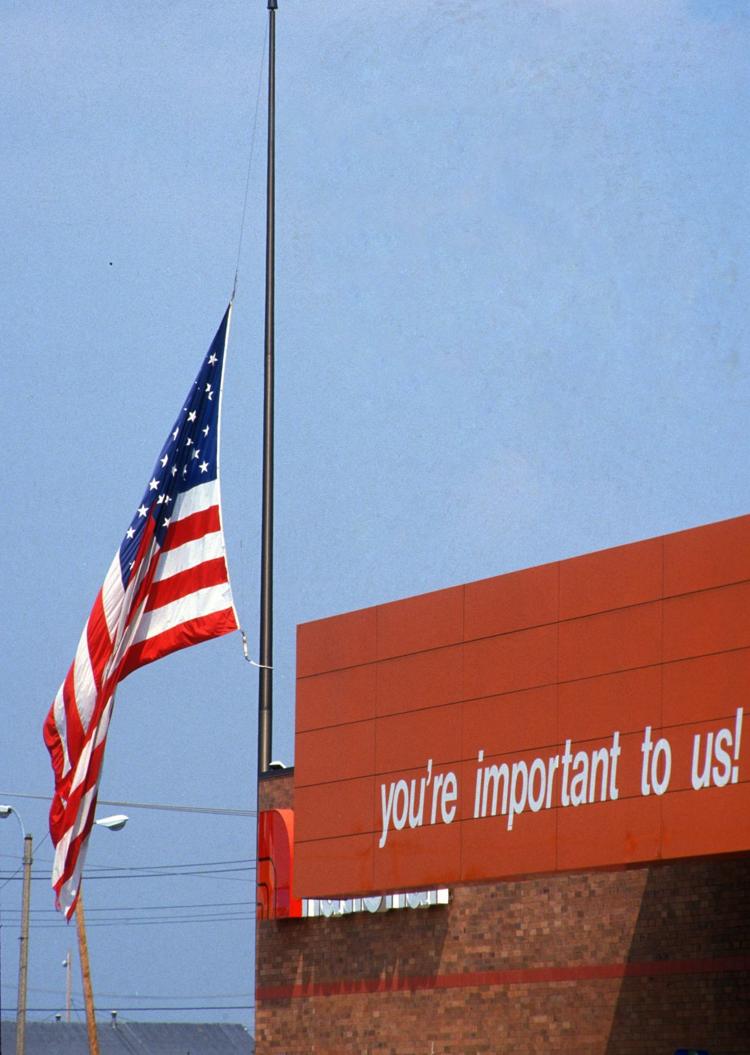 National supermarket shooting, 1987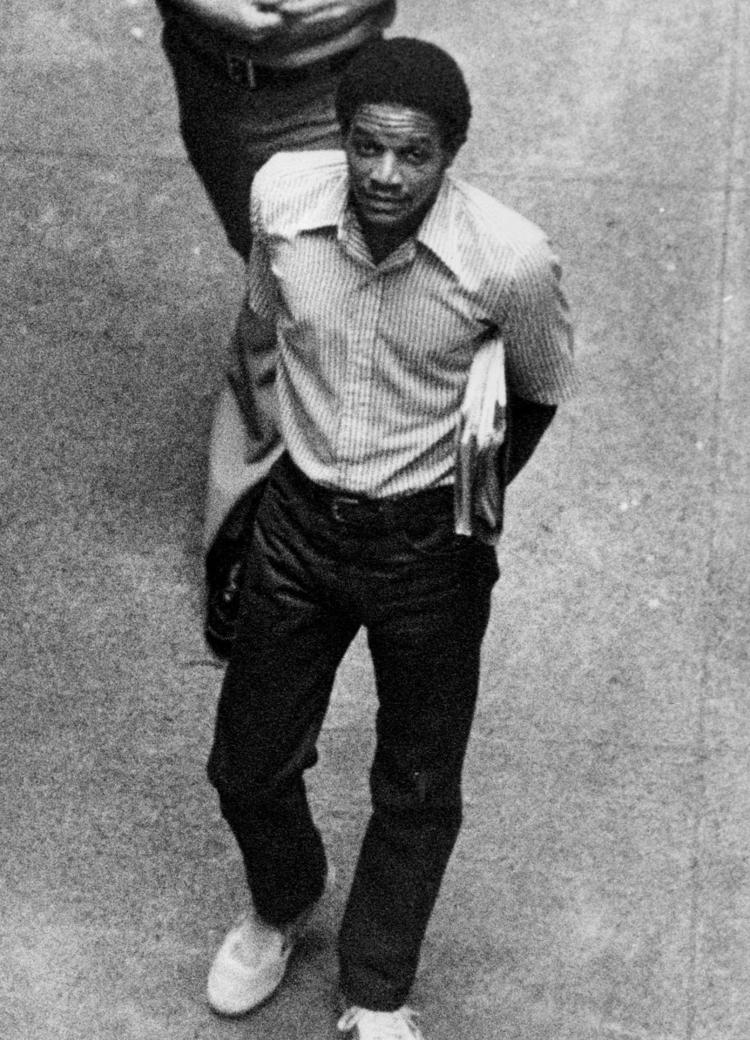 National supermarket shooting, 1987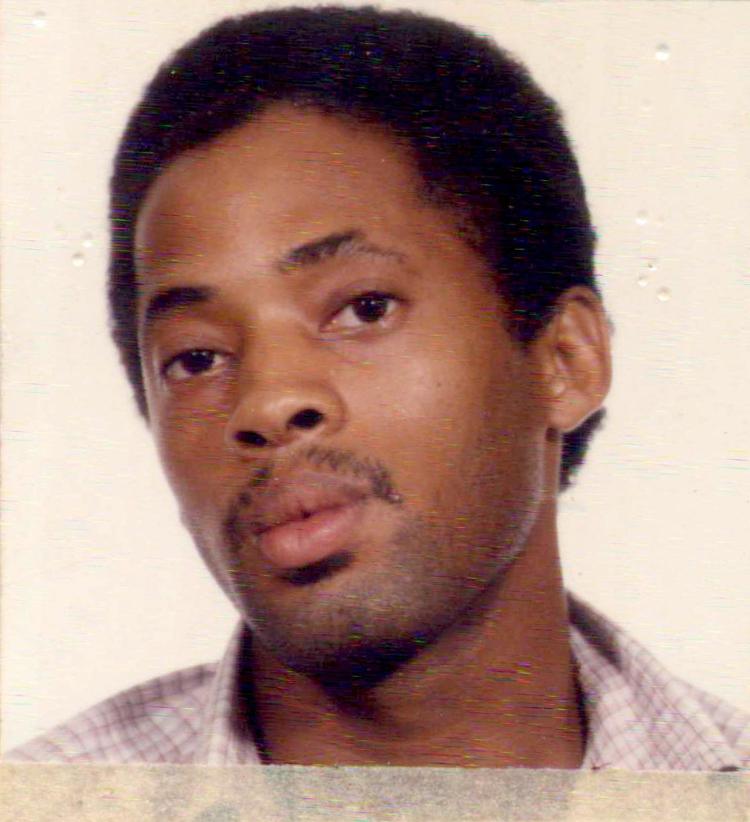 National supermarket shooting, 1987