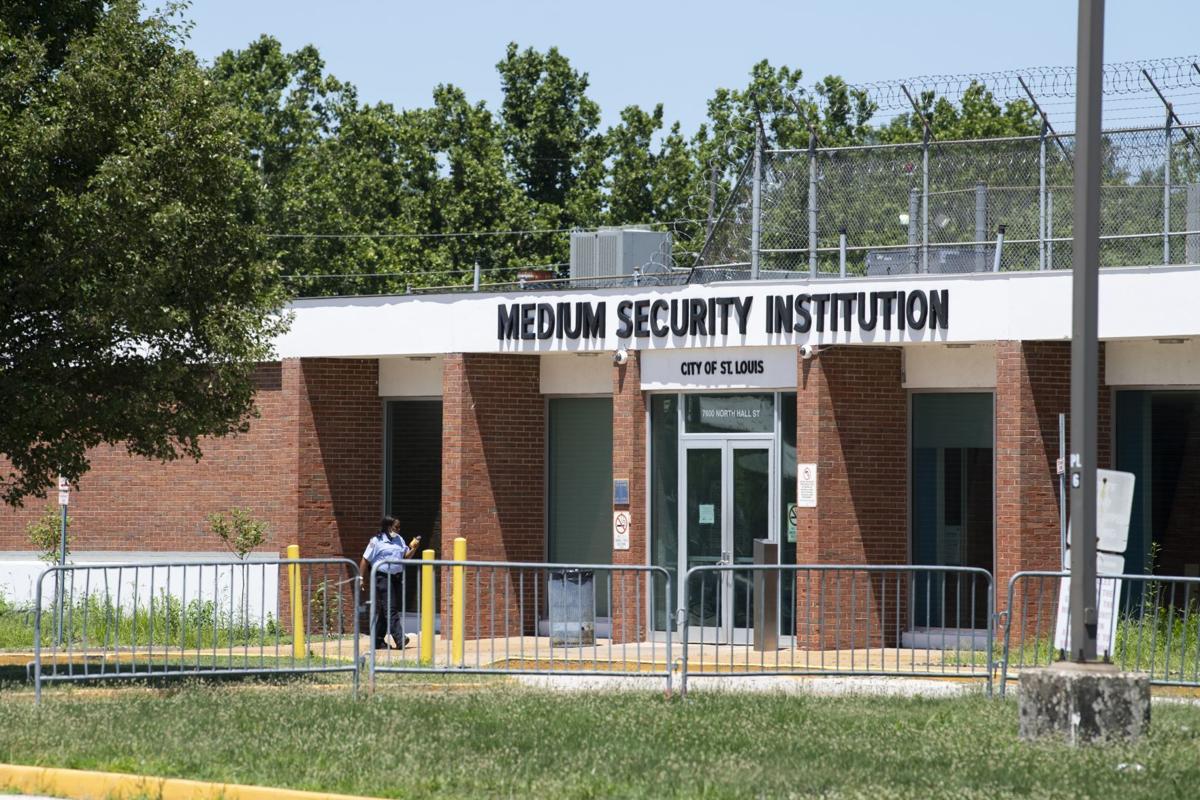 ST. LOUIS — Some inmates held at the Medium Security Institution, the city jail known as the workhouse, may be moved to the St. Louis County Jail as part of plans to close the city facility, local officials confirmed Thursday.
St. Louis Mayor Tishaura Jones floated the idea when she met on April 14 with County Executive Sam Page as part of broader conversation about regional cooperation, including conditions at jails in both jurisdictions, spokesmen for the two officials said.
Page told Jones the county was open to the idea, but that the jail would have to consider if it had enough available space and staff to handle the increase, spokesman Doug Moore said.
"If the Jones administration has a specific proposal that they would like to bring forth we would certainly look at it," Moore said.
As of Thursday, the county jail housed 1,006 inmates out of a capacity of about 1,283. After a steady decline, the jail's population grew from about 700 in mid-April of 2020 after COVID-19 halted court trials, Moore said.
Nick Dunne, spokesman for Jones, said the idea to house some of the inmates in the county jail was one option among several, including renting detention space in other jurisdictions and placing some inmates in mental health facilities or drug treatment centers.
"There are a lot of moving parts so it's just going to take time to evaluate best course of action," Dunne said.
The city is also considering releasing people at the workhouse awaiting trial for low-level offenses, Dunne said.
"Those people deserve to go about their lives and still have a fair and speedy trial or pay those fines within their means," he said.
Jones, who took office Tuesday, made a campaign promise to close the city's facility within 100 days after a long campaign by activists who decried the facility for inhumane conditions.
In statements, Jones has said closing the facility would shift public safety efforts from "our expensive arrest and incarcerate" model to one "addressing the root causes of violent crime."
She said the workhouse had "broken plumbing, inadequate medical care, moldy food and contaminated water," plus "a toxic culture of abuse, retaliation and neglect among correctional staff."
The budget proposal included money to house inmates, for whom there was no space in the main city jail downtown, in rented detention space in other jurisdictions, but there was no indication where those cells would be.
Jones's predecessor, former Mayor Lyda Krewson, had said complaints about the workhouse were out of date and that the facility had undergone significant improvements in recent years. But, under aldermanic pressure, Krewson had begun the process of gradually closing the complex.
in January, Krewson told officials that the only available cells that corrections officials could find were in rural counties in south central Missouri and Kentucky, and cited expensive transportation costs and difficulty for detainees' family and attorneys to reach them there.
St. Louis County is in the process of hiring an entity to conduct an independent investigation of the jail, amid pressure from a citizen jail review board and the St. Louis County Council following a spate of inmate deaths in 2019.
The county's Justice Services Advisory Board, a long-dormant panel Page revived in 2019 after the inmate deaths, has also complained of a lack of transparency over ensuing accusations of misconduct by officers, questions about jail finances, or how an intake error kept a man in jail for days without access to a lawyer. One board member who first called for the outside investigation, Mary Zabawa, resigned this month citing a lack of transparency and communication from Page's office and county attorneys.
But the board has praised improvements under jail Acting Director Doug Burris, including jail health care services and the creation of a public data portal on jail demographics. Burris, the fifth official to lead the troubled jail in 18 months, was hired in September to replace former Director Raul Banasco. Banasco resigned in August amid allegations of misconduct.