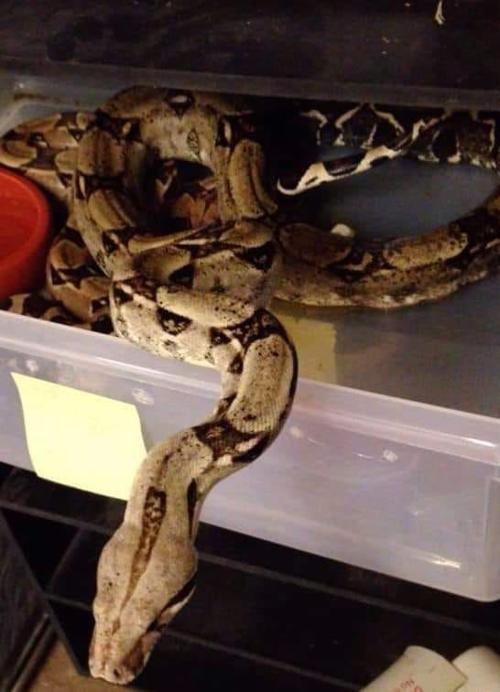 Jim Brumley suspects that the two women who stole his boa constrictor have their hands full with a testy snake.
"This particular one was not tame," Brumley says. "It was just real aggressive and can bite."
It has "teeth like a little kitten" and when it bites "it startles you more than anything," he added.
The snake has been gone four days now.
Brumley, owner of Exotic Amphibian and Reptile Center in Lemay, says the women who stole the snake had posed as customers Sunday. They said they wanted to buy a large rodent.
They talked to a store clerk in a trailer that is being used for business transactions because the main store at 343 Lemay Ferry Road burned in an electrical fire in November.
The store clerk didn't have a rodent big enough in the trailer behind the store, so she left the women in the trailer and ran to the main building to get something they would like.
While the clerk stepped away, the women swiped a clear plastic bin that contained the boa constrictor, Brumley said.
The snake is a red-tailed boa constrictor that is three- to four-feet long, Brumley said. It is about four years old and could grow another two feet in length. 
The thieves are described as black women in their 30s; one is heavy-set with dreadlocks, and the other is short and has blue hair and a star tattoo on her face. They were in a silver or blue Impala.
Brumley has alerted police and other pet shops in case the women try to sell it to another shop. Brumley said the snake's diet calls for a medium or large rat once a week. 
The snake sold for $149. In Missouri, it's a felony to steal an animal.
Surveillance cameras at the store have helped in past investigations. But Brumley admits he had no cameras in the trailer to record the theft from Sunday.