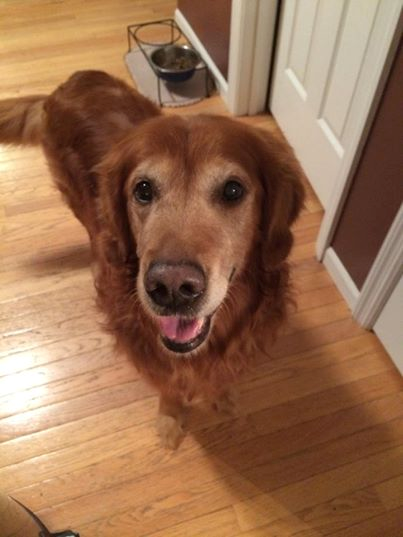 UPDATED at 11:50 a.m. Tuesday 
ST. CHARLES COUNTY • The owner of a Great Dane involved in a fatal attack on another animal at a dog park near Wentzville has turned the dog over to authorities.
The man came forward Monday night after the story was covered by local media and shared on Facebook. His Great Dane is now being held by St. Charles County animal control officers at a facility in St. Peters.
On Sunday afternoon, the Great Dane attacked and killed a 10-year-old golden retriever named Buddy at Quail Ridge Park in the off-leash dog area. About 75 people were in the area at the time. The presumed owner of the Great Dane left with the dog immediately after the attack, and St. Charles County park rangers were looking for that person Sunday and Monday.
St. Charles County animal control officers are investigating. An employee of the animal control office confirmed early Tuesday that the dog was there, but he referred additional questions to Colene McEntee, a county spokeswoman.
McEntee declined to discuss the case, because it is an ongoing investigation. But according to a written statement from St. Charles County Division of Humane Services Director Theresa Williams, a witness has indicated there might be another dog involved. The county parks department and animal control are working to decide what the next step will be for the Great Dane. 
"St. Charles County Humane Services staff and I want to extend our condolences to the family who lost their dog, a family member in every sense, in this tragic event," Williams said. "Animal Control will continue to work diligently to bring a fast resolution to this case."
Buddy's owner, Nick Andres of Wentzville, said Tuesday morning that he was happy the owner came forward and he was thankful to those who focused on the story. He said he felt the public pressure helped convince the man to turn the dog in.
"He would have stayed in hiding if it weren't for that pressure from people," Andres said. "You can't hide a dog like that."
County officials say they were horrified by the attack.
"Our thoughts are with the family which lost its beloved pet as well as those who witnessed the incident," parks department director Bettie Yahn-Kramer said in a statement. "Our pets are members of our families and the entire staff of the St. Charles County Parks Department and myself are horrified this incident occurred."
County officials remind park visitors that aggressive dogs are not allowed in the off-leash dog areas, and that owners are legally responsible for their dogs and any injuries their animal may cause. The dog park is in unincorporated St. Charles County near Wentzville.
The parks department is asking that anyone who has video, pictures or information about the attack to contact St. Charles County Animal Control at 636-949-7387.
Andres, 32, said Sunday was the first time he went to that dog park. He described Buddy as a gentle dog who was licking the grass in the park when he was suddenly attacked by the other dog.
"You couldn't have asked for a more loving, gentle dog," Andres said. "That's why my family is so torn up and angry. He just didn't deserve it, and I feel so bad he was helpless. He wasn't bred like that. The dog has never been in a fight in his life. He had no idea."
The Great Dane latched on Buddy's neck and the lower part of his ear, Andres said. Andres' father ran to Buddy and tried to pry the larger dog off of him. Andres' father breathed into Buddy's nose, and Andres pushed on Buddy's chest to try to revive him. "But he was already gone," Andres said. 
Andres said he will never go back to a dog park. "I wouldn't recommend it," he said. "You don't know every pet owner there, you don't know if their dog was abused. You don't what kind of temperament."
Andres said the scene was so chaotic that he didn't have time to see a license plate for the Great Dane's owner who fled. He said he carried Buddy to his Jeep and wrapped him in a blanket. Then, he took the dog's body to a local funeral home that offers services to cremate animals.
Kim Bell and Valerie Schremp Hahn of the Post-Dispatch staff contributed to this report.