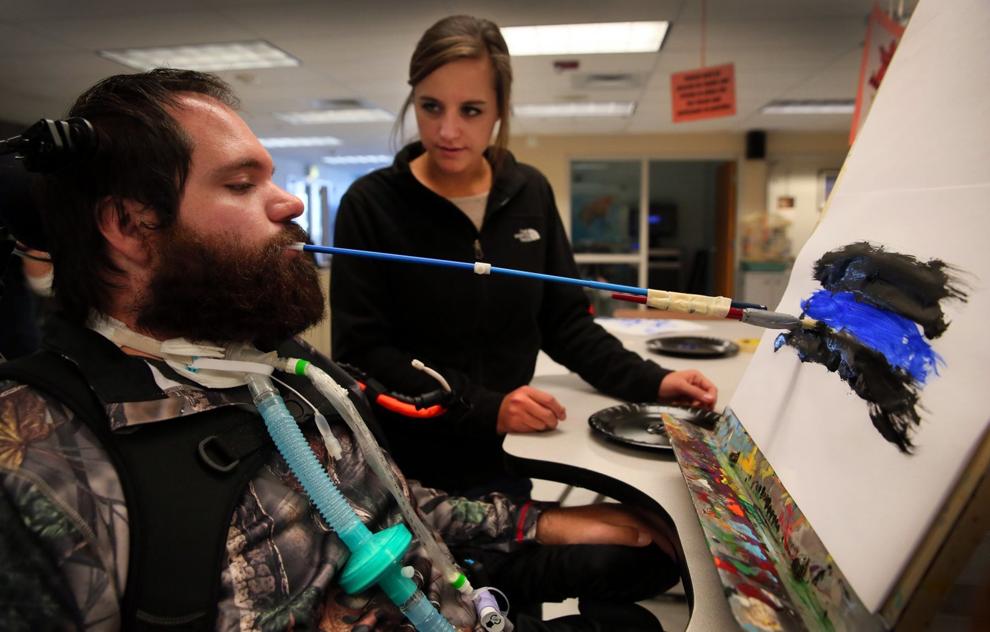 ENGLEWOOD, Colo. • Having served communities about 20 miles apart, Michael Flamion and Craig Tudor now occupy a place where distance — and progress — are measured an inch and a moment at a time.
At this time last year, Flamion, who had been a Ballwin police officer for a year and a half, could be found patrolling a quiet West County community where petty theft is the predominant crime.
Tudor, a 12-year police veteran, was behind the wheel of a Hazelwood squad car in a North County town a bit rougher around the edges.
Workers' compensation case managers guided them toward the top two spinal cord centers in the country: Craig Hospital in Colorado or Shepherd Center in Atlanta.
Colorado appealed to Flamion's love for the outdoors. Tudor's wife has relatives there.
On that day, a month and a half into his rehab, Flamion put his new wheelchair navigation skills to the test. He breathed into a straw to guide his chair to Tudor's room.
Soft puff for a right turn.
And soft sip to turn left.
Nine Ballwin colleagues, in town to surprise him, followed Flamion into Tudor's room and stood by as Flamion spoke, timing his words to his ventilator.
"When he told me, 'I know how you are feeling right now,' I knew he meant it," Tudor recalled during an interview last week at the hospital. "And that's why I believed him when he said, 'Things will get better.'"
Ever since, the men have been on similar, yet separate, journeys to recovery.
Their schedules rarely intersect.
Their wives keep in touch through text messages, and sleep at apartments within walking distance of the hospital. Otherwise, they remain at their husbands' sides.
A Post-Dispatch reporter and photographer followed the officers for a few days recently as they neared the end of months of rehab.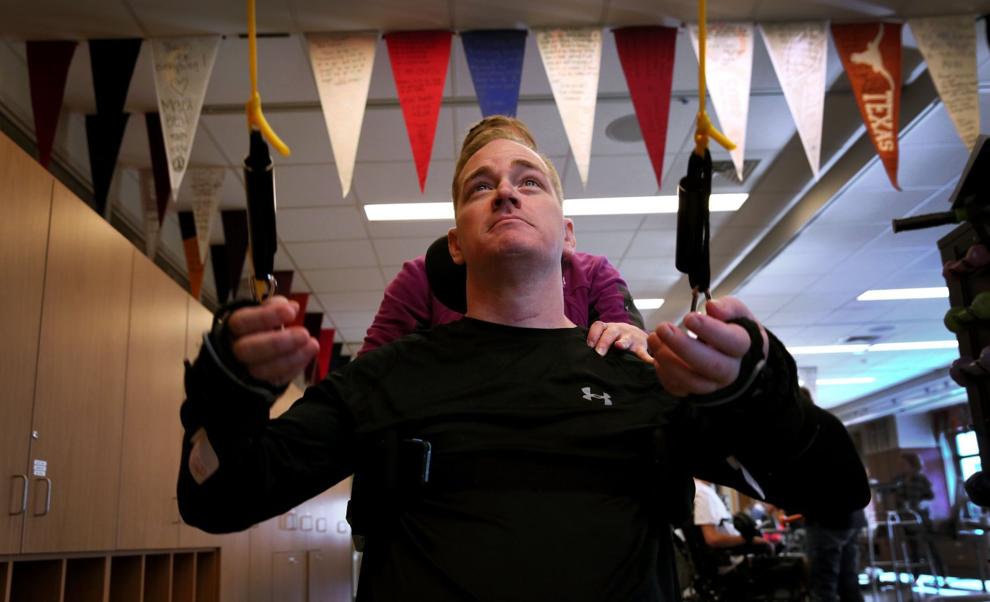 'The thin blue line'
Flamion blew into his wheelchair straw to pull up to an easel Monday. Therapeutic recreation specialist Kimmy Malm taped a paintbrush to an adjustable rod connected to a bite tray in Flamion's mouth.
He dipped the rod into blue paint and maneuvered his neck to brush a horizontal stripe. He painted black lines above and below.
"The thin blue line," he said of the police symbol that represents how those in blue insulate the lawful from the lawless.
Shoulder patches from hundreds of police departments cover the cabinets in both officers' hospital rooms. Denver officers and some from neighboring communities have befriended them, stopping by and giving rides from the airport to visitors.
Flamion and Tudor enjoy the get-well cards that line their countertops and windowsills.
"It's what's keeping me going," Flamion said. "Knowing that all of these people are expecting me to recover is awesome."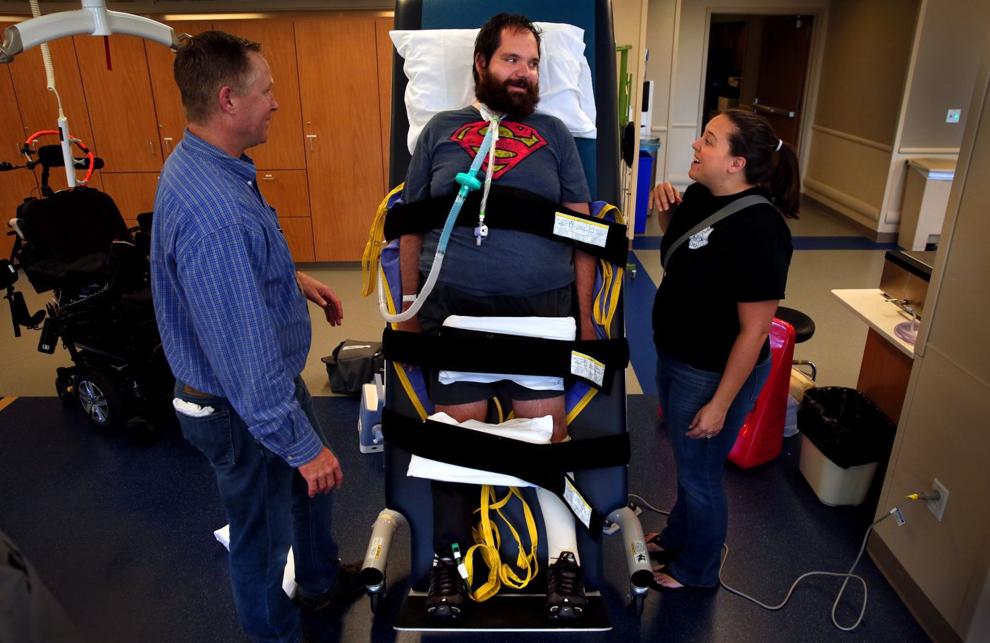 And knowing how close both officers came to dying makes their will to survive even more inspiring for those closest to them.
Ballwin Police Chief Kevin Scott remembers tearful officers initially telling him Flamion wasn't going to make it after the shooting. On the way to the hospital, Scott overheard a paramedic on the radio say, "We've got a pulse back."
X-rays confirmed Flamion's spinal injury. Doctors feared removing the bullet lodged high in his spinal cord could cause greater damage. Flamion spent almost four weeks in intensive care at Mercy Hospital St. Louis, his police radio nearby.
He listened to his fellow officers give their badge numbers to the dispatcher as they answered calls, but they also gave his: 302.
"I would hear them say, 302 is with me," Flamion recalled.
Tudor spent three weeks in the ICU at Barnes-Jewish Hospital in St. Louis. His cervical spine fractures required rods and screws to stabilize his neck. While in the hospital, his heart stopped twice.
He struggled to comprehend his injuries.
"Up until four days before we were coming here, I didn't get why we needed to," Tudor said. "I just thought I needed to go to rehab so I could get strong again, get up and go home."
Christine Tudor, 34, knew her husband was paralyzed when he told her to hold his hand at the hospital.
"I already was," she recalled.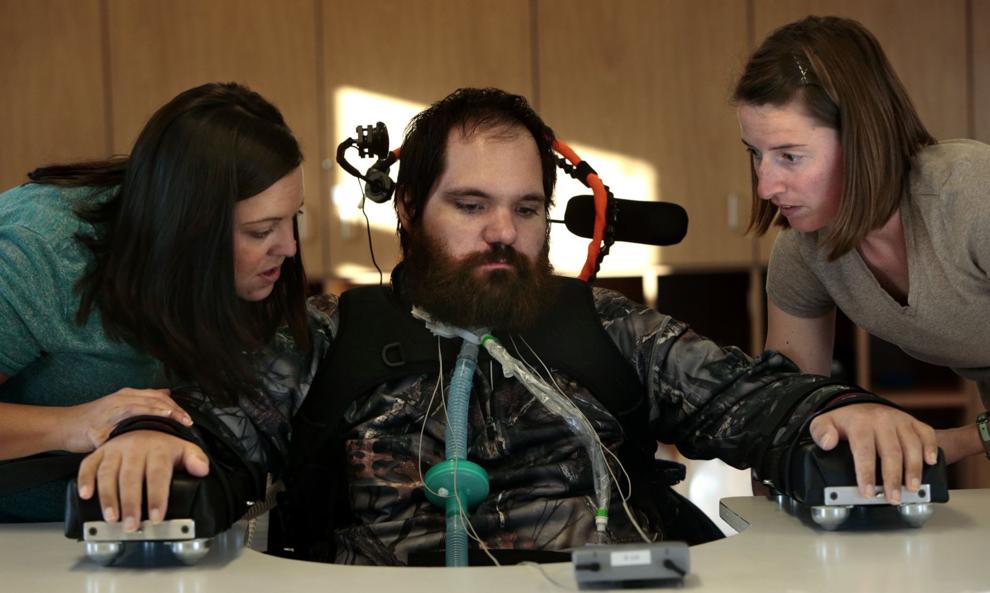 Recovery begins
Hallways and patient rooms at Craig Hospital offer vistas of Colorado's mountains. Pictures of patients smiling on outings or engaged in therapy greet visitors in the lobby.
Doctors, therapists and nurses wear casual clothes, not scrubs or white coats. The hospital treats 40 to 50 spinal cord injury patients and about 30 with traumatic brain injuries at a time. Equipment and staff are highly specialized.
Tudor and Flamion arrived by air ambulance.
Dr. Mark Johansen, their attending physician at Craig, said patients such as Tudor and Flamion are at risk of rapid and unpredictable blood pressure shifts, respiratory issues and blood clots. Every half-hour, the officers tilt backward in their wheelchairs to shift their weight to prevent potentially life-threatening pressure sores.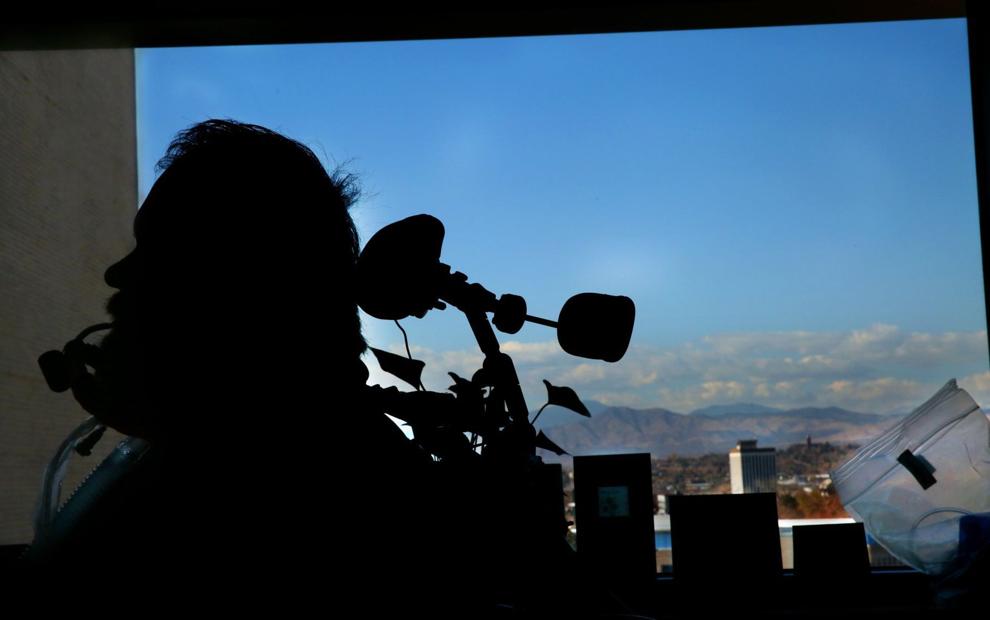 National statistics put the average life expectancy for Flamion's type of injury at about 19 years. Tudor's is closer to 28. But Johansen said he expects both to surpass the averages, given their previous physical health, family and community support, resources and access to care.
Johansen said he has patients who have lived 30 years and beyond on ventilators.
"A lot of people say, 'I could never live like that,' but they've never been in that situation," Johansen said. "Both very easily could have succumbed to their injuries, but they're too stubborn. They have stuff to do. They have families that love them.
"It's a challenge and it's not easy; nothing about this is going to be easy. But life's a powerful thing, and these two gentlemen have things they want to pursue."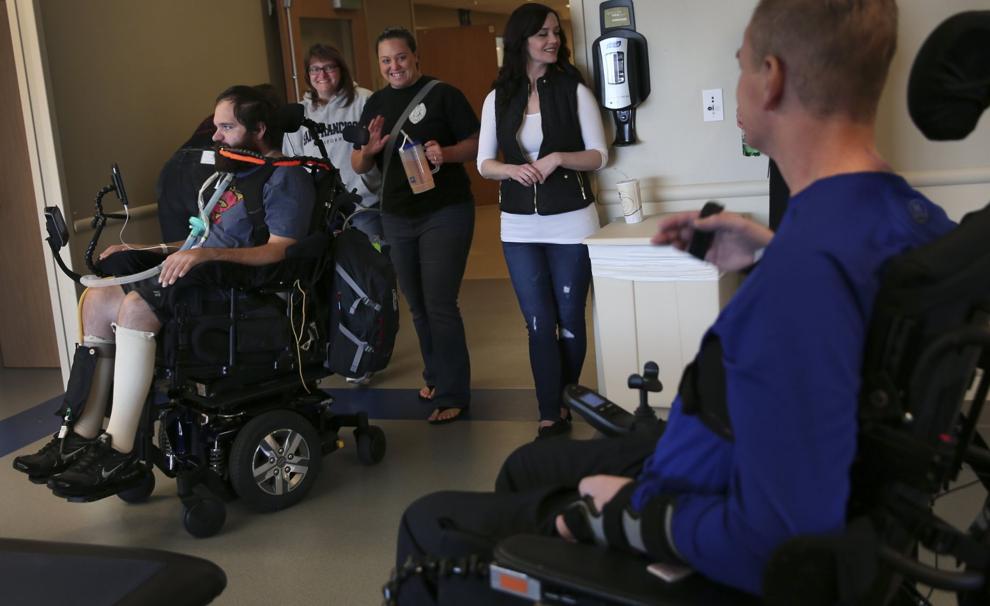 Four months into recovery, Flamion no longer uses a neck brace or a feeding tube. He can talk and shrug his shoulders slightly. He knocks against a controller with his head to shift positions in his chair.
Tudor, about two months in, has shed the neck brace, a ventilator and feeding tube. He can move his upper arms, but his forearms and hands are limp. With braces to steady his hands, he steers his wheelchair by bumping a joystick-like device. A pacemaker regulates his heart.
Both can eat solid food but have lost about 30 pounds each.
Tudor insists his therapist doesn't know how to count when he is accused of skipping arm reps.
Flamion showed off his driving skills Tuesday, racing occupational therapist Amy Shaw across the gym. Other patients smiled and laughed. Flamion often is the most seriously injured among them.
An orange wire curves behind his head like a halo and carries his steering and water straws to his mouth.
His wife, Sarah, 34, sometimes suctions his lungs during therapy. They've been married just over two years.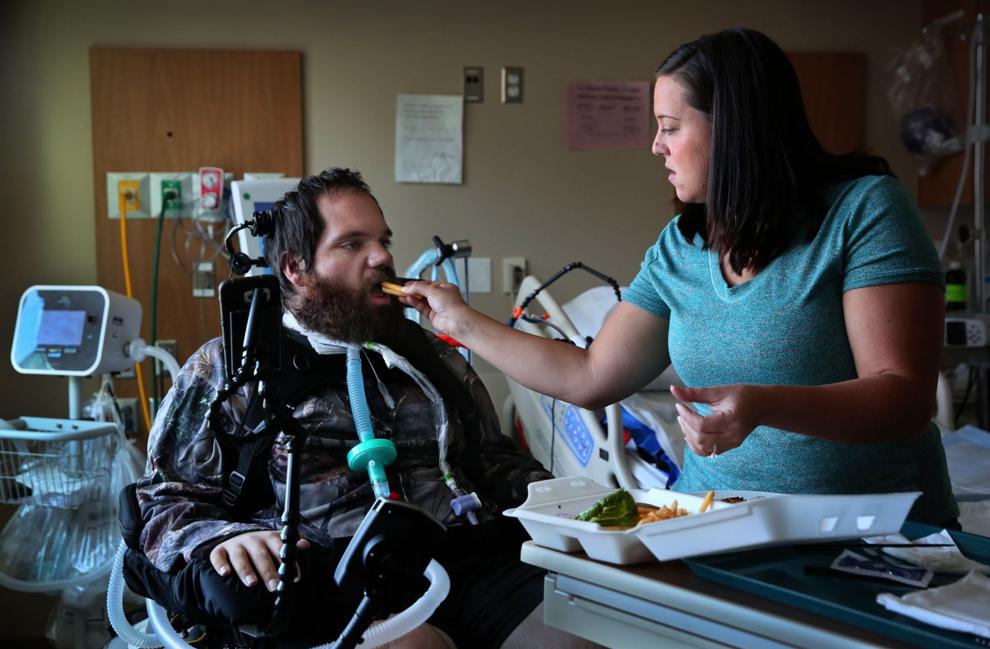 The Tudors marked their eighth anniversary at Craig Hospital.
Both wives expect to become their husband's full-time caregivers — another crucial component of the officers' long-term outlook, Johansen said.
"This is the real 'in sickness and in health,'" Johansen said.
Both women now bathe, feed and dress their husbands.
Christine Tudor, a hair stylist, keeps her husband's hair impeccably groomed.
"I always used to joke about how he takes longer to do his hair than I do," she said.
She offered to groom Flamion, who has grown a full dark beard and hair that curls around his ears.
But he's letting it grow until he leaves this month.
Sarah Flamion calls it his "mountain man look."
She worked for about 10 years as a nurse's aide before joining the St. Louis County Special School District last year, so the sudden onset of medical terms and equipment has come somewhat naturally. Craig Hospital changed her perspective about what's possible.
"They've shown us that his life won't be stuck in a room in a chair," Sarah Flamion said. "They have taken people with his level of injury on cruises, skiing ... "
The Flamions have gone on just about every outing that the hospital plans for patients — a Cardinals game, a Broncos game, the aquarium and the zoo.
Her confidence grows with each experience.
"I'd rather go through these changes with him than without him," she said.
Michael Flamion said he's happy he survived, too.
"I am happy to be here," he said, while electrical charges forced his leg muscles to pedal a bike from his wheelchair. "But I'm not going to lie, it still sucks. I wake up every morning and stare at my trigger finger thinking, 'Just move.'
"But it's not going to do any good to get all pissed off."
A new normal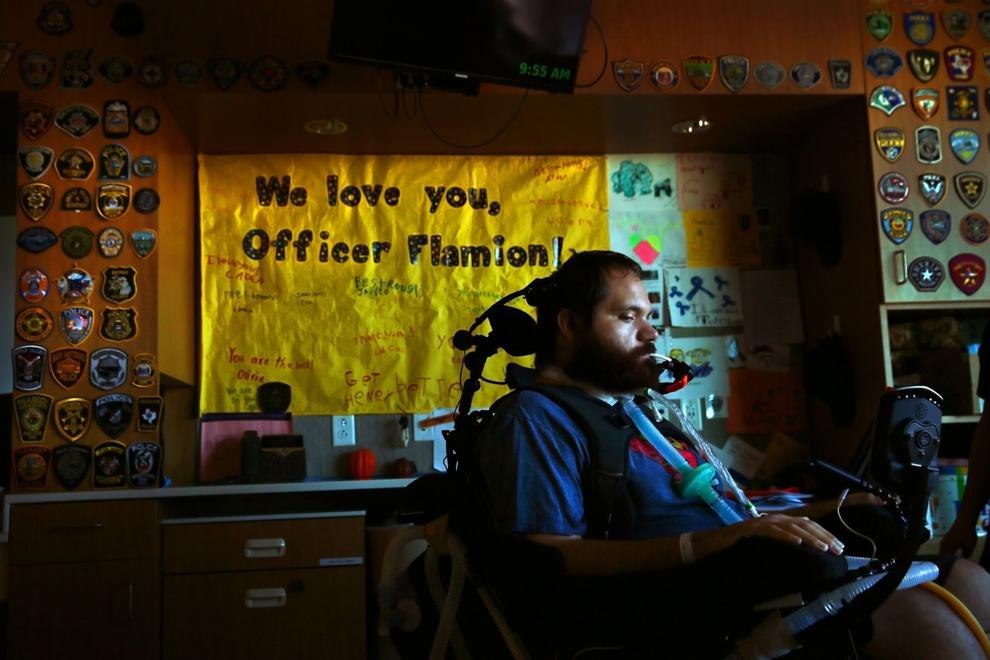 The Flamions are going to stay in a modified 900-square-foot apartment in Ballwin until their house is ready.
"After all that this community has done for me, I could never leave it," Flamion said.
Dozens of fundraisers have generated thousands of dollars for Flamion. Online donations surpassed $370,000. A local car dealership and others donated a specially equipped van.
Chief Scott also said he hopes to equip the station to accommodate Flamion during visits. Even though Flamion retired from the department in September to get his benefits, Scott said Flamion remains part of the force.
Scott, department commanders and city leaders have visited Flamion at Craig.
Tudor's chief and major are expected to see him for the first time this month. Tudor has talked with some Hazelwood officers, but has discouraged visits until he moves further along the road to recovery.
For Tudor, work stayed at work, and he divided his time among family, friends and church. He has also kept visitors at bay, wanting to grow stronger before they see him. Several fundraisers have humbled the Tudors. An online site has garnered about $26,000.
They are using the money to modify their home in Wentzville — a house they built just a year before the crash. It's an effort Christine Tudor manages through phone calls between therapy sessions, sleep and meals.
They're still weighing which new vehicle to buy.
"I've never been particularly fond of vans," Craig Tudor joked.
They have about four weeks left in Colorado.
The Flamions have about one. Both men will return every six months for follow-up.
In preparation for Flamion's departure, doctors implanted a pacemaker Wednesday to force his diaphragm to contract so he can breathe and possibly use his ventilator only at night.
As Flamion was recovering from surgery, nurses interrupted Tudor's physical therapy to take him for a chest X-ray. Persistent fevers had prompted doctors to start IV antibiotics and fluids and to look for signs of infection.
The scan came back clear. Nurses disconnected the IV.
And back to therapy he went.