BELLEVILLE • The parents of a 6-year-old girl whose body was found in a vacant garage in Centreville this week were charged Friday with concealing a homicidal death.
Brendan Kelly, St. Clair County state's attorney, announced the charges against Jason Quate, 34, and his wife, Elizabeth Quate, 35, at a news conference in Belleville.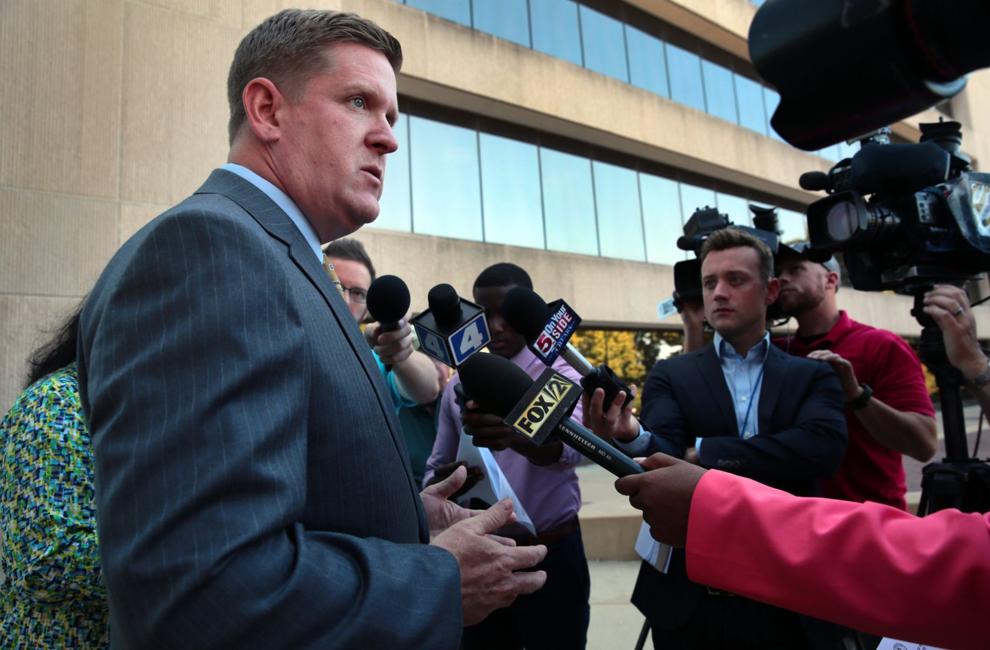 The concealment charge is a felony punishable by up to five years in prison. Bail for each was set at $750,000. 
Jason Quate, formerly of Belleville, was arraigned in Clark County, Nevada, earlier Friday on charges of sex trafficking of an adult and accepting earnings of a prostitute. Both charges are felonies.
In St. Louis, an autopsy was performed on the body Friday morning, but the cause of death could not be determined due to decomposition, according to St. Clair County Coroner Calvin Dye Sr. He said further testing would be needed to determine the cause.
Kelly said the forensic analysis of the victim would take some time, and that because of the poor condition of Alysha's remains, more investigation was necessary to determine whether a murder charge could be filed.
He said he would work with authorities in Nevada to coordinate the states' charges against the Quates and ultimately extradite them to Illinois.
He said the case was "pretty heavy" for investigators.
"It can be heavy on their hearts, heavy on their souls. These are dark, disturbing allegations, and we will go wherever we need to go to pursue the evidence because that's what justice requires, and that's what our job requires."
He hinted that the Nevada investigation could turn up more, saying that authorities were "working on additional charges."
The autopsy was performed by anthropologist Lindsay Trammell and pathologist Gershom Norfleet.
Quate appeared in court at the Clark County Courthouse for arraignment on the charges Friday morning. Judge William Jansen read the charges and asked Quate if he understood them.
"Yes, sir," Quate replied.
Quate, who was handcuffed, looked down at the floor for most of the hearing. About a dozen defendants in other cases were in the room, along with newspaper, wire service and television reporters and photographers.
A public defender, Katrina Ross, was appointed for Quate.
District Attorney Sam Martinez asked that Quate be held without bail, and when Ross did not object, the judge granted the request.
The judge set a preliminary hearing to hear evidence in the case on June 22.
Ross declined to comment.
Quate is also being held on suspicion of child abuse and possession of child pornography, prosecutors said, and he is expected to return to court Monday for arraignment on those charges.
His daughter choked to death about four years ago when their family lived in Belleville, Quate told a reporter in a jailhouse interview in Las Vegas.
He and his wife hid her body because they were afraid authorities would take their two older girls, who are now 13 and 11, he said.
Quate, 34, was arrested Tuesday by Las Vegas police after his wife took refuge at a women's shelter and accused her husband of murdering Alysha. Authorities in St. Clair County found the decomposed body at the address she provided. Elizabeth Quate also said he was forcing her to work as a prostitute.
In a rambling 90-minute interview on Thursday, Quate said the girl's death had been an accident and that his wife — not he — hid the body in the garage before the family moved to Nevada.
Elizabeth Quate, 35, was also being held in Las Vegas on Thursday as a fugitive from a probation violation in a 2014 forgery case in St. Clair County. She declined to comment.
Kim Bell of the Post-Dispatch contributed to this report.