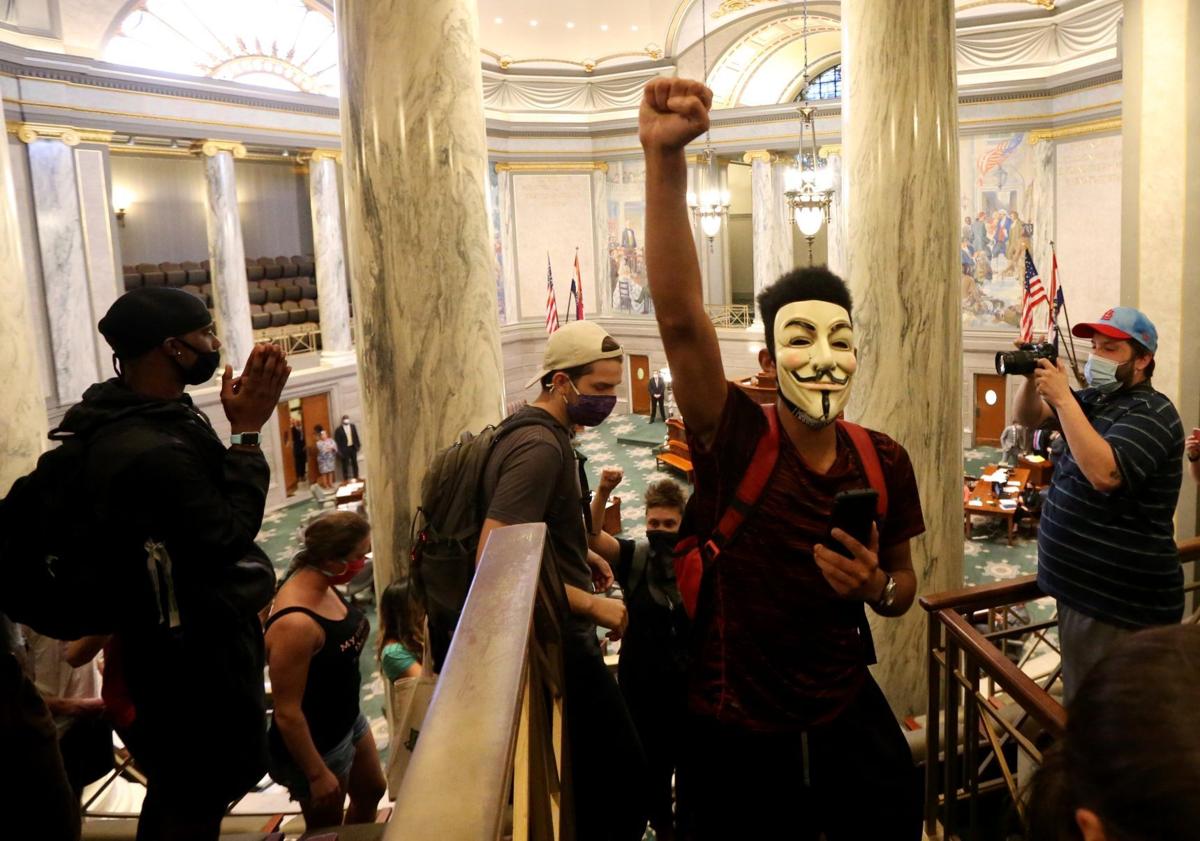 JEFFERSON CITY — Republican Gov. Mike Parson's election-year gambit to crack down on crime in St. Louis and other urban areas ran into withering opposition from Democrats during a contentious and marathon day of talks in the Missouri Senate on Thursday.
But, after more than 12 hours of debate, lawmakers found enough common ground to break an impasse over his tough-on-crime push against the backdrop of nationwide protests over police brutality and law enforcement reforms.
"This bill is a hot mess," said Sen. Jamilah Nasheed, D-St. Louis.
The measure now awaits a final vote in the Senate Friday before heading to the House for further debate next week.
Black Lives Matter protesters quietly observed some of the heated debate before breaking out in a chant and leaving the Senate visitors gallery.
"Criminal justice reform, not rhetoric," they said.
Nasheed and fellow Democratic Sen. Karla May of St. Louis praised the protesters, eight of whom were arrested on public nuisance charges during a march in the capital city last week.
"If we really want to talk about criminal justice reform, we have to talk about police reform," May said.
Republicans said the changes pushed by Parson are necessary in the face of escalating gun violence.
"We truly have a crime epidemic in Missouri," said Sen. Bob Onder, R-Lake Saint Louis. "It gives our whole state a black eye."
The legislation would repeal the residency requirement for police officers in St. Louis, even though voters in the city will have a chance to weigh in on the issue in the Nov. 3 election.
The state repeal would expire in 2023, but would remain in effect if city voters agree.
St. Louis Mayor Lyda Krewson said repealing the residency mandate could help widen the recruiting pool by allowing officers to live within a one-hour commute of their headquarters instead of within the city's borders.
Nasheed worried the change would result in an influx of white men policing Black areas of the city. She said a better solution to recruiting would be to increase police officer salaries and improve city schools so more cops want to live within the city.
"Bringing more law enforcement from outside of the city is not going to solve the crime problem in St. Louis," Nasheed said.
Despite pandemic-related concerns about large groups gathering in indoor spaces, Parson called lawmakers back to the Capitol in the weeks leading up to Tuesday's primary election to address violent crime.
St. Louis has had at least 157 homicides this year, compared with 114 in the same period last year.
The plan, which could cost more than $2 million to implement at a time when the pandemic has ravaged state finances, also would allow judges to decide whether a child between the ages of 14 and 18 should be tried as an adult in court for unlawful use of weapons and armed criminal action.
Parson had wanted the juvenile provision to apply to kids as young as 12, but Democrats balked. The issue was unresolved Thursday evening.
Opponents say the provision is overkill because judges already have the discretion to certify a youth as an adult when egregious crimes are committed.
Sen. Ed Emery, R-Lamar, said the change would give a judge an opportunity to determine whether the child's action was severe enough to warrant facing trial in an adult courtroom.
"It isn't throwing juveniles into the adult court system," said Emery.
The package also changes child endangerment laws by including when a person aids or encourages a child younger than 17 to commit a weapons offense. And, it includes a harsher penalty for anyone who sells or delivers a firearm to a juvenile without parental consent.
The plan creates a state-level witness protection fund designed to shield witnesses from intimidation by criminals.
Sen. Brian Williams, a University City Democrat, said the legislation is punitive at a time when people are calling for different approaches to urban violence in the wake of the death of George Floyd at the hands of police in Minneapolis.
Williams said the Legislature should ban police from using chokeholds to restrain suspects. He also called for improved training for police to reduce so-called rogue officers.
Updated at 11 p.m. Thursday when measure advanced. 
Shake off your afternoon slump with the oft-shared and offbeat news of the day, hand-brewed by our online news editor, Mandy St. Amand.