JEFFERSON CITY — Gov. Mike Parson chose a political unknown Wednesday to become Missouri's next attorney general.
Armed with the power to name a replacement for another departing attorney general, Parson turned to one of his employees, Andrew Bailey, the top lawyer in the Republican governor's administration.
And, he plans to run for a full, four-year term in 2024 in a move Parson said would bring steadiness to an office that has seen two vacancies during his tenure.
Bailey, who has not opened a campaign account to begin raising money, agreed.
"The office needs stability," he told reporters, family and a group of current and former employees of the governor's office gathered in the Capitol on the day before Thanksgiving.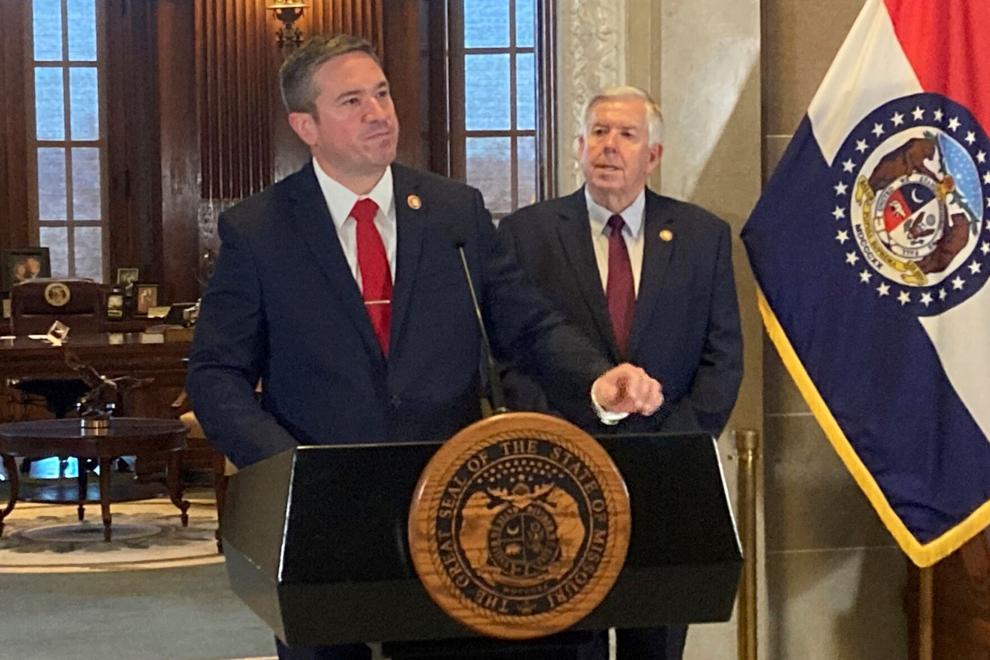 Bailey, of Rhineland, was hired as Parson's general counsel last year after serving in a deputy role for two years. Before joining the governor's office, he was the top attorney at the Missouri Department of Corrections, which has paid out millions of dollars in legal judgments in connection with employee discrimination and unpaid overtime claims.
More recently, Bailey played a key role in Parson's decision to demand a St. Louis Post-Dispatch journalist be prosecuted for reporting that a state website under the governor's control had exposed Social Security numbers of Missouri teachers.
The Republican Cole County prosecutor declined to take up the governor's request.
Bailey defended his position in the incident, but acknowledged the local prosecutor disagreed with his stance.
"That issue has been resolved and put to bed," Bailey said.
An Army veteran who was deployed twice following the 9/11 attacks, Bailey also served as an assistant prosecuting attorney in Warren County and as an assistant attorney general.
"I'm battle-tested and I'm ready for this job," he said.
Bailey has not previously held elected office. In taking the job, he will inherit a 380 employee, $27 million legal operation for a salary of about $121,000. Records show he was paid $119,600 last year.
He'll take over an office that Schmitt used to showcase his political opposition to President Joe Biden. In addition to involving the state in a lawsuit over the outcome of the 2020 election, Schmitt sued Missouri school districts over policies designed to protect students and teachers from the spread of the deadly COVID-19 virus.
Bailey said he will review cases brought by Schmitt and determine whether to continue pursuing them. Schmitt, for example, was in Washington, D.C. Wednesday for a deposition of Dr. Anthony Fauci in connection with a lawsuit over the White House's attempts to address misinformation about COVID-19 on social media platforms.
"I can't commit to precise lawsuits," Bailey said.
House Minority Leader Crystal Quade, D-Springfield, urged Bailey to drop what she called Schmitt's "frivolous" lawsuits.
"For four years, Eric Schmitt used the Attorney General's Office as a taxpayer-funded arm of his political campaigns, wasting public money on crackpot lawsuits that advanced his political career while tarnishing the reputation of our state," Quade said.
Parson's picks
Parson, a Bolivar cattle farmer and former sheriff who was first elevated to his job in 2018 after the resignation of former Gov. Eric Greitens, has again put his fingerprints on the future of Missouri politics. He appointed Schmitt to the attorney general position after Hawley climbed the ladder to the Senate in 2018.
Parson also appointed Mike Kehoe, a member of the state Senate at the time, to succeed him as lieutenant governor and selected Scott Fitzpatrick, a House member, to replace Schmitt as state treasurer.
"The historical significance of appointing an Attorney General for the second time of our administration has not been lost on me. But such a monumental, history-defining decision can be made so easily with the right candidate, and Andrew Bailey is the right candidate to lead Missourians as our next Attorney General," Parson said.
The governor credited Bailey for helping to reduce a backlog of more than 3,500 clemency requests by more than 2,000 cases.
"We know he's the right man for the job, not just for the next two years, but beyond," Parson said.
Wednesday's announcement did not yield a name for the now-vacant treasurer post. Fitzpatrick is moving to the state auditor's office after scoring a decisive win against Democrat Alan Green in the recent election.
Other contenders
Former U.S. Attorney Tim Garrison of Springfield was a hopeful. He could run for the position in 2024. Will Scharf, a former top aide to Greitens, also may be seeking the seat.
Also in the mix was Cole County Associate Circuit Judge Chris Limbaugh, who had previously served as Parson's general counsel. He is a cousin to the late conservative talk radio host Rush Limbaugh.
Information about any internal discussions about elevating the political newcomer to the high-profile statewide post are not likely to be known before January.
In response to a Sunshine Law request filed by the Post-Dispatch, the governor's administration acknowledged there were at least 47 emails, phone texts or other memos that could indicate whether any such discussions have occurred.
But the governor's legal team, which was headed by Bailey, said it may take until Jan. 10 to release the records.
Dakota Julian, who serves as Parson's custodian of public records, said the process of collecting and reviewing the documents is dependent on the availability of staff members to locate the records.
"The date provided above considers these circumstances to provide the responsive records at the earliest date available," Julian noted.