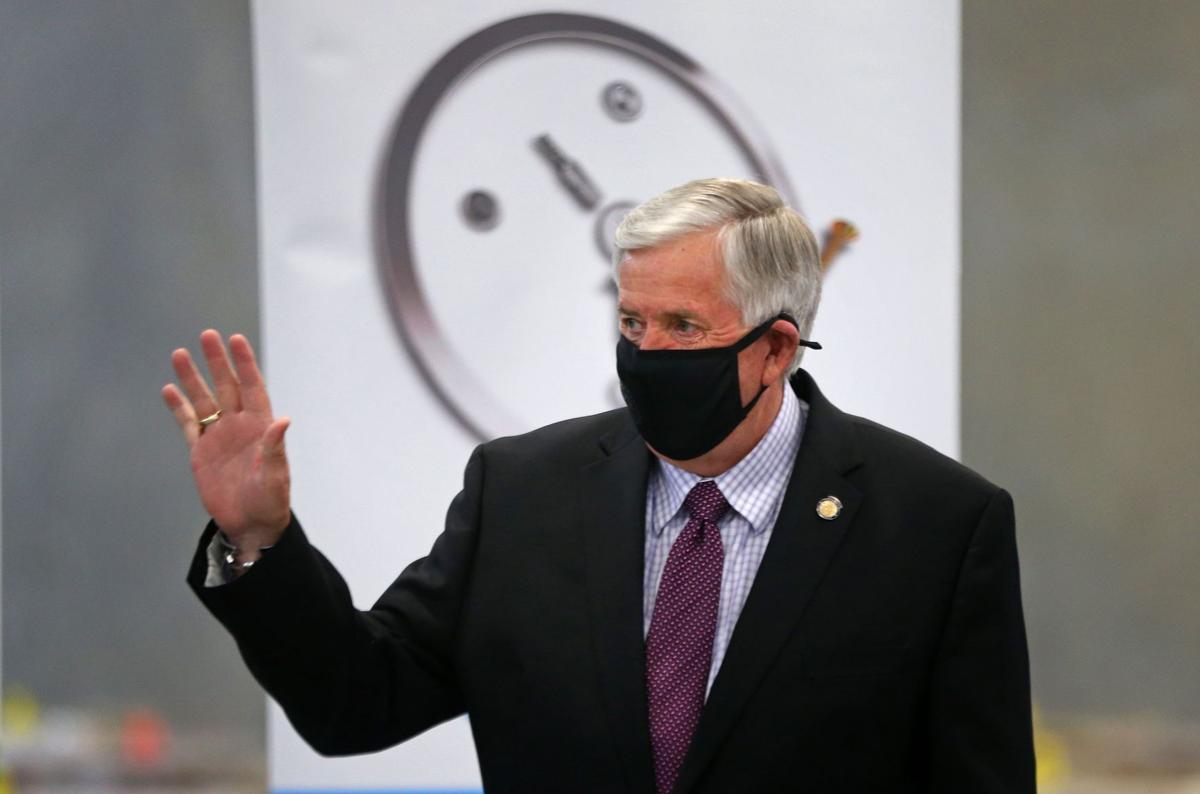 JEFFERSON CITY — A spokeswoman for Gov. Mike Parson said Tuesday that the governor was prepared to act on a select number of prisoner clemency cases before Christmas.
Kelli Jones told the Post-Dispatch in a statement that the governor "is prepared to make announcements on a few specific clemency decisions next week.
"We ask for patience as his team finalizes documentation on the decisions he has made, and we intend to provide more detail prior to Christmas," she said, not specifying whether Parson would grant or reject requests.
The statement followed a push by clemency advocates who have been urging the Parson administration to act on at least a few clemency cases during the holiday season.
John Ammann, a founder of the Community Coalition for Clemency, said he and another attorney spoke last week to Chris Limbaugh, Parson's general counsel, and another attorney in the office, about 10 potential clemency recipients — all women who are serving long prison sentences.
"They gave no indication of if or when the governor would take any action on clemency," Ammann told the Post-Dispatch on Tuesday. But, he said, "with the election over and the holiday season here, the advocates believe it's a very appropriate time to give consideration to clemency."
December might present the best opening for advocates to make their case.
"When the Legislature goes back in in January, that takes a lot of the governor's time," Ammann said. "Now's the time."
There are more than 3,000 clemency requests pending in the governor's office, a backlog that has existed long before Parson, a Republican, took office in June 2018.
Clemency is an umbrella term that includes requests for sentence commutations and pardons. Ammann said the group isn't asking for pardons.
"We're asking for commutations of sentences," Ammann said. "We asked them to look particularly at women who had been in the longest and who are the oldest."
Among the prisoners seeking clemency is Patty Prewitt, 71, who is serving a life sentence at the Chillicothe Correctional Center after being convicted of murdering her husband, Bill Prewitt.
Post-Dispatch columnist Aisha Sultan's '33 and Counting' is featured in this year's St. Louis International Film Festival.
According to a brief sent to the governor's office, Prewitt maintains her innocence after serving 34 years in prison. Her attorneys say her conviction was flawed, including the use of a discredited forensic expert and a failure to pursue leads to corroborate Prewitt's account.
On Twitter, the account @JusticeForPatty was asking supporters to contact Parson's office, saying it "is currently reviewing clemency petitions."
"(A)sk him to show mercy this Christmas," the tweet said.
Other petitioners include Mary Pickard, 72, who has served more than 20 years in prison. She was convicted of first-degree murder and was sentenced to life without parole.
A brief sent to the governor's office said she was not directly involved in her husband's death, and that he traumatized and abused her. His name was Michael W. Pickard.
Renae Greene, 64, has been incarcerated 30 years, according to the brief, and was sentenced to life with parole and a separate 30-year sentence, to be served consecutively, even though she didn't physically harm anyone.
She held up two pharmacists at gunpoint, according to the brief, "because she was addicted to drugs at the time. No one was physically injured in the robbery."