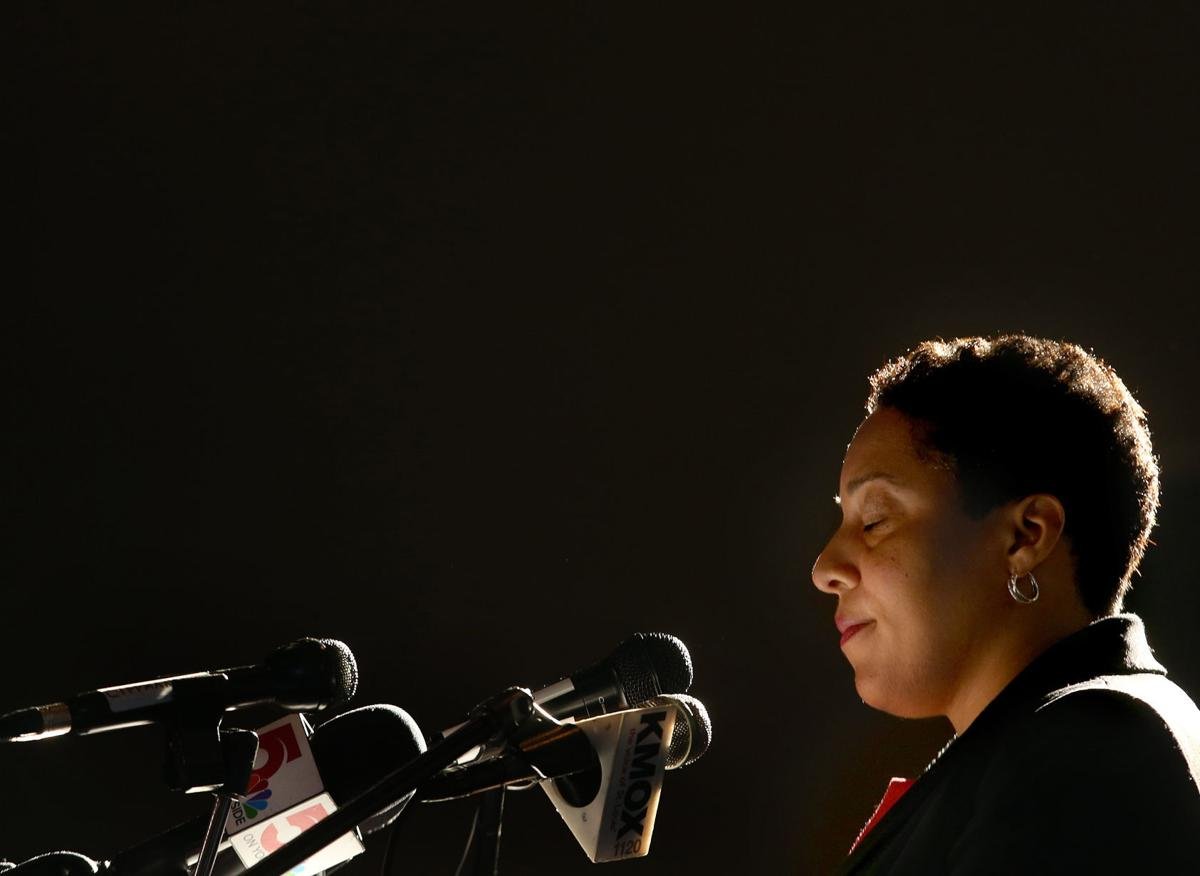 JEFFERSON CITY — In another election-year maneuver, Republican Gov. Mike Parson renewed his attacks Monday on St. Louis Circuit Attorney Kimberly M. Gardner.
Despite the Democratic prosecutor's win at the polls last week, Parson asked state lawmakers to approve legislation during the ongoing special session to give Attorney General Eric Schmitt "concurrent jurisdiction," allowing him to intervene in local homicide cases.
Parson and Schmitt acknowledged Gardner had not sought their assistance. They also said they viewed the proposal as a way to help Gardner.
"This is not a personal attack," the governor said.
"Everybody ought to be working together," Schmitt added.
Parson and Schmitt, also a Republican, have complained that Gardner isn't prosecuting enough people accused of various crimes, allowing violence to get out of hand in the city.
"I agree with Governor Parson that fighting violent crime, achieving justice for victims and making our communities safer is a priority," Gardner said in a Monday statement. "However, it is clear that this legislation is not actually about addressing crime — instead, it serves as a vehicle to interfere with the clear discretion of a democratically elected local prosecutor. This allows the Governor and his cronies to make a mockery of judicial checks and balances and demolishes any notion of a free and independent judicial system."
Parson and Schmitt recently complained when Gardner filed charges against a St. Louis couple who confronted protesters in the Central West End neighborhood.
Mark and Patricia McCloskey have been charged with unlawful use of a weapon.
While Gardner said the protesters were "peaceful" and "unarmed," Parson called them a "mob" and said he would pardon the couple if they are convicted.
Parson, who had hoped to run for a full, four-year term on the back of a then-robust economy, called the Legislature back to the Capitol to target violent crime at a time when homicides have soared in the state's urban areas.
The move echoed President Donald Trump's pivot to crime as an election issue.
Through Monday there have been at least 162 homicides in St. Louis, compared to 120 at the same point last year and 112 in 2018.
"These are staggering, scary numbers," said Rep. Nick Schroer, R-St. Charles. "I think the people of Missouri want action."
Gardner, who is completing her first term, defeated former assistant prosecutor Mary Pat Carl, 61% to 39%, in Tuesday's primary election. She faces Republican Daniel Zdrodowski in November in the heavily Democratic city.
"This bill does nothing to actually address the underlying issues that are driving violent crime," Gardner said in a statement Monday. "In fact, my office has an overall felony conviction rate of 97%. Unprosecuted crimes in our community come down to two variables — lack of evidence and lack of community trust with law enforcement. Solving crime will take all of us working together, not divisive political maneuvers such as this that are designed to usurp the will of the people."
Republican lawmakers expressed support for Parson's concept.
"I think it's a really good idea. We have a prosecutor who I think isn't doing her job and there ought to be some remedy for it. The governor's idea will fix it," said Rep. Bruce DeGroot, R-Chesterfield.
Although he doesn't support the idea of concurrent jurisdiction, Rep. Justin Hill, R-Lake Saint Louis, said he believes St. Louis police officers are quitting the force because they are worried that Gardner is going after cops.
House Minority Leader Crystal Quade, D-Springfield, called the proposal a "political vendetta against the only elected African American woman prosecutor in Missouri."
"By now trying to strip her of the prosecutorial discretion and authority enjoyed by every other prosecutor in the state, the governor attacks democracy itself. Lawmakers must not become co-conspirators in the governor's politically motivated abuse of power," Quade said.
Rep. Steve Roberts, D-St. Louis, who is chairman of the Legislative Black Caucus, called the governor's latest move a "big mistake."
"It's a step in the wrong direction for all Missourians. This has never been done in our state," Roberts said.
Parson's call to add the new provision will likely result in lawmakers spending more time in the Capitol during the pandemic.
During a House hearing on the legislation Monday, St. Louis Metropolitan Police Chief John Hayden said the department is short by 142 officers.
"We desperately need more officers and we need them now," Hayden said.
The measure also will require judges to consider whether youths age 14 and up should be tried as adults for crimes involving illegal use of guns.
St. Louis Public Safety Director Jimmie Edwards said he doesn't believe the intent of the legislation is to send children to adult prisons.
Rather, the former juvenile court judge said the intent is to get judges to spend more time assessing what a child needs.
"What we want to do is provide services," Edwards said.
The proposal also will create a $1 million witness protection fund to keep witnesses and their families safe before trial.
"I think it will help us to solve crimes in the city of St. Louis," Edwards said.
The package advanced to the House on a 27-3 vote last week.
Updated at 6:35 p.m. Monday with comments from St. Louis Circuit Attorney Kimberly M. Gardner.