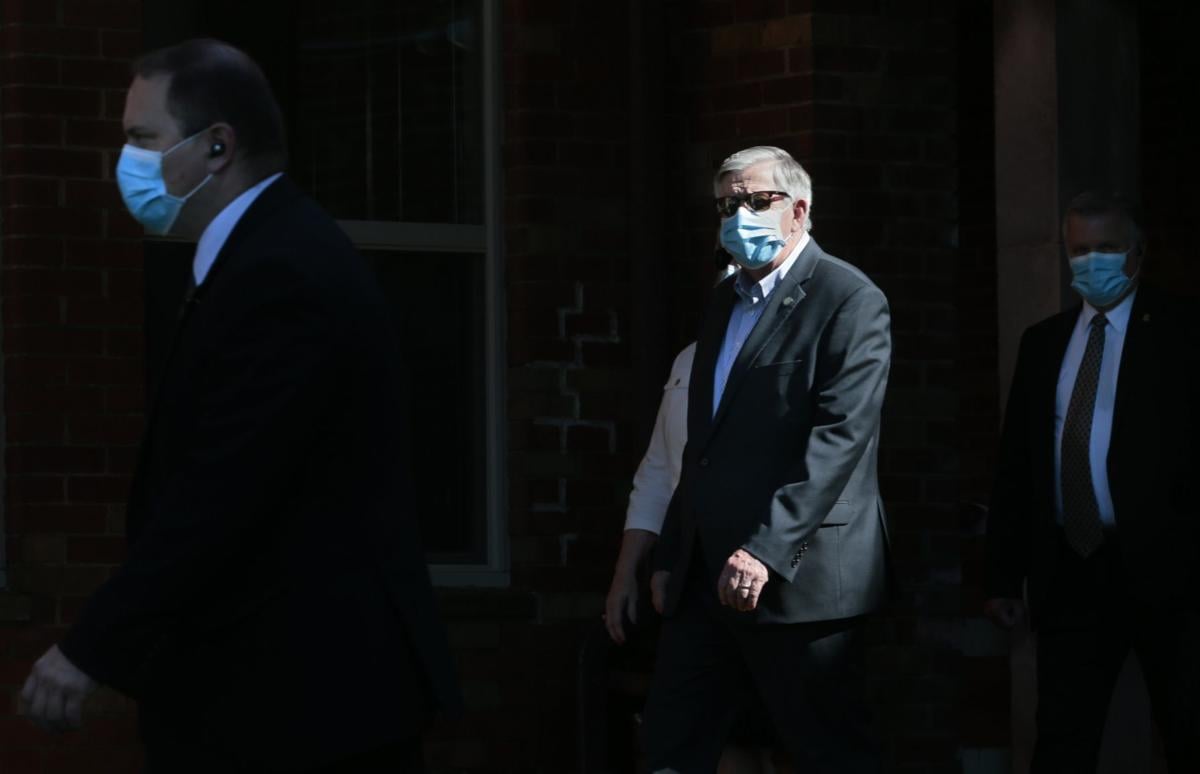 JEFFERSON CITY — Legislative leaders had hoped Thursday would be the final day of the special session Gov. Mike Parson called last month in an effort to appear tough on crime before the November election.
Instead, lawmakers were home in their districts on a hastily scheduled break, and the Republican governor found himself at a youth livestock show at the state fairgrounds in Sedalia.
Parson called the delay "disappointing."
Republicans and Democrats alike agreed that last week's walkout by the House wasn't a good look for a governor in the middle of a campaign for a full, four-year term.
"(Former Gov. Eric) Greitens didn't seek the counsel of the Legislature and look at what happened to him," said Rep. Justin Hill, a Lake Saint Louis Republican. "And now Parson is doing the same thing."
Parson, who is finishing Greitens' term, thought he would be running on a strong economy. When the coronavirus shattered that plan, the former sheriff fell back on his strong suit — law and order.
But he pushed too hard in his demands, and leaders of his own party balked.
"Governor Parson committed political malpractice by calling a special session without first securing the support of lawmakers, including those within his own party," said House Minority Leader Crystal Quade, D-Springfield.
Infighting among Republicans who control the levers of power in Jefferson City isn't new. But the public split between Parson and leaders in the House comes at a time when the governor wanted to leverage a surging homicide rate in St. Louis in his campaign against Democrat Nicole Galloway, who is the state auditor.
At Parson's urging, the Senate had in the previous week approved legislation, known as Senate Bill 1, that would:
• Allow St. Louis to hire police officers who live outside the city, to increase the pool of recruits. The police department is down more than 130 officers.
• Create a $1 million witness protection fund to keep witnesses and their families safe before trial.
• Require judges to consider whether youths age 14 and up should be tried as adults for crimes involving illegal use of guns.
• Make it a crime to assist someone 17 or younger to commit a weapons offense.
• Boost penalties for giving guns to juveniles.
The House had just begun considering the proposal on Monday when Parson dropped a bombshell, calling on lawmakers to add a controversial provision to his crime legislation that would allow the state attorney general to intervene in the prosecution of murder cases in St. Louis
The next day, House leaders applied the brakes, potentially extending the special session into September and revealing a rift between the Republican chief executive and the GOP-led majority that controls the Legislature.
Legislators said they would tackle the measures one piece at a time, in separate bills, rather than address the omnibus package approved by the Senate. That will mean separate hearings and separate floor votes on each provision in each chamber, chewing up time and, possibly, political will.
Prosecutors object
Republican criticism of St. Louis Circuit Attorney Kimberly M. Gardner is not unusual, but the move by the governor was not the product of any closed-door talks between Parson and lawmakers. Nor did the Democratic prosecutor ask for assistance from the state.
Although some Republicans support the intervention of the attorney general in a local prosecutor's jurisdiction, others say it sets a bad precedent.
Rep. Tony Lovasco, R-St. Charles County, said he was uneasy with what amounted to targeting one elected official in one local jurisdiction.
"I'm not a big fan, generally speaking, of legislation that is specific to one area of the state," he said. "If we want to have that conversation, I think it's probably best to talk about giving the attorney general powers of that nature statewide."
Hill, a former police officer, also gave the idea a thumb's down.
"Let's just imagine if Kim Gardner becomes the attorney general of the future and wants to prosecute all police officers who shoot someone in the line of duty. It's just not good policy," Hill said. "Communities should maintain control of their own prosecutions."
Under the proposal, the attorney general would be able to prosecute cases if after 90 or more days, the chief law enforcement officer made the request of the attorney general, and the circuit attorney had not filed charges.
The state's 115 local prosecuting attorneys of both parties also bashed the proposal — a move that gives lawmakers political cover to reject the idea.
"Our system, which for 145 years has provided for independent local prosecutors, should not be abrogated in the rush of a special session," said a statement by the Missouri Association of Prosecuting Attorneys. "The best control is local control."
Despite the pushback, Kelli Jones, a spokeswoman for Parson, said a "large number of House Republicans" have reached out to the governor's office to express support for the crime package.
Among those supporting the concept of concurrent jurisdiction by the attorney general are Republican Reps. Phil Christofanelli of St. Peters, Bruce DeGroot of Chesterfield and Nick Schroer of O'Fallon.
Christofanelli said the measure would allow the state to step in with its resources to help quell violence.
"The attorney general's office has the resources to fill that void," Christofanelli said.
'Not a personal attack'
The timing of the special session was already under scrutiny after the governor called on the Legislature to return a week before voters went to the polls for the Aug. 4 primary election.
Last summer, a group of Black lawmakers asked Parson to schedule a special session to address a similar surge in homicides, but he rejected the request.
Parson said his proposal was not a reaction to Gardner charging a Central West End couple with weapons offenses after they waved guns at protesters outside their house on a private, gated street.
In the aftermath of that incident, Parson said he would pardon Mark and Patricia McCloskey if they were found guilty. He said they were within their legal rights to defend their property against a "mob."
Parson denied the McCloskey situation, or Gardner herself, had spurred his decision.
"This is not a personal attack. This has nothing to do with the prosecutor. This is about violent criminals on the streets of St. Louis and cases haven't been filed," Parson said.
"There are no politics when it comes to public safety," added Attorney General Eric Schmitt, who joined Parson at the Monday news conference that ultimately brought the special session to a halt.
In announcing the addition of the St. Louis prosecutor language to the legislation, Parson acknowledged the current violence wasn't a new phenomenon.
"This has been an ongoing problem for some time," Parson said.
Parson also made it clear that Gardner had not asked for assistance.
"This is coming from the state of Missouri. We're trying to do something about violent crime in St. Louis," Parson said.
Gardner, on Wednesday, said she still hadn't heard from the governor.
"He's just simply telling me what I should be doing, and that's the intersection of race, and gender and sexism that has been played out since I've been in office," Gardner said in a conference call with reporters.
Lovasco, meantime, said he is glad House leaders put the session on pause and broke up the Senate bill into individual ones.
"I think each of those subjects deserve a fair debate and vote, up or down, separately," he said. "I certainly wasn't going to vote for Senate Bill 1 as a whole. I've got some concerns about the youth certification one (bill). I don't think we should be taking young folks, as young as 14, and charging them as adults."
Jack Suntrup of the Post-Dispatch contributed to this report.