By Trisha L. Howard and Heather Ratcliffe
Family members phoned for help after a bloody Elliot Smith arrived home one night 14 months ago and said a cop had shot him. It was the first that St. Louis police had heard about the incident. Their officer, Stanley Davis, hadn't called it in, although he later said he had exchanged shots with a fleeing man.
Smith walked away with no prosecution; Davis walked away with no job.
Soon, Davis was carrying a new police badge — for Moline Acres. That lasted, the city's police chief said, until Davis got caught with stolen property.
After he was forced to resign, Davis landed on the force in Beverly Hills, a tiny north St. Louis County municipality. He later resigned but still holds a police license entitling him to work for any department in Missouri.
Davis' job-shifting is common enough among the 123 municipal police agencies across metro St. Louis that insiders have a name for it: "the muni shuffle."
It is a two-step dance. First, a department lets a problem officer go without completing a formal investigation that might cost him his police certificate. Then another department, eager to find an already-trained recruit at a bargain wage, hires him without asking too many questions.
Most often, a Post-Dispatch investigation discovered, these officers end up in the poorest and most crime-ridden communities.
"There is a group that works their way up and a group that works their way down, " St. Louis County Prosecuting Attorney Robert McCulloch said. "And the ones working their way down, unfortunately, we tend to see in concentration at the same departments. That affects dramatically the level of service provided."
The muni shuffle is a symptom of a system that doesn't always hold police officers to high standards. But not every officer in trouble has to do the shuffle. Some departments just give them chance after chance.
On paper, Missouri's system for flushing out bad cops is among the nation's best. In practice, it's bogged down.
Illinois takes away police credentials from officers convicted of felonies or certain misdemeanors, or found to have lied on the witness stand in a murder trial. State officials do little to investigate misconduct.
By the time Brooklyn Officer Jeff Crisel accidentally ran over and killed a traffic violator he was chasing this year, he had worked at nine departments in a 15-year career marked by numerous allegations that he beat suspects with a flashlight.
The alleged beatings prompted at least three lawsuits, including one filed by a Macoupin County sheriff's deputy who said he was injured by Crisel when the deputy tried to intervene on a suspect's behalf.
Village officials found that Crisel had left some previous employers off his application. On that basis, Brooklyn fired him. Crisel could not be reached for comment after several attempts, including a registered letter sent to his last known address.
Police Chief Harold Wilson said village officials had no way to know what Crisel left off his application. "You can only go by what you've got, " Wilson said. "It would be the same as applying for any other job. You contact the previous employers."
But some other departments are intensifying background checks, including the force in Lebanon, which was sued twice by people who claim Crisel beat them when he worked there.
Lebanon Police Chief Doug Lebert said his community no longer puts emphasis on hiring someone already trained. "When you hire a guy with the academy (training) strictly because he has the academy, that saves you money up front, " Lebert said. "But if that guy turns out to be a problem, it's going to cost you in litigation in the long run."
Crisel's police career ended, at least for now, with an episode of violence. In Davis' case, violence is how it began.
Just three months out of the academy, Davis had a reputation as a tough guy, said Anthony Gray, Smith's lawyer. That was the reason, Gray said, that several men on a street corner in September last year scattered at the approach of Davis' St. Louis police car.
Smith was running through a gangway when he was shot four times in the back and legs by Davis, according to court documents.
No other officers saw it happen. Davis did not tell his dispatcher.
"That's more telling to me than anything. He never called for backup," Gray said. "Elliot was unarmed and running for his life."
Davis later claimed that Smith had fired first. Prosecutors accused Smith of assaulting a police officer but then dropped the charges, citing unspecified problems with the case.
The St. Louis police fired Davis, but because he was still on probation, the department was not required to report the incident to the state authorities who license officers.
In Moline Acres, which pays officers about two-thirds as much as the city, Davis was caught with a stolen radio taken from a towed vehicle and fired, said Moline Acres Police Chief G. Thomas Walker — and again, with no report to the state.
Walker told state officials that Davis had resigned, but the chief didn't tell them why. Later, Walker said he didn't mention the incident because Davis left before the internal investigation was completed.
Walker said he told Beverly Hills officials about Davis' history, yet police there took him on as an unpaid reserve officer anyway.
Beverly Hills Chief Joe Collins said Davis has since resigned, but Collins would not provide details about when or why.
Repeated attempts to reach Davis for comment were unsuccessful.
Officials are broadly aware of the muni shuffle.
"The less professional departments with problems tend to have a revolving door," Normandy Police Chief John Connolly said.
But the practice is impossible to quantify. Smaller departments hardly brag about taking on other agencies' discards. Misconduct is seldom reported to the state. Department personnel records are not public.
Post-Dispatch reporters documented at least a dozen examples of officers who repeatedly shifted among departments and at some point ended up in difficult circumstances that drew public attention. Most were accused of behavior the public would not expect from a profession generally held to higher standards.
• Craig T. Inman, who records show was fired from the Waterloo Police Department in 1999 for omitting more than a dozen traffic violations from his employment application. The omission came to light after Inman initiated two high-speed pursuits in two years that resulted in the deaths of four people. Inman is now an officer in Jennings.

• James Fitzgibbon, who kept his job as a Pine Lawn detective after he was convicted in October of making harassing phone calls to a driver after a road rage incident in March. Since Fitzgibbon began his police career in 1986, he also has patrolled streets in Glendale, Country Club Hills, Jefferson County and Wellston. Fitzgibbon declined comment.

• Marvin Shannon, who was charged with misdemeanor assault after police said he cut a student with a knife at Riverview Middle School, where he worked as a security guard. Shannon has worked at eight departments on both sides of the river despite a string of criminal charges and a felony conviction for failing to pay child support. His license is still valid, although he is no longer working in law enforcement.

• Officer J.D. Patton, who was fired from two police agencies in Washington County, Ill., both times after fellow officers arrested him for various offenses, including DUI and fighting at a local bar. According to court records, Patton has misdemeanor convictions for the DUI and for providing alcohol to minors. He remains certified in Illinois and was recently given a temporary full-time police position in Washington Park.

• Roy White, who, according to police records, shot and killed an unarmed man during a traffic stop in 1989 while he was working for the St. Louis police. The city fired him for violating policies, saying that he should have taken cover or called for backup. After his termination, he continued to work in law enforcement. He is now a part-time sergeant in Hillsdale.
Missouri's policy for disciplining police is among the most progressive in the nation, experts say, because an officer doesn't have to commit a crime to lose his license.
Ideally, the Peace Officer Standards and Training program investigates reports of misdeeds and gets copies of completed disciplinary reports when a police department fires someone.
In reality, the system relies on a single investigator to keep track of the state's 17,000 officers. He has nearly 90 active cases at any given time.
Missouri authorities say the state needs more money to support its net for catching problem cops. And police departments often stop short of finishing internal investigations when an officer quits or is fired, leaving nothing to report to the state.
Charles Jackson, director of the Missouri Department of Public Safety, said any chief who blatantly avoids his duty to report problem officers can be disciplined, and even lose his police license. Neither has ever happened, Jackson said.
He and other state officials say they need better cooperation from police departments and individual members.
"I hope that other officers would have enough integrity and pride in what they do to want bad officers out," he said. "There comes a point where you can't keep silent. You have to step forward because it affects everyone."
While Missouri's state overseers get overwhelmed, Illinois largely doesn't bother. Cops lose their certification upon conviction of a felony or certain misdemeanors, leaving investigations of misconduct to individual departments.
With about 38,000 full-time officers and 3,800 part-time officers, Illinois has booted 45 convicted officers in the past three years.
Recently, Illinois lawmakers amended the law to allow for the decertification of police officers accused of lying in murder investigations, even if they aren't convicted of perjury. State officials must support the allegation in a hearing before the Labor Relations Board.
Criminal conviction "is too high a standard," complained Terry Schramm, whose wife and daughter were killed in April 1999 when a 14-year-old driver fleeing Waterloo Officer Inman caused a head-on crash while trying to pass other drivers on Illinois Route 3. "It lets too many people slip through the cracks who have cost somebody their life or caused a personal injury. There's a whole history here, and history repeats itself."
Inman insisted he did not use bad judgment in the pursuit, a belief he said was confirmed when the Monroe County state's attorney did not accuse him of any criminal wrongdoing.
"If I could go back, I would change the outcome tomorrow — but it's out of my control," Inman said in a recent interview. "I had a job to do, and sometimes there are going to be victims and there is going to be bitterness."
Inman's new boss, Jennings Chief Robert Orr, said Inman has been a good officer since joining the force two years ago. "We've had no problems with him at all," Orr said.
The Illinois disciplinary process also does not address cases in which officers officers get suspended sentences that are expunged once served.
Officer William E. Garrett, who started working in Venice in 1998, was convicted in 1987 of first-degree assault for shooting at a car during a road rage incident. Garrett's felony was removed from his record after he completed five years of probation. He is currently facing a misdemeanor battery charge filed three years ago in Madison County Circuit Court after he allegedly beat his girlfriend.
Garrett did not return repeated phone calls.
Illinois State Rep. Jay Hoffman, D-Collinsville, is trying to pass a bill to require police licensing in his state to make it easier for small departments to verify applicants' credentials. But it would still leave discipline, short of criminal convictions, to individual departments.
The Illinois Law Enforcement Training and Standards Board, which now tracks police officer certification, strongly supports the measure. That's because the board does not want the responsibility of disciplining officers at the state level, as Missouri's does.
"It's not like there should be some sort of state agency that polices (officers)," said the training board's executive director, Thomas Jurkanin. Monitoring officer behavior is a local responsibility, he said.
Indeed, any Illinois police department that wants to give Jeff Crisel his 10th police job can do so with no interference from the state.
Police chiefs say they fear the legal repercussions of providing negative job references. And they say it wastes time and money to complete an internal investigation against someone who has left. Those factors create a supply of certified officers with questionable backgrounds.
On the demand side, small departments with small budgets and low pay are eager to get applications from people already certified. That saves them from paying tuition and wages for up to 15 weeks of training time. Chiefs doing the hiring may not know what they're getting; they may not even want to know.
Only after Crisel and Inman got into trouble did their bosses find significant omissions from their applications.
"The last thing cops want, unfortunately, is to be held accountable," said Clarence Harmon, who served 27 years with the St. Louis police before retiring as chief and later becoming mayor.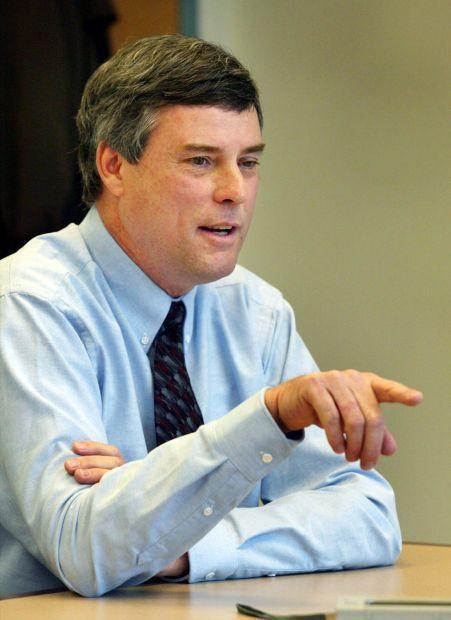 "A lot of these smaller departments kind of don't want to know because they have limited capacity and lower salaries, " he said. "It's beneficial for them not to have to fund that training. That's the major driving force behind why agencies would hire somebody with a problematic background."
McCulloch, the St. Louis County prosecuting attorney, said he is frustrated that police chiefs tacitly endorse the muni shuffle by the way they fire and hire.
"It's way too many times that someone moves from department to department when a problem arises and that problem is never addressed," he complained.
Experienced chiefs say it's not really hard to spot potential trouble — if you want to. If a previous boss refuses to provide more than employment dates, they say, it's an obvious signal. Careful departments may consider only applicants who sign a waiver to open their personnel records from previous employers.
Herb Simmons, longtime mayor of tiny East Carondelet, which provides part-time police service to its residents, remembers passing up one applicant who listed experience at several departments, including Chicago's.
"You just don't hop around like that — that's a red flag," Simmons said. "If you've been a policeman in Chicago, why would you want to be a policeman in East Carondelet?"
While some departments cast out misfits to be snared by another community, others are known to keep officers working despite repeated accusations of misconduct.
"Then these officers continue to engage in the behavior, and oftentimes the deviance escalates," said Victor Kappeler, a professor at Northern Kentucky University who studies police misconduct. "It doesn't serve an agency's interest to uncover an act of deviance because it tarnishes the organization."
Since Brian Britton joined the Calverton Park police in April 1996, he has been sued four times in federal court, accused of brutality and misconduct.
Towanda Lambert claimed in her lawsuit that she was rushing to help her 6-year-old son after he injured himself at a movie theater in October 1998 when she found Britton blocking her path.
Instead of helping Lambert, her suit said, Britton, the theater's security guard dressed in plainclothes, threw her to the ground. Then he took her to jail for assaulting a police officer.
Four people accused Britton of brutality during traffic stops in lawsuits filed in 1998 and 2000. The department settled one case; the other was dismissed.
The department put Britton on probation and sent him to anger management counseling, said Calverton Park Chief Anthony Reese. There has not been a serious complaint lodged against him since, Reese said.
East St. Louis Officer Brett Rodgers got suspended eight times during his five years on the force.
The city paid $550,000 to a man who lost an eye after Rodgers and another officer beat him during a traffic stop in 1996. But Rodgers stayed on the force until 1999, when he was arrested for shooting a security guard in the leg at an East St. Louis nightclub.
Rodgers was off duty — and drunk — at the time. As a result, he was convicted the next year of aggravated battery with a firearm and armed violence and is now serving a sentence of eight years in prison.
Anthony Nicholson, who had lost the eye, said he wasn't surprised when he heard Rodgers had been arrested.
"This guy never should have been on the force," said Nicholson, 51, who moved to Belleville from East St. Louis. "He went around and Rambo'd and terrorized East St. Louis. They kept giving him warnings, but they didn't do nothing about it."
Originally published Dec. 1, 2003