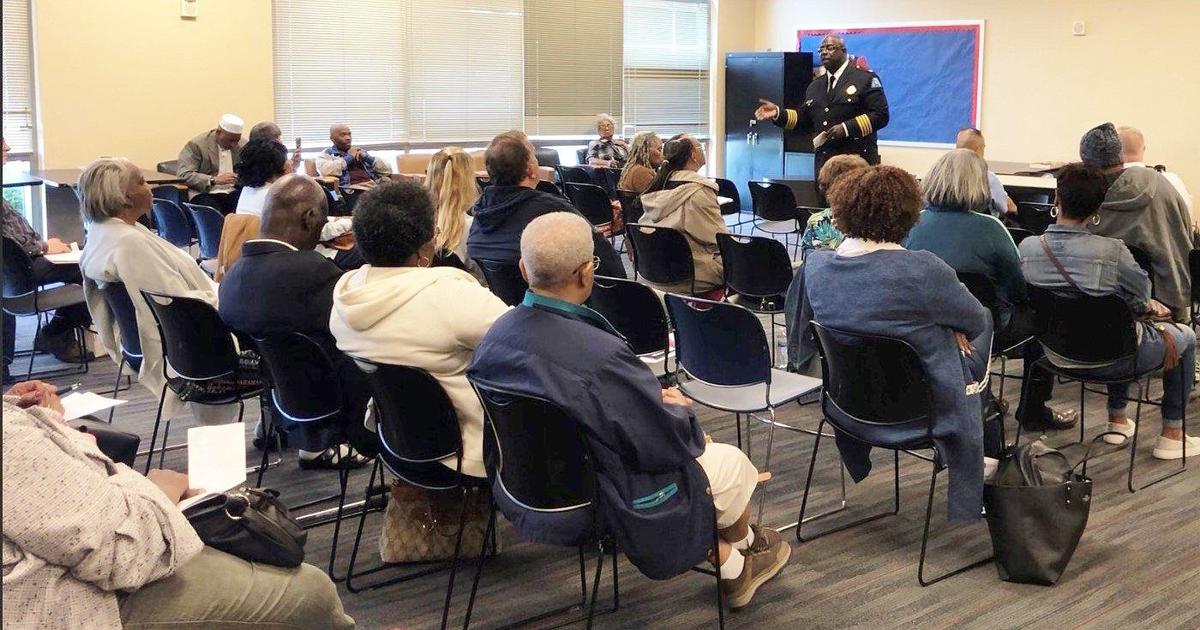 ST. LOUIS — Nine people were shot in five separate incidents early Saturday, just hours before Mayor Lyda Krewson and Police Chief John Hayden appeared at a crime prevention summit.
The shootings — including one in which five people were shot, one fatally, inside a van — did not come up specifically during Hayden's presentation during the North Newstead Association's crime prevention summit at the O'Fallon Park Recreation Complex.
Hayden instead focused on the city's crime stats, which, he says, are headed in the right direction.
Still, spurts of violence like the one that hit St. Louis from about 1 to 3 a.m. Saturday can affect the perception of the city no matter what the data shows, Hayden said.
"I'm going strictly on the data, which shows crime overall is down 22 percent compared to last year at this time," he said. "Yes, there have been some really sensational shootings, but we are better and safer than this time last year."
(A police department spokeswoman later clarified that the year-to-date homicide rate is down 22 percent in 2019, not overall crime.)
Hayden said the city would have ended 2018 with nearly 30 fewer homicides than the previous year except for a two-day burst of violence that saw 11 people killed.
"Last year, we went 363 days with 29 fewer homicides but for two days; one in which there were six homicides within a 24-hour period and another when there were five," Hayden noted."At the same time," he said, "crime incidents of one day can affect people's perception, so we can't let our guard down for the rest of the year."
Hayden noted that Chicago, a city with a land area that's about 3½ times the size of St. Louis, has 30,000 cameras monitoring its streets that police can use. By comparison, St. Louis has fewer than 1,000.
"Nobody knowingly buys or sells drugs on camera," he said. "It would be great if we could have a high visibility camera and an LPR (license plate reader) at every major intersection. But people don't want the police to have cameras. Everyone has a camera on their doorbells, but don't want the police to have them."
He also touted stats from the hot spot that became known as "Hayden's rectangle," an area where he said most of the city's crime happened. During the first year in which Hayden said the department sent specialized units, Hayden said there were 23 fewer homicides, 77 fewer robberies and 113 fewer aggravated assaults.
Hayden also took questions from the audience of about 50 people.
Some people asked what the department was doing to investigate cold cases. The mother of a murder victim said police don't keep her updated on her daughter's investigation. Another woman asked why the police aren't doing more to combat open air drug markets on her block. One man said the police are part of the city's violence and asked what more Hayden could be doing to combat police misconduct and brutality.
Hayden said he put a former homicide commander in charge of the department's police shooting team and one of his proteges in charge of Internal Affairs.
Here is the information police released on Saturday morning's shootings:
12:57 a.m.: A man arrived at a hospital after he had been shot in the leg near Delmar Boulevard and Hamilton Avenue in the city's West End neighborhood.
1:24 a.m.: A man in his 30s was shot in the hand and back in the 4100 block of Pleasant Street in the Fairgrounds neighborhood. He was conscious and breathing.
1:44 a.m.: A man was shot in the arm in the 5100 block of St. Louis Avenue in the Kingsway West neighborhood. A second man from that shooting arrived at a hospital with a gunshot wound to the thigh. Both were conscious and breathing, and their injuries were not life-threatening. It's unclear whether they were both victims or if one man may have shot the other.
2:38 a.m.: A man was shot in the arm and leg in the 3800 block of Morganford Road in the Tower Grove South neighborhood and arrived at the hospital conscious and breathing.
3:08 a.m.: Five people, three men and two women, were shot while inside a vehicle near the intersection of Union Boulevard and Northland Avenue in the Kingsway West neighborhood. One man was killed.
Editor's note: A police spokeswoman later clarified that Hayden was referring to the drop in the homicide rate, not overall crime.
Shake off your afternoon slump with the oft-shared and offbeat news of the day, hand-brewed by our online news editor, Mandy St. Amand.