PEVELY — A police officer here was charged with a misdemeanor Monday after allegedly shoving and choking a prisoner inside a booking area last month.
Jefferson County Prosecutor Trisha Stefanski issued a summons Monday for Cpl. Robert "Ryan" Watson, 28, of Cedar Hill, for fourth-degree assault.
"This is a decision we don't take lightly," Stefanski said. "I'm a huge supporter of law enforcement, but this was unprofessional, and there was a crime committed."
She said she did not file a felony charge because authorities could not prove the victim was injured. The man did not seek medical attention.
The Jefferson County Sheriff's Department investigated the incident, which was caught on video, at the request of Pevely Police Capt. Larry Miller. Miller has been the department's acting chief since March.
Miller said the incident happened April 23, and he "took immediate action." He said he could not comment further.
On May 7, Miller suspended Watson without pay. The next day, the Board of Aldermen voted unanimously to fire Watson and another officer, Wayne Casey, who could be seen on video sitting at a desk in the booking area as the alleged assault took place.
The prisoner was being booked for violating a court order, Jefferson County Sheriff David Marshak said.
The video shows Watson grab the man by the neck with both hands from behind, forcing the man back onto a bench, then put him in a choke hold and take him to the ground, according to court documents. Watson then shoves the victim down inside a holding cell before slamming the door.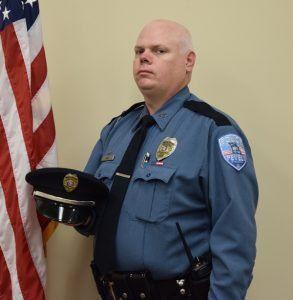 Detectives say the alleged victim, a 40-year-old man, was insulting Watson moments before Watson assaulted him.
"It appears this officer let his emotions get the best of him," Stefanski said.
Watson had worked for Pevely police since November 2016, and Casey was hired about a year ago, Miller said.
Another Pevely officer alerted Miller sometime that weekend. Miller asked the Jefferson County Sheriff's Department to investigate the matter on Friday, according to Marshak.
The Pevely police department has about 14 officers in a town of about 5,500 people.