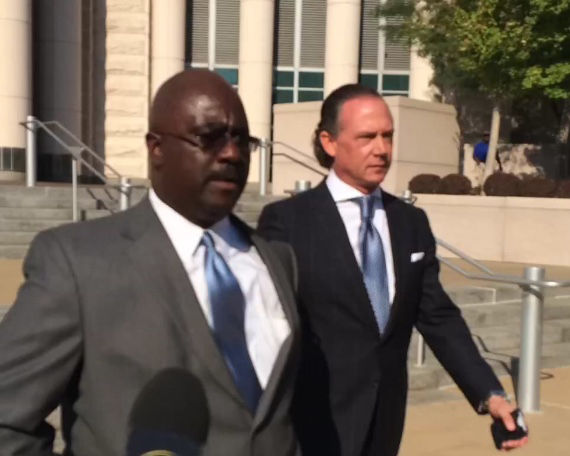 ST. LOUIS • Maybe it was hearing a recording of his own voice amplified in a courtroom, demanding payments from the owner of a towing company, over and over again.
Or perhaps it was the sight of a store manager, a Palestinian immigrant with a seventh-grade education, describing his fear when Sylvester Caldwell stopped by to ask for "donations."
Whatever the case, Caldwell, the mayor of Pine Lawn, did not want to leave his fate in the hands of a jury.
On Monday, he interrupted his trial in federal court here and pleaded guilty to separate counts of extortion and attempted extortion.
Caldwell agreed to resign as mayor immediately as a condition for remaining at liberty on bail until his July 7 sentencing. But as late as 4 p.m., he had yet to submit a resignation letter to the city, said City Clerk Victoria Stevenson, adding that all she knew about the mayor's stepping down was what she had read on the Internet.
The extortion count, involving a convenience store, and the count of attempted extortion, involving the towing company, each carries a maximum penalty of 20 years in prison and a $250,000 fine. Under sentencing guidelines, with terms of his plea agreement figured in, it appears that he can expect to serve 27 to 33 months.
U.S. District Judge Catherine Perry initially was reluctant to accept the plea, after learning that Caldwell had not taken medication for his diabetes that morning. She suggested he have a meal to make sure his mind was clear, but then did accept the plea after he answered a list of questions.
To most, Caldwell simply answered, "Yes, ma'am."
The prosecution had rested its case Friday, with an expectation that the defense would make its case Monday.
Caldwell's attorney, Travis Noble, told Perry he had had multiple conversations with his client about potentital plea deals, including talks after the prosecution had made its case.
"I think after that the mayor has wrapped his head around this," Noble said.
When it was over, Caldwell walked quickly out of the courtroom, but not before passing the smiling faces of a half dozen of his political opponents.
"We are calling this day 'Mountain Dew Monday,' " said Glenn Sykes, a member of Concerned Citizens of Pine Lawn, referencing the soft drink code word that Caldwell used to solicit bribes.
Caldwell's attorneys acknowledged in opening statements last week that the mayor had taken bribes, but they insisted then that his actions did not amount to extortion, a charge that requires a threat.
A tow truck driver and convenience store manager both testified for the prosecution that they feared repercussions to their businesses if they did not meet Caldwell's repeated requests for cash.
Akram Samad, manager of the Pine Lawn Food Market, testified that he made payments and once helped frame Nakisha Ford, Caldwell's opponent for mayor in 2013, with a false accusation that she had illicitly taken a Caldwell campaign sign from the store.
Samad said then-Pine Lawn police Lt. Steven Blakeney had instructed him to call 911 to complain about Ford, and that Blakeney had returned to take the report. Samad said Caldwell had told him to testify against her in court.
Caldwell then won re-election to his third term in the community of about 3,300 people. The city later fired Blakeney.
In an interview last week, Ford said Samad had given her permission to remove a nasty campaign sign targeting her. She said she was arrested that night on suspicion of misdemeanor theft. She later pleaded guilty of littering and was fined $500.
Samad told the jury that Caldwell asked for money about 14 times, and in each case Samad gave him $200 to $300.
"I was scared," Samad said. "He would say, 'I'm in charge of Pine Lawn and the police and the whole city.' "
On Monday, Samad stood behind the counter at his market, smoking a cigarette and pointing to the aisle between the meat case and cereal where he said the mayor once requested a payment. He said his phone had started ringing as soon as the news broke about Caldwell.
"What goes around comes around," he said.
Samad's brother, Mazen, who goes by Mario and owns the store with a business partner, had testified that Caldwell often took items such as meat, liquor and canned goods without paying. The brothers allowed it because they were afraid, they said.
Eduard Shapshovich, owner of Eddie's Towing in Wellston, told the jury that he had feared losing Pine Lawn's business if he did not make payments in cash or goods to Caldwell. For a time, part of the deal was to buy the community a police car every other year.
Shapshovich said the mayor had asked for money, typically $300, every few months, then every month and eventually Caldwell would just call.
By December 2013, Shapshovich began cooperating with the FBI, agreeing to wear a video and audio recorder whenever he interacted with Caldwell.
On Thursday, the jury saw a recording of a meeting between the two men at a gas station. Shapshovich approached the mayor at his car, and Caldwell asked for a "Mountain Dew in a cup." Shapshovich went into the restroom, flashed the three $100 bills in the mirror, then walked back outside and handed the cup to the mayor.
Under cross-examination, Shapshovich admitted that he had told the FBI he had given numerous other gifts to public officials throughout north St. Louis County.
The tow company owner told the court that when he spoke to the FBI, he felt that he could lose business if it weren't for the gifts, but upon reflection he was less sure.
Caldwell, 55, was charged last year with two counts of interfering with commerce by extortion. Court documents show that in October he turned down a plea deal that would have dropped one count for a guilty plea to the other, with a likelihood of spending 24 to 30 months in prison.
Some of Caldwell's political opponents said they had worked to get him out of office for the past decade and had been irked for years that the mayor hadn't even lived in the city. Roslyn Brown, vice president of Concerned Citizens of Pine Lawn, said that a "nonresident" had held the Pine Lawn hostage and ruined the municipality's finances.
"Today is the City of Pine Lawn's Independence Day," she said. "His thiefdom is over."