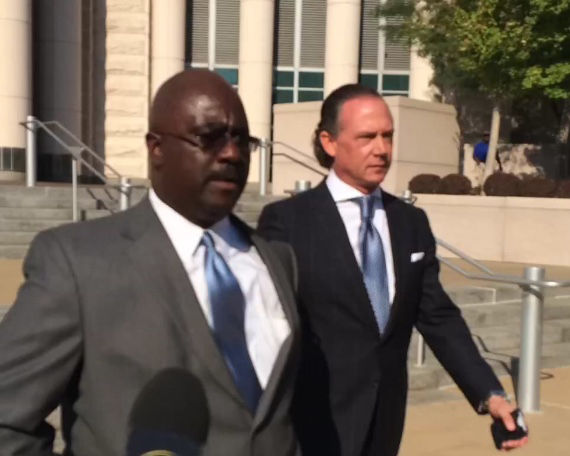 ST. LOUIS • Lawyers for Pine Lawn Mayor Sylvester Caldwell admitted in the opening statements of his trial Thursday that he took bribes for years, but they insisted he was not guilty of the extortion charges he faces.
The trial in U.S. District Court here threatens to lay bare what lawyers on both sides are calling the "pay-to-play" culture of Pine Lawn — and potentially other area cities.
It also could suggest financial incentives might drive cities to tow cars, as one of the major witnesses is a tow company owner who was bribing area officials to build an empire, Caldwell's lawyer claimed.
Assistant U.S. Attorney Reggie Harris told jurors that Caldwell threatened to use another towing company if he wasn't paid by the owner of Eddie's Towing, in Wellston.
But Harris said Eddie's owner Eduard Shapshovich had his own request: After paying, he told Caldwell to put the police "to work."
As Caldwell grew suspicious that Shapshovich was talking too much, he began to use a middleman and tried to disguise the payments as donations to a youth basketball team, Harris said.
A convenience store owner in Pine Lawn paid Caldwell out of fear of what could happen to his business or what would happen if he needed police, Harris said.
One of Caldwell's lawyers, Grant Boyd, admitted the trial would include videos of money changing hands. And he said both Caldwell and Shapshovich knew that the term "Mountain Dew" was code for money.
"It just looks bad. It's ugly. But it's not extortion," Boyd told jurors.
He claimed that Shapshovich bribed mayors, police officers and police chiefs all over north St. Louis County to build a towing empire and to encourage police to tow "excessively."
Boyd also said that Shapshovich was only cooperating because he got caught bribing a St. Louis officer to perform vehicle inspections so that he could sell towed cars that had never been claimed, and wanted to avoid deportation to Russia.
Boyd said the convenience store owner had been told by the previous owner that Caldwell came by and took alcohol as donations for city functions and would also take donations himself, but had never threatened a problem.
Boyd said that the store owner was the one who benefited from the deal: He got Caldwell to take care of several issues that surfaced in an inspection, and tickets that he and his relatives received. Caldwell also berated a police lieutenant who'd asked for a donation, saying, "You do not bother business owners in this city," the lawyer said.
During a break Thursday morning, Glenn Sykes, a member of Concerned Citizens for Pine Lawn, had several angry exchanges with Caldwell outside the courtroom.
Roslyn Brown, a social justice activist who also was watching the trial, said in an interview that Pine Lawn was a "city under siege." She accused Caldwell of using the police department to retaliate against residents, businesspeople and property owners.
Brian Krueger, who was fired as Pine Lawn city manager in January, was the first witness. Krueger said the city of 3,200 towed 800 to 1,000 cars per year. The city charges a $50 "tow release" fee if the owner wants the car back.
Krueger also said that Caldwell told him to "stay the (expletive) out of it" when he offered suggestions on the city's towing business. The mayor refused to bid out the business, saying, "It was his, he would handle it," Krueger claimed.
Shapshovich testified Thursday that he inherited the contract with Pine Lawn from a previous contractor in late 2006 or early 2007. It required him to buy a police car for the city every other year and tow police cars for free. After the contract expired, Caldwell said Shapshovich could stop buying police cars because rumors were spreading that the car purchases was the only way he was keeping the city's business, Shapshovich testified.
Shapshovich said that Caldwell's demands started slowly, with requests for baseball tickets, dinner or a baseball jersey.
"It gradually keep going further," Shapshovich said. Caldwell said, "I'm going to the game. I need a hundred bucks. I need a hundred bucks to go to dinner," Shapshovich recalled.
Shapshovich also said he had to pay $500 each time the city would run a sobriety or safety checkpoint, which would generate business for both the tow company and the city.
Shapshovich said that Caldwell would ask for money — typically $300 — every few months, then every month. Eventually he would just call, Shapshovich said.
Under cross-examination by another defense lawyer, Travis Noble, Shapshovich admitted that he told the FBI he had given numerous other gifts to public officials throughout North County. He said they included $100 to the campaign of one town's mayor, help with another mayor's car battery and a $100 gift card to a police chief.
He also said he sold cars to some Pine Lawn police officers, but stopped after they failed to fully pay him.
"So police officers and mayors came to you to borrow money?" Noble asked. "You're just a nice guy?"
"I guess," Shapshovich said.
Shapshovich was not clear on how many of gifts were in exchange for towing contracts. He said that at the time he spoke with the FBI, he felt that he could lose business if it weren't for the gifts. But now that he had more time to reflect, he was less certain of it.
Shapshovich said he could not say how much money he made from towing cars for Pine Lawn. The city didn't pay him directly; he received money from people when they reclaimed the vehicles.
When Noble asked him about his reported $800,000 to $900,000 annual income, Shapshovich said, "I didn't make that money from Pine Lawn."
The trial is expected to finish next week.
Asked about the tactic of admitting to bribery to avoid conviction on an extortion charge, Peter Joy, director of the Washington University School of Law's Criminal Justice Clinic, speculated that it could be an attempt to convince jurors that the mayor had made no explicit threats to obtain favors.
"If after all these hours of tapes ... there's never one place where he made a threat ... that really works to the defense advantage," he said.