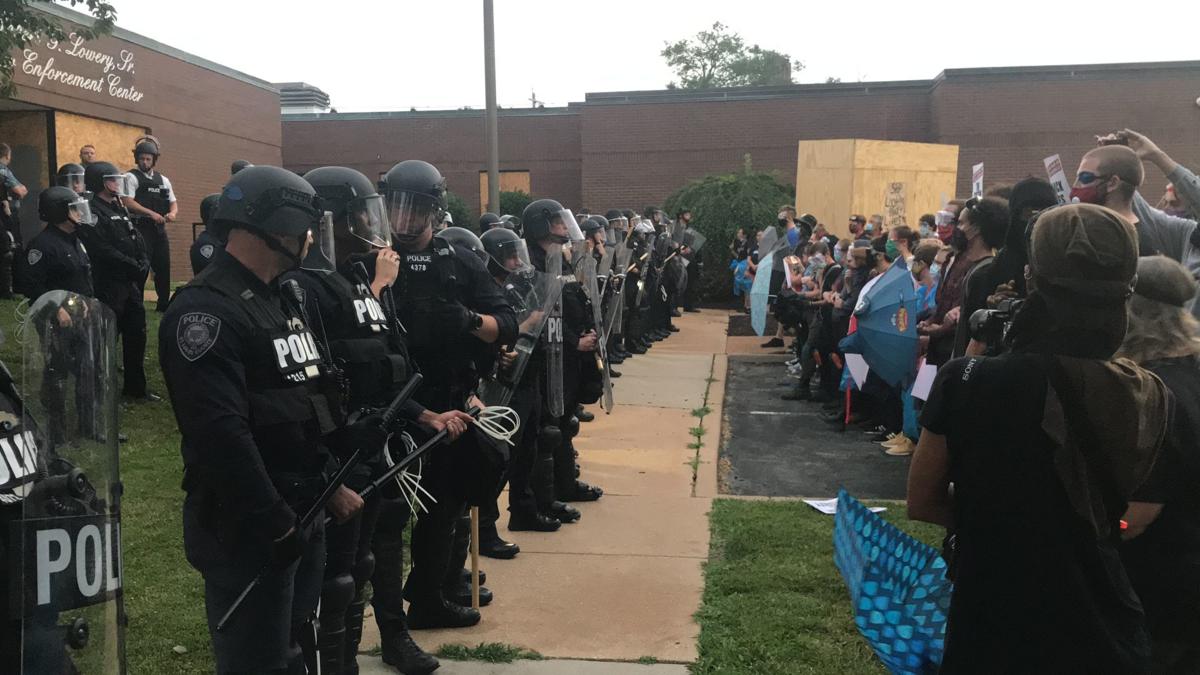 FLORISSANT — A protest outside the Florissant Police station Saturday night resulted in 16 arrests, police said, when officers pushed protesters back after ordering them to move away from the station.  
Police pushed protesters across the lawn back to Lindbergh Boulevard, where they continued chanting and shouting at police. 
A woman who was among the protesters and identified herself only as Trini said the protest was peaceful until police pushed forward.
"There is no such thing as an unlawful assembly when we are out here peacefully protesting," she said. "No one was belligerent until the cops were; they were the ones that cast the first stone."
Police and protesters squared off over the roadway until about midnight, when protesters left the area. Police ordered protesters to disperse and marched forward several times. Some protesters threw water bottles and cardboard boxes as police advanced, and walked toward the police station when police withdrew.
The police department posted a statement to Facebook on Sunday morning that said, in part, that it has "consistently allowed peaceful protest in front of the Florissant Police Department for the past several weeks," and that protesters have become "more aggressive and confrontational."
Charges for the 16 people arrested included disturbing the peace, unlawful assembly and failure to disperse. Police said protesters threw frozen water bottles, glass bottles, batteries and rocks. Officers used pepper spray and fired one bean bag round after a person assaulted an officer, the statement said. That suspect fled.
Ferguson's bigger neighbor becomes the focus of Black Lives Matter protests. 
Saturday's protest was the latest of a series of events there since a video became public June 2 showing a Florissant detective driving an unmarked SUV into a Black suspect. That detective, Joshua L. Smith, 31, has been charged with first-degree assault, fourth-degree assault and armed criminal action. 
At #Florissant Police, a site of regular protests since video showed an officer hitting a man June 2 with an unmarked SUV, then hitting & kicking the man. The detective was fired & charged; protesters want 2 officers "cleared of wrongdoing" to be fired https://t.co/PSLLbtLwA0 pic.twitter.com/mbzwh6fS2v

— نسيم بنشءبان Nassim Benchaabane (@NassimBnchabane) June 28, 2020
Police pushed protesters off lawn. Protesters were lined up chanting. "This is an unlawful assembly" police said on speakers. Then police pushed forward in a line, shoving people back. Two or three people fell under the police line & were taken into the station #Florissantprotest pic.twitter.com/ouFhAhUodX

— نسيم بنشءبان Nassim Benchaabane (@NassimBnchabane) June 28, 2020
Shake off your afternoon slump with the oft-shared and offbeat news of the day, hand-brewed by our online news editor, Mandy St. Amand.