CLAYTON • The St. Louis County police board has voted to reinstate — but demote to patrolman — a lieutenant at the center of racial profiling allegations three years ago.
Then-Chief Tim Fitch fired Lt. Patrick "Rick" Hayes in 2013 after an internal affairs investigation concluded that Hayes ordered officers to target blacks in and around shopping centers in south St. Louis County.
In a closed session Monday, the board voted 4-0 to reinstate Hayes. Member Laurie Westfall then voted against demoting him to patrolman. The "yes" votes to do both came from the chairman, Roland Corvington, and members Lawrence Wooten and T.R. Carr. Corvington and Wooten are black, Carr and Westfall are white.
The decision runs contrary to the recommendation of a hearing officer, Michael Flynn, who presided over an 11-day police board trial on Hayes' appeal last year. Flynn said he should be reinstated as a lieutenant.
The 84-page opinion describes a platoon run amok, with a secret hideout known as "The Lake House" for lengthy on-duty breaks, county attorneys pressuring officers to testify against Hayes and a potentially unethical dealing with a former police board member.
Hayes has long claimed that he was targeted by malcontents after he was sent to the Affton Precinct to restore lost discipline.
The board did not release Flynn's document, but it became public Tuesday with the filing of a lawsuit against the county on Hayes' behalf by his attorney, Neil Bruntrager.
The report accuses the internal affairs division of doing incomplete work. It also discounts subordinates' claims that Hayes made racially inappropriate comments, referring to the officers as a "disorganized group of cub scouts" led by the "Pied Piper of sergeants."
"They followed their roles and played their parts reciting for the Bureau of Professional Standards, what had been scripted for them by Sgt. O'Neil, the master playwright for this drama," Flynn wrote. The reference was to Sgt. Dan O'Neil.
The allegations surfaced in December 2013, with anonymous letters to top brass signed by "The Lonewolf." The department determined it to be O'Neil, who said in an interview with the Post-Dispatch that the department retaliated against him for being a whistleblower.
O'Neil's attorney, Jerome Dobson, said Tuesday he was "greatly perplexed" by the board's vote but had not yet read Flynn's recommendation.
It's unclear how Flynn's report affected a separate board vote Monday requesting that the Bureau of Professional Standards, now commanded by a lieutenant, be supervised by at least a captain.
'AN UNFORTUNATE SETBACK'
Hayes' court appeal of the board's decision seeks three years of lost pay and benefits totaling more than $300,000. It also seeks to keep his suspension in effect, to protect his pension. Payments are based on the last three years of salary, so a demotion could reduce his benefits,
"We are also concerned that putting him back to work with these allegations would place him personally at risk," Bruntrager noted.
Fitch, the former chief, said, "Even though I feel Hayes' actions warrant termination, I respect their decision."
Police Chief Jon Belmar issued a statement later Tuesday, deploring racial profiling in general and pledging "to review the information presented to the board to ensure such an environment does not exist today, as it is alleged to have existed in one instance in 2012."
He said Deputy Chief Ken Cox will examine the case "to address any new allegations" and will "leave no stone unturned in our review."
The board members, through a department spokesman, said they had no comment.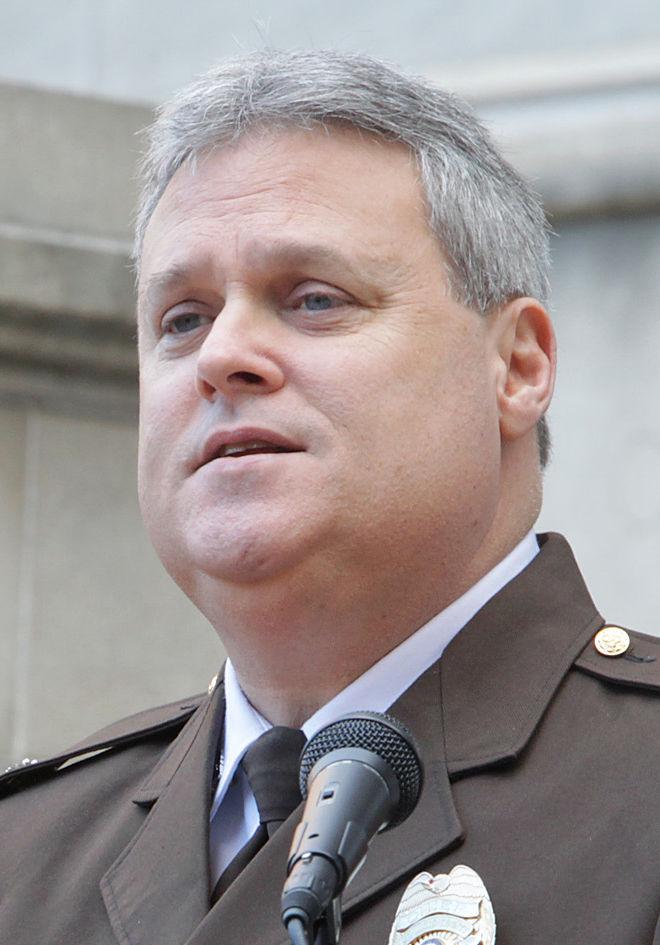 Corvington said only, "People haven't seen what we've seen, or heard what we've heard and they will draw their own conclusions, but it's a personnel matter and therefore we cannot comment."
Bruntrager objected at the time to the board's decision to hold a private trial, claiming his client was framed by officers upset that he was a disciplinarian, and that the public had a right to know details.
In all, seven officers and two sergeants told internal affairs investigators that Hayes, who is white, used racial slurs and ordered them to profile blacks.
The department said it determined that none of the officers followed those orders — a finding challenged by the city's chapter of the NAACP but not by the county's chapter. Leaders of both did agree that Hayes' reinstatement is a mistake.
The Rev. B.T. Rice, first-vice president of the St. Louis County NAACP, called it an "unfortunate setback." He added, "This doesn't speak well for trying to make sure that racism is eradicated and erased."
The city's NAACP chapter found that "hundreds of African-Americans were stopped and arrested," said its president, Adolphus Pruitt.
He said the department faces a dilemma: "Did he do it? And if he did, then I'm extremely confused as to why they think he should be an officer in any department. If he did not, then we have six or seven officers who swore that he did and they need to be removed. You can't have it both ways."
FAVORS, PRESSURE, 'LAKE HOUSE'
Flynn's report says Officer Russ Bono told a lieutenant that he was "upset with all of the 'stuff' that was getting way out of control and he felt Sgt. O'Neil stabbed them in the back by dragging them into this mess and that it was all (expletive)."
Flynn also notes that at least two officers felt "pressured," by county attorneys to testify against Hayes. In one case, former officer Gregory Van Mierlo testified that County Counselor Lorena Merklin Von Kaenel used meetings on an unrelated civil case against him to "question and/or influence them with regard to the Hayes case."
"He believed that the defense of his civil case was being sacrificed for the benefit of their pursuit of the Hayes case," Flynn wrote, adding that a different county counselor ended up on Van Mierlo's case.
The report says that at least once, Officer Bradley Hollenback arrested Tony Gianino, a convicted felon who he believed violated probation with a harassment offense. When Hayes learned of it, he called Gianino's uncle, John Saracino, then on the police board, and "the warrant was either taken out of this system or determined to be inactive." Hollenback said he was ordered to give Gianino a ride back to the probation and parole office.
Bruntrager said that claim "is completely unsupported by any evidence, other than his mere allegations." He said Hollenback had been disciplined for pressuring a black officer to pick a side in the Hayes case. That officer testified that Hayes' orders were to target specific suspects and not racially derogatory.
Flynn's report summarizes the testimony of several officers who said they frequently gathered on duty at "The Lake House" — abandoned military housing at Jefferson Barracks where they could avoid patrol work but remain available for calls.
He also questions why, if Hayes' comments were so troubling, the aggrieved officers waited about eight months to report them.
He suggests that the lead investigator did not pursue a "rigorous investigation" because the complaining officers were friends. But he also notes that the investigator asked for additional interviews and polygraphs but was denied by Fitch. Flynn called Fitch's explanation "befuddling."
Flynn notes that Hayes spent personal time as a volunteer for Habitat for Humanity, St. Vincent de Paul and Catholic Charities. Flynn writes, "One has to ask: Is this volunteer activity consistent with a person who is a racist?"
Shake off your afternoon slump with the oft-shared and offbeat news of the day, hand-brewed by our online news editor, Mandy St. Amand.