BETHALTO — Two people who authorities say are responsible for killing an Alabama woman as part of a violent, multistate crime spree were being investigated Friday for a possible connection to a Bethalto triple homicide, authorities said.
Brady Kane Witcher, 41, and Brittany McMillan, 28, were arrested in Hazelwood on Thursday on Alabama warrants for kidnapping and capital murder, according to Brian Koberna, deputy commander of the Major Case Squad of Greater St. Louis. The charges stem from the Dec. 13 killing of Kellie Ann Hughes, 31, whose body was found dumped in woods near Birmingham, Alabama, according to media reports.
The couple is accused of a weeklong string of crimes that also included multiple kidnappings, a stabbing, car theft and armed robbery.
The FBI alerted Illinois authorities to the couple's location late Thursday and they were taken into custody at a Days Inn hotel in Hazelwood, according to a source close to the investigation. Arresting officers discovered the couple's vehicle was registered to someone living at a home in the 300 block of Mill Street in Bethalto, the source said.
Hazelwood police asked Bethalto officers to check on the home's occupants about 11 p.m. Thursday, and police found three bodies inside, according to the source.
The Bethalto victims were identified Friday as Shari Yates, 59, her son Andrew Brooks, 30, and another man, John McMillian, 32. Yates and her son both lived in the home and McMillian was also a Bethalto resident, according to the Major Case Squad.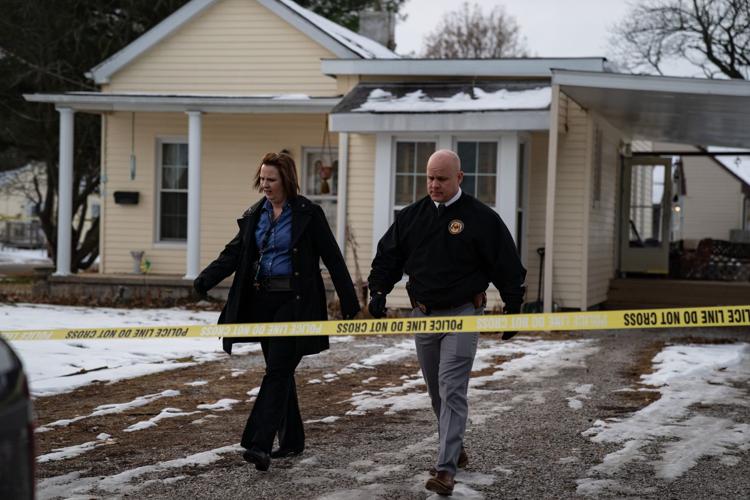 Koberna said Witcher and McMillan were being held Friday on the Alabama murder charge, and not for the Bethalto deaths.
"It's too early to say if there is a direct connection to our victims," Koberna said Friday. "We're still trying to determine how they knew the suspects."
"They are connected to a substantial crime spree that's been going on for some time and includes a whole host of activities, including Tennessee," Koberna said.
McMillan previously lived in Bethalto, according to court records.
Alabama police began investigating on Dec. 13, about a week before the bodies were found in Bethalto.
That day, a woman called 911 to say she was being held against her will at an apartment complex near Birmingham. Police began tracking her phone and found her at a different apartment complex with her hands bound with zip ties, according to media reports.
The woman told police she was kidnapped because she had information on a homicide that day. She led investigators to a wooded area where police found Hughes' body, media reports said.
Less than 24 hours after the body was found, Witcher and McMillan reportedly shoplifted from a Clarksville, Tennessee, Walmart, police said. When confronted by an employee, Witcher pulled a gun from his waistband just before leaving the store, according to police. The moment was caught on store surveillance videos.
Tennessee police say Witcher and McMillan broke into a Clarksville apartment on Wednesday and held a married couple in a closet at gunpoint overnight. In the morning, police say the couple got into a confrontation with their captors. A gun was fired and the husband was stabbed, according to Clarksville police spokesman Jim Knoll. The married couple fled and Witcher and McMillan then stole their pickup, he said.
The triple homicide in Bethalto was discovered late the next day.
Noel Russo, a friend of one of the Bethalto victims, Andrew Brooks, said Friday she was shocked by the crime.
"It just dumbfounds me," she said Friday. "It's like a really bad dream."
UPDATE:TBI Most Wanted fugitives Brittany McMillan and Brady Witcher have been captured, after being located by law enforcement in St. Louis, Missouri.

Thanks for helping us to spread the word! pic.twitter.com/MmSkxVt48T

— Tennessee Bureau of Investigation (@TBInvestigation) December 20, 2019
Anyone with information about the Bethalto deaths is asked to contact the Major Case Squad at 618-377-5266.
Erin Heffernan with the Post-Dispatch contributed to this report.