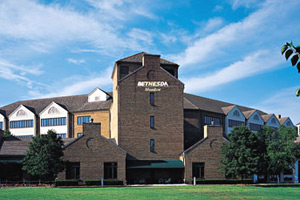 ELLISVILLE • A nurse stole morphine from her patients at a nursing home and diluted their medication with water and mouthwash, Ellisville police say.
Christi Jennifer Franklin, 27, allegedly took the morphine while working at Bethesda Meadow between April and the summer, when the nursing home launched its own investigation and turned the matter over to authorities. Police say she confessed. She has been fired from her job and charged with stealing a controlled substance, a felony, authorities say.
The nursing home wouldn't say whether patients were given the drugs Franklin is accused of diluting.
Franklin stole morphine from several patients, Ellisville police Sgt. Nancy Walker said. Three are mentioned in a police report.
"She signed off on the medication but she never gave it to them," Walker said. "She kept it for herself."
Even though she confessed to diluting medication, Walker said the police report wasn't clear whether any of the patients actually got the medicine that was watered down or diluted.
Jeff R. Waldman, vice president and director of marketing for Bethesda, wouldn't say if any patients got diluted morphine, citing health care privacy laws.
"The residents and families that were affected were notified upon discovery of this misuse," Waldman said in an email to the Post-Dispatch.
According to a written statement issued by Bethesda, "As soon as one of our nursing professionals caught the misuse, they immediately followed procedures to report it" to police and the Missouri State Board of Nursing. Franklin was immediately fired.
"We are reviewing a few cases; however, it appears that just one or two residents were affected before the misuse was realized," Bethesda's statement said. "We are confident that this was an isolated incident that was quickly identified and rectified."
Waldman said Franklin worked at Bethesda Meadow from August 2011 to July 2013. Bethesda Meadow is at 322 Old State Road in Ellisville.
Court records say she stole the morphine between April 8 and July 6 of last year.
Police were first tipped off in July by the director of nursing at the facility. The nursing home started its own investigation of Franklin. She went to the police station last summer to talk with an officer about the allegations. During that interview, she admitted taking the morphine, Walker said. She was arrested Aug. 5, then released from police custody, pending charges.
St. Louis County prosecutors filed the felony charge on Jan. 22. Her bail is set at $5,000. She was not in custody Thursday.
Franklin, who lives in the 100 block of Calico Lane in Ballwin, has been a licensed practical nurse in Missouri since 2008. As of Thursday, her license was still active and set to expire on May 31.
Chris Cline, a spokesman for the Missouri Division of Professional Registration, wouldn't say if the state is investigating her. He said disciplinary action against a licensee can come after a conviction.
Martinez also was charged with fondling clients elsewhere. Authorities say he fondled a 99-year-old woman at Sunrise Assisted Living in Chesterfield; and committed forcible rape and forcible sodomy while working as a hospice nurse's aide for a company called Odyssey Hospice.