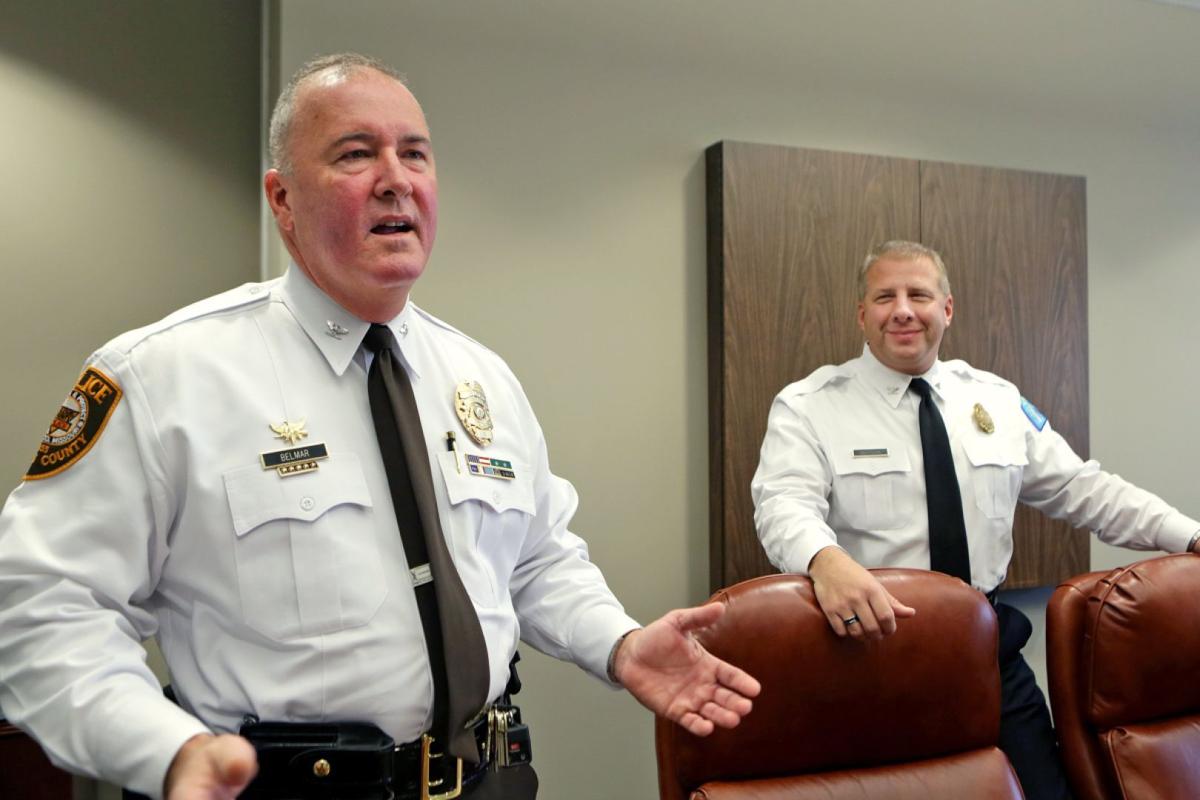 ST. LOUIS • Officer fatigue and stress from months of Ferguson protests may be emboldening criminals and contributing to an uptick in crime, police officials and a criminologist say. The circumstances have city police Chief Sam Dotson and county Chief Jon Belmar suggesting that their forces may not be large enough to handle the "new normal."
Aggravated assaults and robberies are up in both jurisdictions since Michael Brown was shot to death Aug. 9 by Ferguson police Officer Darren Wilson. Arrests — a typical metric for determining police activity — are down in both jurisdictions, the chiefs said.
Moreover, officers are pulled away for specialized instruction on dealing with the unrelenting civil unrest. Belmar said that in the county, officers collectively recently received 5,000 hours of training.
"It's the Ferguson effect," Dotson said. "I see it not only on the law enforcement side, but the criminal element is feeling empowered by the environment.
"If this is the new norm, the police department is not rightly sized. … If these are the types of crime we're going to experience, we need a larger department."
Belmar said he believed there were no "ifs" about it. "This is the new norm," he said. "If I don't request additional resources, it will prejudice our ability to serve our community and fulfill our obligation to protect."
But putting those new officers on the streets could take years, as could a return — if ever — to a pre-Ferguson era, said University of Missouri-St. Louis criminologist Rick Rosenfeld. Rosenfeld looks back at race riots that broke out in Cincinnati about 12 years ago, after a series of police shootings involving white officers and young black men, to gauge what may be happening here.
"There, officials concluded that officers simply weren't being as aggressive in stopping and questioning people and making arrests," Rosenfeld said. "I don't know if that's happening in St. Louis, but it wouldn't be a complete surprise given Cincinnati's history."
At the end of July, St. Louis' overall crime rate was down more than 12 percent compared with the same period in 2013. By the end of October, it was down only about 8 percent.
Some crimes continued to trend downward after July, according to figures for Aug. 1 through Oct. 31. But crimes against persons were up almost 10 percent, as were burglaries.
Homicides led the way, up about 47 percent in that period, although Rosenfeld is quick to note that city murder totals were soaring long before Brown was killed. He attributes the rise to an unrelated explosion in drug markets, and said the killings were concentrated in a handful of neighborhoods.
But robberies and aggravated assaults were up almost 10 percent too.
In the areas covered by St. Louis County police, robberies from Aug. 9 to Oct. 31 rose by 82 percent, and aggravated assaults — which include non-fatal shootings — by 22 percent.
Rosenfeld estimated that arrests in the city declined by about a third immediately after the shooting death of Brown, and dipped again after the controversial fatal shooting of VonDerrit Myers in the Shaw neighborhood by a city officer.
"Arrests have declined substantially … and it's not necessarily that individual officers are giving up, it's because normal officers are being taken off their normal beat activities for training and protest events, so arrests go down," he explained.
St. Louis County police provided data showing their arrests fell by one-third from Aug. 9 through Oct. 31 , compared with that time frame in 2013. City arrest data were not available.
Dotson said in an interview that he wants to add 180 officers to the city's force of roughly 1,250 over the next two years to accommodate the increased workload.
Belmar wants 120 to bolster his roughly 850 sworn officers.
Neither chief has a strategy to pay for the additions, other than to begin lobbying elected leaders to plan for it during budget discussions.
"Part of the remedy is two-man cars where we have the most aggravated crime," Belmar said.
He said he was poised to triple his $2 million average annual overtime budget this year. He has had officers assigned to assist Ferguson police every day for more than three months.
Police fatigue in Ferguson is driven by 12-hour shifts with occasional days off, said the Ferguson assistant chief, Lt. Col. Al Eickhoff.
"Through it all, nobody has resigned," Eickhoff said. "They love their jobs, they're dedicated, they're loyal …"
In the county police, where officers are along the region's lowest paid and have not had raises for years, Belmar said officers were passing up opportunities for outside overtime.
The St. Louis County Police Association's president, Gabe Crocker, isn't surprised.
"Officers are tired, worn out and stressed," he said. "Do I feel that the public safety is in grave danger? No, but I do think some of the slight uptick in regional crime could be attributed to these factors.
"The criminal element does test the fences. … With all the criticism of police departments, that could signify weakness and could encourage them to engage in additional criminal behavior."
Meanwhile, the nonprofit Better Together group announced Thursday that it would spend $300,000 for a study on how the city and county should be policed.
The organization, which advocates for consolidation of local governments, has submitted Sunshine Law requests to the roughly 60 police departments in St. Louis County for detailed information — including particulars about hiring, budgets and operations.
Nancy Rice, the executive director of Better Together, said it had hired the Police Executive Research Forum, nationally recognized for law enforcement policy work, to conduct the study. The work is expected to take about six months.
One goal is to determine how many police departments are ideal. "Would it be one department? Five departments?" Rice asked. "We are going to go out on a limb and say it wouldn't be 60 police departments."
Stephen Deere of the Post-Dispatch contributed to this report.
GRAND JURY NEWS: Here's how to receive the latest updates.