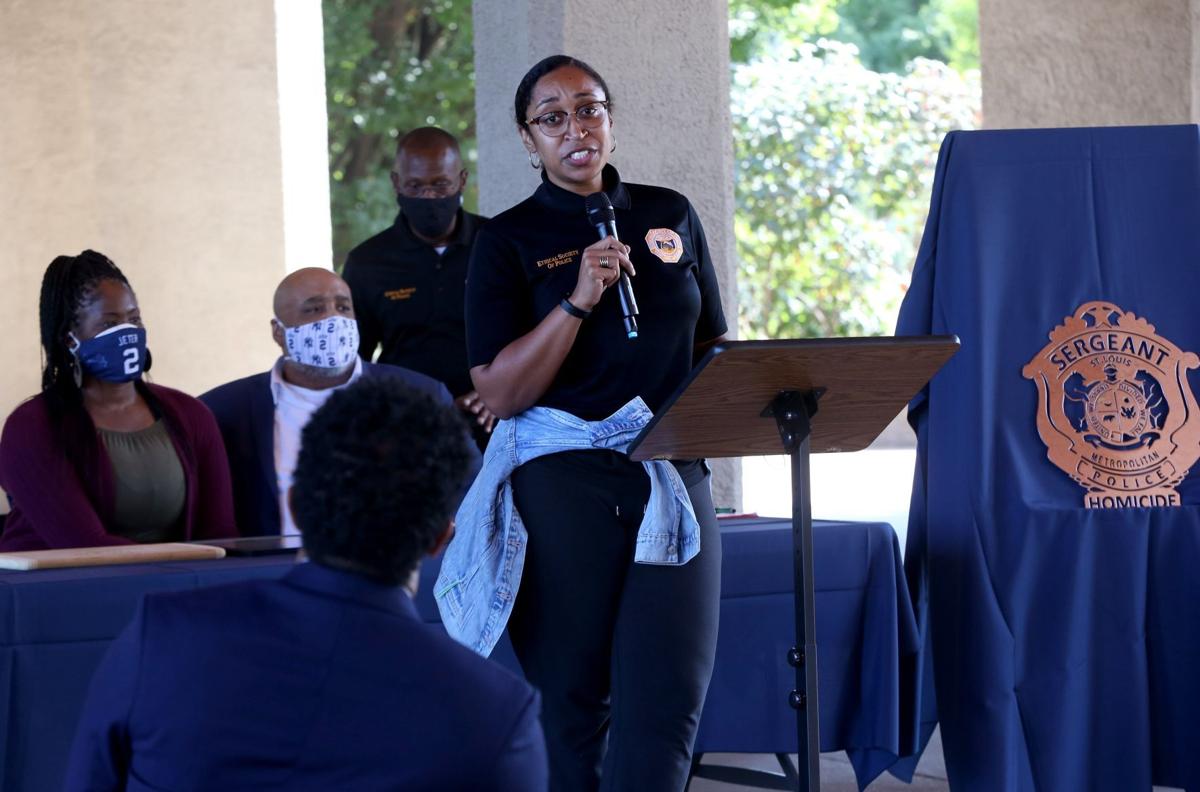 Leaders of ESOP, which advocates for racial and gender equity in the St. Louis and St. Louis County police departments, said Friday that Officer Shanette Hall, who is Black, was retaliated against after her interview with a national media outlet aired on Wednesday.
Less than 24 hours after Hall's interview aired on Vice News, Hall was moved from human resources where she had helped to recruit officers for more than three years, and was reassigned to a patrol position, ESOP leaders said.
In the Vice News video, Hall, a second vice president of ESOP, and Black female officers from Pennsylvania and North Carolina use only first names and speak off camera about their experiences, as well as about what police departments can do to diminish race and gender divides.
Hall also was featured prominently in a Washington Post story last month talking about being a Black, female officer.
"Officer Hall has done nothing but taken pride in the agency and her job. It is disgusting and downright disgraceful that command would transfer her without cause or reason," said Sgt. Donnell Walters, president of ESOP. He said similar transfers of other Black officers had occurred without cause.
In response, the St. Louis County Police Department issued a statement saying there had been 388 transfers or re-assignments of commissioned personnel last year to meet the needs of the department.
Retired St. Louis Police Sgt. Heather Taylor spoke Friday on behalf of Hall, who was present but did not speak. Taylor said Hall is recognized as a community leader and has never had a complaint filed against her. Hall is also on the board for the St. Louis County Commission on Human Relations.
NAACP presidents for the St. Louis County and city chapters, John Bowman and Adolphus Pruitt, along with former county diversity director Hazel Erby, activist John Chasnoff and others, stood beside ESOP members at the news conference outside the county police headquarters in Clayton.
"If Mary Barton as the chief was not told that someone like Shanette Hall was going to be removed out of a recruitment position, then that's a problem. If she was told and didn't act upon it and didn't realize the impact that it would have … is another problem," said Rev. Darryl Gray, an activist and member of the jail task force in St. Louis.
Barton sparked controversy shortly after being sworn in as chief last year when she told the County Council that there was no systemic racism within the department. Months later Barton told the Post-Dispatch that her comments were taken out of context, and that there is racism and sexism within the department.
Barton told the newspaper that of 120 officers hired last year, 20% were minorities and 45% were women. Two of five promotions made in December were Black members of the department, including a captain who now heads the police academy.
Walters said Hall was responsible for a large number of those recruitment strides "and now she's gone."